Penny Dreadful Season Finale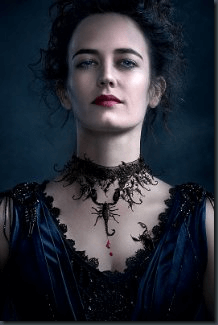 So, which one of these characters is Penny Dreadful? Well, there's the rub. If you recall, a penny Dreadful was the name given to the 19th horror stories that were serialized in different publications. With that in mind, this series brings to life serial interesting literary characters. First, we have the hunt for what we assume is Dracula since Mina Harker has disappeared. Vanessa and Mina were childhood friends until Vanessa did a bad thing and seduced Mina's fiance on the taxidermy table. Not a good way to keep friendships I'm afraid. She is aided by Sir Malcolm, who just happens to be Mina's father and the mad who seduced Vanessa mother. Oh dear, what a tangled web we weave.
Next we have Dorian Gray, who lives a life of excess and decadence knowing his image will bear the brunt of his abuses. He has a fancy for Vanessa and a few other characters.
Helping to hunt down Dracula is Victor Frankenstein who has his own demons to wrestle with. Victor has a habit of dabbing with the undead and cobbling people together. It appears he just wants a friend and strangely enough he makes one. But the bromance doesn't last as his previous creation comes back seeking vengeance for being abandoned by his creator. Now this new, unamed, creature wants a bride and has set a deadline for Frankenstein. This monster has no problem in ruining everything Victor has worked for.
And finally we have Ethan from the Bill Cody Wild West Show. He provides the muscle for this rag tag band and he happens to have a thing for his tuberculosis ridden love interest Brona. It's a fairy tale romance of boy meets girl, it just happens this girl coughs up blood on a regular basis. She does have a tendency to put a damper on the evening but Ethan is willing to look past that.
So the search for Mina continues. The gang has run into several creatures that seem to stalk the night, but they haven't found their king yet. Reinfield may hold the key, but he's a little punch drunk at the moment to really offer anything solid.
Overall this is a slow moving show that is still introducing characters and building the plotline. It's been a very short season with only 8 episodes, but that's not a bad thing. That is just enough to get the main points across and set the wheels in motion. This isn't a high action drama and there won't be big explosions or car chases or ridiculous fight scenes. This is the 1800's, things happen a little more slowly. You have to be patient. You can't search through documents on a computer and you can't just zip down to the lab to get something analyzed. That's actually why I like these sorts of shows, you actually have to think a little bit.
In many ways this feels like Dracula or at least where I think Dracula was headed. That show had a slow build as well. It was trying to build layers and give the characters a solid background. I think they should have extended that show for a second season.
But anyway, an interesting show that should yield an interesting story for next year. I wonder which characters they'll introduce next time around?
Other Articles of Interest: