Dracula Season 1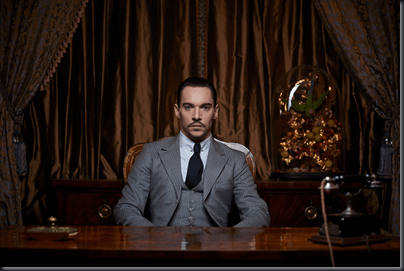 I'm sure it goes without saying that I'm a fan of Dracula. The real Dracula. None of this teen vampire drama or the other sad ripoffs that keep getting made. That being said I was quite leery of this new Dracula that NBC has brought to the small screen. I've actually waited for a few shows to air so I can get a feel for the overall story.
So far, it's not too bad at all. It's an interesting take on the story. We still have all the major players such as Dracula aka Alex Grayson, Harker, Mina, Renfield and Van Helsing, but their roles and relationships have taken an interesting turn.
We now see that Van Helsing and Dracula are actually working together. In fact, it's Van Helsing who raises Dracula. Renfield is Dracula's protector and confidant. And Dracula is a New World business man seeking wealth and power in the beginning of the Industrial Revolution.
The setting is 1890s England. In fact, the Ripper murders are mentioned as a cover up for vampire killings. With Dracula working as an up and coming Industrialist we see some very interesting twist, turns and backstabbing. Interestingly, the main goal is to put the Oil Men out of business. Dracula uses leverage and perhaps a dash of blackmail to put himself into a position of power and influence wherein he can buyout his competition. This makes for some interesting and unusual powerplays. It also gives us plenty to watch and builds the list of enemies that are out to get Dracula.
But there is still another force at work. The Order of the Dragon, vampire hunters are working to find this new undead and put an end to him. Of course, there are more vampires roaming around so there is plenty to keep everyone busy.
I'm actually glad they didn't bring Dracula into modern times. The story is much more suited for a less hectic and less Twitter oriented society. I also like the new roles the characters have been put into. We get to explore some interesting dynamics this way. The new Renfield is quite the protector and very level headed about his master's business.
Really the only thing I'm not too keen on are the fight sequences. They are too much like Underworld and don't with the rest of the tone of the story. They're too flashy and the Matrix style moves feel very out of place to me. They're infrequent, but are noticeably jarring to me.
But overall, I like this series. There is a lot of story to develop and plenty of outside forces to reckon with. This means there are lots of plot lines so it shouldn't get tedious with the same thing over and over again. Plenty of companies need to be taken over so it's not just about looting bodies. The first 4 episodes have me looking forward to when the next one comes out.
As an aside, Dracula sort of looks like Nick Groff and sounds like Christian Slater…
Other Articles of Interest: