Penny Dreadful a new series from Showtime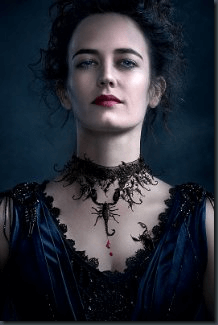 I just caught the first couple episodes of the new series from Showtime – Penny Dreadful. It tells the story of "Explorer Sir Malcolm Murray, American gunslinger Ethan Chandler, and others unite to combat supernatural threats in Victorian London."
Ironically, this show comes across as nearly identical to Dracula from NBC that was recently cancelled. We have a secret society in search of paranormal elements and what appears to be the rescue attempt of Sir Malcolm's daughter, Mina Harker. Yes indeed, we have connections to the infamous Johnathan Harker and while not specifically mentioned, we know they're talking about Dracula. In conjunction with Dracula, we have the equally notorious Victor Frankenstein, his experiments in galvanism and at least one of his monsters wandering the streets of London.
Since this is Showtime I fully expect this will become more graphics, violent and sexual as we move forward. I forgot to mention we have Dorian Gray, who indulged in all the wild pleasures of life because he wouldn't have to suffer the consequences. So far, this feels quite similar to Dracula, but that's not a bad thing since I like Dracula and hoped it would make it to a second season. Looks like I get another chance at a similar story. One thing to note, IMDB already has 8 episodes listed so the season is already done, so we'll get the complete story regardless of how the ratings turn out.
With the blend of characters they've brought together, this should make for an interesting story.
Penny Dreadful on IMDB
What's a Penny Dreadful
Other Articles of Interest: