Expedition Unknown – Viking Sunstone – S01E06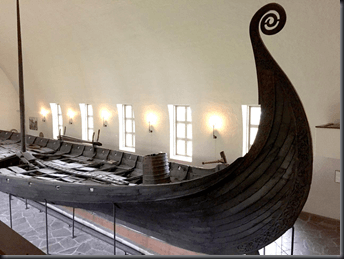 Josh is back with an all new adventure and this time it's to investigate the legend surrounding the ability of the Vikings to navigate the seas with nearly pinpoint accuracy hundreds of years before the invention of the magnetic compass. How were they able to travel such vast distances when the sun was hidden from view by the clouds or had disappeared from the horizon? Legend has it that King Olaf used a sunstone, a crystal with mysterious properties that allowed him locate the sun regardless of where it was.
Josh heads off to Alderney to the site where a sunstone was found in a shipwreck. It may be where the actually sunstone of King Olaf was found. It's not long before Josh is out on the sea to visit the wreck site. They only have a few minutes to look around as the tide is quite vicious. Down at the bottom are the remains of a large boat complete with cannons. There is a lot to see and take in, but time is short and alas, no sunstone.
Of course you can't go travelling without taking in the local cuisine which appears to be many forms of herring. Oh yeah, and there's some beer. Five kinds of herring on the same plate seems a touch excessive if you asked me, but the rotting fish dish might be just a little over the top. But you at least have to try these things.
But not to be discouraged, Josh is off to Trondheim, Norway where Olaf set in motion an absolutely fantastic cathedral which is still under construction hundreds of years later. It is said that Olaf's remains are buried under the church, but because there are so many tombs down there, they have no idea which one is his. Josh heads down to have a look and it's a massive catacomb with tunnels leading out in all directions. It's exactly what you'd expect, dark, creepy and loaded with skeletons.
They end up at the crypt where it's believed Olaf is entombed, but all they can do is pay respects as there is no intention of disturbing any of the bodies. There is also rumor that Olaf's original sunstone is buried with him. Clearly, they're not going to get it back.
With that in mind, it's off to Oslo to actually mine for sunstone. Turns out it's a form of calcite crystal and there just happens to be a mine Josh can visit. And like all mine's Josh end up in, this one is scary and full of perils. Josh makes an amazing but utterly frightening descent down. He uses an "elevator" that is a couple hundred years old and then repels down some sheer drops to get to the crystals he's looking for. And with the gentle tap of the hammer, his guide Christian removes a fine piece of crystal.
Josh takes this to a man named "Guida" who is a master craftsman and can most likely build the Twilight Board and Shadow Stick that are needed in conjunction with the sunstone to help with navigation. These other two pieces help point the way once the sunstone is able to find the sun.
The man is an imposing figure, but his Viking Hall is a amazing and his skills are nothing short of impressive. After getting Josh dressed accordingly and showing off some of the Viking skills such as archery, he sets to work to make the board and stick. Within a few minutes he has both complete and they are exact replicas of the blueprints he was given. And no, there were no mechanical tools used in the making of the board.
They all agree to try out the process and head aboard a replica Viking ship under extremely cloudy conditions. The story goes that the crystal will show 2 images and you turn it so the images line up. You take two readings and the intersection points the way to the sun. From there you take the twilight board and shadow stick which give you an actual direction. Amazingly, they're able to get a reading and point a direction for North. The pull out a magnetic compass to check their work and the 2 directions are almost identical. Since Josh isn't know for his maritime skills, we'll allow for a margin of error.
So how cool is that? Using these simple devices they were able to locate the sun and point themselves in the proper direction. And all of these tools and technologies are hundreds of years old. Sure, it might be a little slower than GPS, but you have to marvel at the use of it. This now proves the stone is not only real, but worked exactly as the legend said it did. The Vikings were able to navigate in a far superior way during that time. Sometimes the simple ways are best.
There you have it, sometimes you can prove a myth. And even if he didn't the scenery, the food and the people were certainly worth the trip.
Other Articles of Interest: