Expedition Unknown – The Real Robin Hood – S02E05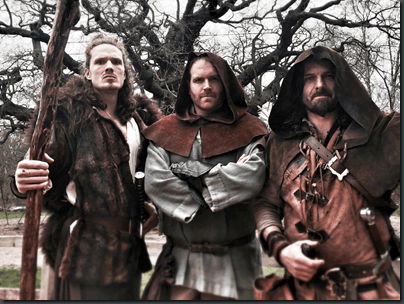 Our next adventure takes us to England to answer the question, "was Robin Hood real and where is he buried?" The original story of Robin Hood is a series of ballads that date back to the 1200s. Our interpretation of Robin Hood is a bold and virtuous man who stood up against injustice, robbed from the rich and gave to the poor. But that's the reworking of the story, not really the original. Josh gets a look at the source material and the real story is quite violent, with Robin Hood robbing from anyone who crossed his path regardless of their stature and giving to the poor didn't work it's way into the story until much later. Oddly, I just finished reading the Adventures of Robin Hood by J. Walker McSpadden and my impression was that Robin Hood was pretty much an ass. He was arrogant, rude, full of himself and picked on anyone he saw wandering along the road. The first impression is certainly not one of a noble hero.
To try and learn more, Josh heads to Nottingham where the story takes place and indeed goes to meet the current Sheriff of Nottingham. Jackie Morris currently fills that role, but as she says, it's more ceremonial these days, although a few decades ago she could have dispatched Josh to the dungeons.
Speaking of dungeons, Tim Pollard takes Josh into the ruins of Nottingham castle where Robin Hood was supposedly imprisoned, but ultimately escaped through the tunnels. Turns out there is indeed a network of tunnels under the castle and all through the surrounding area.
To prove the point, Josh visits with Peter Hammond who owns a fashionable clothing shop. But, his shop has a basement and even what might be called a sub-basement that takes them into a series of caverns and tunnels. They are currently mapping this network with 3D imaging, and have found lots of pottery and glass that are close to the time period of Robin Hood. So it does appear you could make a tunnel escape.
From the tunnels of Nottingham it's off to the legendary Sherwood Forest to get more of a sense of what it would have been like to be an outlaw in that area. Unlike what we see in the movies, it would have been cold, wet, dark and poor living conditions. Sherwood was also the main path between the lands and so would have been traveled by plenty of wealthy men who bandits would have preyed upon. It was not the glamorous life portrayed in the movies.
It sort of seems like the real Robin would have been more of a bandit and scoundrel, but where did he end up? If we find the man, perhaps we can trace more of his origins. Turns out there are a couple of spots on the list of where he might be buried. As the legend goes, he ended up at Kirklees Priory where he needed medical attention. The medical treatment of the time would be blood letting and it's suggested that he was bled too much either through revenge or by neglect. Either way, he grew worse and the time of his end was drawing near. It is then said he shot an arrow out the window and that's where he wanted to be buried.
On the grounds of Kirklees Priory is a grave site attributed to Robin Hood. With permission, Josh brings out some ground penetrating radar, but doesn't find anything to suggest a body is buried at the site. It's merely a monument. Undeterred, they get an aerial view of the area to see which building might have served as the "hospital". From there, they shoot some arrows off into the distance to get a perimeter of where Robin might be buried. Again, the ground penetrating radar shows nothing. There is nothing to suggest a body is buried at the site.
So now what?
Josh heads to Loxley, where he is shown the grave of Roger Godberg, who might be the inspiration for Robin Hood. It is suggested that Roger was an arsonist and murderer. We don't have the details of those claims, but it is suggested that he would have lived at the same time as Robin Hood, would have served time in Nottingham castle, was wanted by the sheriff, was an outlaw, possibly died at Kirklees Priory and had his body moved to Loxley. In essence, his story shares similarities with the tales of Robin Hood. So, is he a match? Well, they can't go digging up the body, it's on sacred ground, but out comes the ground penetrating radar and the scan does show the grave site is occupied. Is it Roger? Is Roger, Robin? Does it all fit together or is this wishful thinking?
The current story of Robin Hood, is one that's larger than life. A man who fought against oppression, took from the rich and gave to the poor, and risked his life to save his friends. The original story however paints Robin a bit differently, one more prone to violence and one who was out to serve himself. And as with any story, it's hard to know what, if any of it, is based on fact. Was there a Robin Hood? Did he perform great deeds? Or was he a scoundrel and outlaw who preyed on more than just the rich?
Fanciful tale? Biography? Legend? Fiction?
As with a lot of fairy tales, the version we have now is more exciting and more noble than the original and maybe we should be happy about that.
Other Articles of Interest:
One Response to Expedition Unknown – The Real Robin Hood – S02E05