Ghost Adventures – Leslies Family Tree Restaurant – S12E07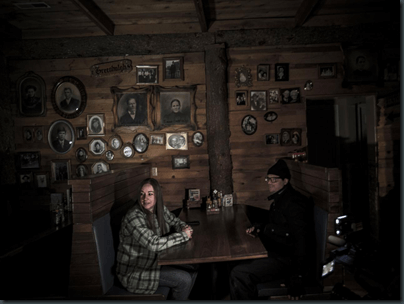 For this adventure we're off to the open plains of Santaquin, Utah to visit the Leslie's Family Tree Restaurant, home to strange happenings and an abundance of spirits. According to the locals, the restaurant has been haunted for years and some claim there are a hundreds spirits lurking inside.
The restaurant has been around for 30 years and the current owner, Leslie Broadhead, says her daughters have both been attacked as well as some patrons. Bobby says a spirit followed her home and tried to pull her out of bed. Cory says she has seen figures and has witnessed attacks on other people, specifically during a ghost tour she was giving. A man was attacked in the bathroom and ended up with marks on his body.
During the interview, Zak feels energy, pulls out the recorder and gets the words "Get out". Cory talks about the basement and how it used to be a boxing ring along with lots of gambling and prostitution. With the recorder going again, they claim to get "orange blood" and while informing Zak that people end up with marks on them, Cory gets what looks to be a hand print across her neck and throat. Zak also says he hears a man's voice during this event.
The family claims this is the norm and show several photos of people with scratches and bite marks. They even had a medium come in who feels there are multiple "portals" on the premises  and multiple entities.
As they do a bit of research, they find the area is the location of the "Walker War". This was a series of attacks back and forth between the Mormon settlers and the Native American Ute tribe. The gist comes down to a misunderstanding between the groups, which lead to one side shooting the other, tensions escalated and revenge ensued. This lead to deaths on both sides and "it's possible" the restaurant is build on land where deaths "may" have occurred.
Zak starts off the investigation with a seance that once again has me confused. Why so comfortable with a seance, but so hostile toward the Ouija? But during the group session he claims the recorder picks up "I'm next to Bobby" and another "get out". They have the Rempod off to the side and it lights up when Zak asks if the spirits want them to leave.
While the seance is going on, Ashley is off to the side taking still photos. She feels someone is tugging at the Polaroid pictures she's taking. She also feels cold spots and shortly begins to feel disoriented and has trouble grabbing things. This is the now obligatory moment where someone from the crew sick, dizzy and claims they're going to throw up. For the past few episodes it's been Billy, and before that Aaron, so now it's time to pass the baton.
With Ashley having a mild panic attack, Zak goes over the top by kicking chairs and provoking the entity to attack because standing around in the dark and kicking things in random directions is always a good idea and it makes you tough and fearless. Zak claims this is uncontrolled anger and that he's acting out without thinking.
After getting Ashley out of the building Zak heads back in for a paranormal showdown. He whips off his shirt and demands the entity scratch him. He wants a sign that someone is there and he wants whatever it is to leave it's mark.
Low and behold, he gets a scratch across his back and through his tattoo. There is a thin red line on his skin that clearly could not have been made by any natural means or by brushing up against something.
Billy then heads to the basement using the sensory deprivation technique we've seen before of wandering in the dark, but with an IR camera around his neck. Aaron comes to join and they both feel an odd energy and hear what they think is some sort of growling.
After the investigation is over, Zak says he felt that same hostile aggression that made him kick him chairs and had negative residual feelings for several days. In essence, something clung to him the same way Bobby says something clung to her.
Interesting goings on indeed. Still, curious why Bobby is almost oblivious to the marks showing up on her neck and almost bored over the idea. And why is Zak so pro seance, but feels the Ouija is a dangerous portal? Finally, if the family is being tormented by those spirits, why are they giving ghost tours? Clearly they're not trying to eek out any sort of financial gain by having a "haunted" establishment.
Other Articles of Interest: