Deadly Possessions – Ed Geins Cauldron and The Crying Boy Paintings – S01E05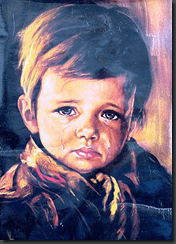 For the next Deadly Possessions Roadshow, we have a couple of interesting items. I heard about the Ed Gein bowl last year when it was sold at auction and while I can't place it, the Crying Boy Painting seems familiar.
The "cauldron" as they keep calling it, was previously owned by Ed Gein, the serial killer and is said to have been found when they cleaned up the mess he left behind. It is said to have contained multiple body parts and may have been used to cook human remains which Ed may have eaten. Again, there is a lot of "may" in there. We know Ed did terrible things, but it's very easy to exaggerate his crimes and add to them.
But we do know that he tanned and made items from human skin. He also had a terrible knack for making furniture out of bones. And this was indeed his pot, it's a pretty safe bet those remains ended up in it.
When the locals came out to help clean up the scene, the pot ended up with Dan McIntyre's mother who planted flowers in it. Dan then sold the cauldron and a shovel to Zak. It is said that the men who came into contact with the pot died shortly thereafter.
We also have Courtney who comes on because she was supposed to deliver the skis owned by Gein. Her sister had a medical issue and is at the hospital with her mother. She is fond of going to the Gein property and trying to make contact with Ed.
Now that Zak feels the cauldron has energy, he brings out the meters and the needle starts jumping. On the spirit box they keep getting a female voice. The voice claims to say evil and death are associated with the cauldron. There are also a couple of bangs and bumps going on.
The next item is called the Crying Boy Painting as it depicts and orphan boy crying. Nothing exceptionally dramatic about it, except that Tina Booth says the painting has caused a fire in her home as well as a fire in her computer. The claim is that if you display the painting, the building and the contents will catch fire. Everything will be ruined except for the Crying Boy Painting.
And if having one wasn't bad enough, she goes out and buys another. Now she wants Zak to take them. To play up the mystique and rumor, he acts like his whole museum will burn to the ground and maybe he shouldn't take the painting.
Now clearly this is a mass-produced print and not an original by the artist himself. So how is it that something produced in bulk like this can carry some sort of curse? But before you answer, let's have a look at this little nugget:
following testing at the Building Research Establishment, is that the prints were treated with some varnish containing fire repellent, and that the string holding the painting to the wall would be the first to perish, resulting in the painting landing face down on the floor and thus being protected
A perfectly rational explanation? Say it ain't so!
And what about the fire? Well, she admits she had to let her cat out of the room. It's a hell of a lot more plausible that the cat knocked over a candle or caused some other reaction that caused the fire. That makes a hell of a lot more sense than a "print" setting her house on fire? And the computer? Wow, an electronic device has never worn out, overloaded and had smoke come out of the box. The words electrical fire come to mind.
As for Ed Gein? Clearly, he was horribly disturbed and I think it's almost insulting to say he was in some way capable (meaning intelligent) enough to instill evil into a pot. Um, no. It's pure metal and had who knows what done to it. Do you think those readings could be from the chemical makeup of the pot or residue from chemicals placed in it? An old metal pot giving off a reading? Shocking! And who knows what those poor guys were exposed to when they went into the Gein's place.
All of these "mysterious" events certainly have causes rooted here in the real world if you ask me. They are certainly interesting, perhaps a bit creepy, but they don't contain any mystical powers.
Other Articles of Interest: