The Demon House of Seattle – Revisit
Here is another interview with Keith in regards to his house which has been dubbed the Demon House of Seattle. It's presented by ParanormalZoneTV, and comes well after the investigation by Zak and Ghost Adventures. Keith is joined by Karissa, but it's best to gloss over her portion of the program as she's not helping to give credence and credibility to the claims.
Keith does bring up valid points about the Ghost Adventures investigation. First, the slant of the show was to make it seem like Tina was responsible for the events in the house. Second, anyone who dismisses or agrees with paranormal activity simply because of Zak needs to check themselves. Let's just take a step back for a moment. Zak is in no way a scientist or even using scientific methods. He is a former DJ who paired up with a photographer to create his show. He claims to have the powers of a sensitive, powers he developed over his career.
His job is to entertain, to dramatize, to generate interest, to gain an audience and to get renewed for another season. His truth is relative and if a haunting sells, that's what you're going to see. And if no haunting sells, that's what you're going to see.
From that angle, anyone who says Zak did a great job by discrediting this house or that it only improves his credibility as an investigator is buying into the marketing machine.
To that end, let's have a look at the evidence that Keith has on file. First of all, everything we see is after the fact. There are pictures of his office in disarray, symbols and numbers painted on the wall, kitchen drawers open, scissors and cross shoved into the wall, a burned bible and chairs put on top of tables. However, there is nothing showing these events in progress. There is no physical evidence of phones being thrown, of plants levitating, or numbers being drawn through inhuman means.
The rebuttal is that the spirit energy is capable of draining the cameras, cutting off the power, blanking out the video so it's action can't be seen and all sorts of other trickery to hide it's methods.
Even though the 666 that we saw in the final cut of Ghost Adventures was one of several messages that were left on the same door, it was never able to be captured. Keith would get a message, paint the door, then another would appear in the same place. This happened several times, in the same place, but couldn't be captured.
Karissa claims that when she first entered the house, her phone was thrown. The same thing happened to the UK investigators. It happened a third time when someone else came to investigate the house. The expected behavior when you came over to the house was to have your phone thrown, but yet it can't be captured.
Fair enough, maybe the cameras don't always work, but the investigators are able to record everyone walking around their sensors after they've gone off. Keith is able to detect motion in his house and get an email, but nothing is capable of capturing a single image of these events taking place.
It's stated hundreds of EVPs have been captured. Ok, fair enough, that could be worth something, however, simply because you capture a voice doesn't mean it's from beyond the grave. A captured voice alone is not proof of the paranormal. A voice on a recorder can be duplicated in hundreds of different ways. Who's to say that voice isn't coming from outside? Who's to say it's not from a radio or television? Who's to say it's not being picked as interference from another device? Who's to say it's not a fragment from a baby monitor or phone call?
If you knew nothing of the paranormal claims and were shown the evidence, you would immediately think Keith is the victim of some terrible and senseless acts of vandalism. You would believe you were being shown photos for an insurance claim. However, showing pictures of open kitchen cabinets is not proof of the paranormal. Showing pictures of a broken chair on a desk is not evidence of the paranormal. Even a picture of a burnt bible is nothing more than evidence of a ruined bible.
One thing that I did find off about the interview, is Keith had a small fire break out in the house. I believe a poster or something similar caught on fire while he was getting ready for work. He's unable to get out of the house because he couldn't open the door. Later, Keith says the entities in the house aren't malicious and he has nothing to worry about. I find that to be an odd contradiction if I heard it correctly.
I have no idea what's going on in Keith's house because clearly I'm not there and haven't experienced it. However, the over the top claims and the evidence presented don't match up. With the constant level of activity going on and with the technology available, you would expect quite a bit more in the way of tangible or visible evidence.
Bob Cranmer has the same situation on his hands. He has a house plagued with activity, like CDs being thrown with such force they shatter. It happens over and over again, yet there is nothing that proves these events actually took place, only the aftermath. Sure, he wrote stuff down in his journal, he took notes, he has pictures, but since this has gone on for years, it all seems pretty inconclusive. He did get a book out of the deal with plenty of people decrying the eternal battle between good and evil.
Comments have been made that the paranormal is like lightning and you can't capture lighting. Um, yes you can.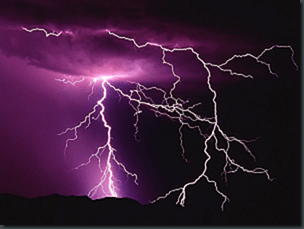 The point being, anyone can run around their house, open drawers, throw plants on the floor, put chairs on the desk, do as they like with the crucifix, take pictures and declare the paranormal. People can run around in the dark, scratch themselves and declare they were touch by a demon. That doesn't make it so.
Have a look and decide for yourself.
Demons in Seattle – https://www.youtube.com/watch?v=PfH6mIKg63E
Other Articles of Interest:
27 Responses to The Demon House of Seattle – Revisit