Ghost Asylum – Missouri State Penitentiary – S03E04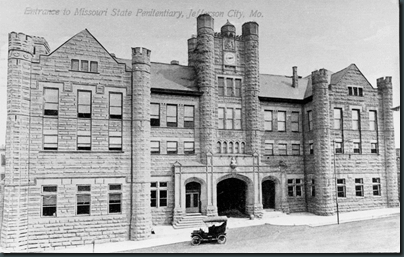 It's time for another Ghost Asylum episode and another trip to prison. This time we're off to Missouri State Penitentiary, a massive building that was in operation for 168 years and housed some extremely volatile and dangerous criminals. This prison was no joke as they had their own gas chamber on site and they weren't afraid to use it. Forty people were put to death in there including a notorious couple named Bonnie and Carl, not to be confused with Bonnie and Clyde. However, this couple was pretty bad in their own right as they kidnapped and murdered a child in order to collect a ransom, half of which has never been found.
Claims of the paranormal include shadow figures, voices, being touched, pulled hair and being growled and shouted at. It's said a lot of activity is related to Bonnie and Carl as well as another prisoner who had his eyes gouged out during a fight.
As they investigate the area they believe they see a shadow figure and get the word "malevolent" on their phonetic generator. Not to call prisoners stupid, but that's not the vocabulary normally associated with those who commit violent crimes. They also feel they get a heat anomaly on some railing, which looks more like the result of a different kind of paint or metal being used.
The big event for the first night is the utterly nonsensical reenactment of sending prisoners to the gas chamber. But their meters go all a twitter with lights flashing in a pattern they've never seen before and the word "love" coming through. When asked if Bonnie committed the murder, they get, "No, he did it".
For Day 2, it's time to set up their trap which is fake money set up around a metal briefcase with some whiskey at the ready. Nothing says enticement to a criminal like money and liquor. Spirits can be intelligent, just not smart enough to know real from fake money or that this is set up as a "trap".
As the team wanders around the prison with stun sticks they feel the energy building and begin to see heat anomalies on the wall. They also claim the meters are spiking with activity. Make note that the "spike" of activity is going from 0.0 to 0.3 which is an utterly negligible change. Jumping to 50 is a change in the environment. A .3 change is the air disturbance of a butterfly flapping it's wings.
With the meters going off and the belief they have a heat signature near their trap, the lid of the case slams shut. However, it should come as no surprise that there's nothing in the case.
Like almost all prisons of this age, the location is really neat, but in terrible condition. The gas chamber on site is about as creepy as it gets. The ruined paint, the creaking doors, the narrow walkways and stories of the unsavory people housed there make for a thrilling experience, but just because something is creepy, doesn't mean it's haunted.
Other Articles of Interest: