Haunted Towns – Fall River MA – Lizzie Borden House – S01E07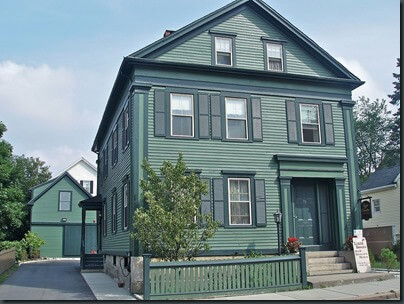 For the next investigation of Haunted Towns, we're off to the legendary Lizzie Borden house in Fall River, MA. This is the site of the grim unsolved murder that still makes Lizzie a household name to this day. Chris and his team want to try and speak with her to find out who really killed Andrew and Abby and if Lizzie was guilty or innocent.
The TWC team also claim people report hearing voices, footsteps, the smell of cigar smoke and shadow figures. They believe there might be a darker entity at work, because next door, Mr. Borden's uncle had tragedies of his own. His wife tried to drown all her children in a well and ultimately slit her own throat with a straight razor.
Doogie and Chris meet with Danielle, a historian who shows them around the house and some photos of the crime scene. Porter and Brannon go see the sheriff and the jail where Lizzie was held while she awaited trial.
As they get down to the investigation, Chris and Porter go to Master Bedroom, while Doggie and Brannon go to the Sitting Room.
While discussing what they plan to do for the night, the flashlight on the bed turns on. Right after, Porter says he sees a shadow moving in the next room.
Doogie also claims to see a shadow while in the sitting room. This is after he asks the dark entity to make a light flicker. It's interesting that he picks a light, versus asking for the standard knocks. I get the feeling the light was already flickering and Doogie decided to work it into his schtick.
With no activity going on, they head to the basement as a group. There they get "Lizzie", "Borden", "Hatchet", and "Ax". Or at least that's their story as those words are utterly garbled and unintelligible from the box. Of course, those are all great words when talking about the murders.
For Day 2, they investigate the Central Congregational Church where Lizzie taught and attended services. Doogie and Brannon head to the Changing Room where Brannon asks for the entity to touch the meter, which naturally goes off. Also notice, there are several words on the dictionary device-"tone" "vet/yet" and "east", but nothing is said about them. This shows the device puts out random nonsense and doesn't gauge anything.
Also with the EMF flash, there is a moan heard by Doogie. However, Brannon doesn't act on it until Doogie says something, then he's quick to add "I heard that too!" like he completely missed his cue. I've noted a couple of times that Doogie has to "cue" people to respond to something he hears.
And again notice the dictionary shows the words, "drunk", "witch" and "camera", but aren't mentioned. The device is on camera, but at a distance. They are so quick to call out every word, it's puzzling why they ignore this set. Other than the fact they don't make any sense or help support their wild theory.
It's not just Doggie and Brannon either. When we catch up with Chris and Porter, there are plenty of words on their screen too, but they have decided to ignore them. However, Porter will make a big deal about the words, "August" and "Devil" that they capture behind the stained glass crawlspace. And again, Porter says he sees a shadow figure down in the basement. He's developing quite a habit of seeing shadow figures just off camera.
At the end of the investigation, Chris leans toward the land is tainted and contains a dark energy that affected the Borden house and the one next door. Doogie is of a similar mindset, that a dark entity lurks in the house and "possessed" Lizzie, causing her to act out.
It sounds like they're saying Lizzie is innocent due to demonic forces… That's certainly a new theory.
Other Articles of Interest: