Haunted Towns – McDonough GA – S01E08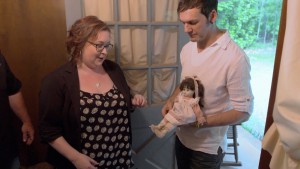 The next, and final stop for Haunted Towns and TWC is McDonough, GA and the site a train crash in 1900 that killed 39 people. Those who perished in the wreck were laid out in the town square to be claimed by family members. Since then, people have heard a phantom train whistle, heard voices, seen apparitions and shadow figures. They don't say where, just that they happen.
Since they aren't allowed to film or investigate at the actual site, they settle for whatever location the citizens offer. That puts them in contact with Jill who has a doll she "thinks", "might" be related to someone who "could" have been on the train.
Jill claims to have seen a shadow man when she was a child. The activity increased when she got Claire, the doll. Jill also claims Claire was able to turn and look at her and was able to move in her little rocking chair.
Since this is the hot spot, they start the investigation in her room. However, Chris and Porter get nothing of consequence in there. Moving on, they check out her brother's room.
As we've seen repeated in other episodes, Porter sees a shadow. Perhaps that should be the title of a children's book.
Things progress as they claim the bed shakes and they hear scratching in the walls. Chris is probably correct when he says it's an animal. But then the temperature gauge proves it's malfunctioning by dropping down to 16 degrees.
When Brannon and Doogie investigate the brother's room, they hear their names on the device. However, there is no shadow man, no moving rocking chair, no doll twisting it's head.
And speaking of names, note again the words on the dictionary they don't mention. It's pretty clear this device spews random words and they selectively choose those which enhance their story.
For Day 2, they head to the Dulac Cafe, former bank and mortuary, and the Old Post Office. Since they overlook the town square where the bodies were laid out, they believe there is activity and residual energy.
This doesn't really turn out to be the case, as their temperature gauge malfunctions again by rocketing up to 1000+ degrees. And again, Porter sees yet another figure sitting at a desk. It looks like a malformed blob, but they squint real hard and claim there is a body shape.
Back at Dulac's, where Greg has been hamming it up for the cameras, they get more ridiculous readings. This time it's 177 on the EMF meter. Out of nowhere they get the word, "explain." They also get "husband" and "bomb" but decide to ignore those since they don't make any sense. I suppose they could explain how someone's husband had a bomb. Or not, since that's just silly.
At the end, they really don't capture anything except the now predictable claim of Porter seeing a shadow. Jill offered up some rather dubious stories of a shadow man and some wild claims about a doll, but there is nothing to support any of that. And again, she doesn't even know if that doll came from that ill-fated train. Greg offers up a few stories, but you can tell from his sly smile, he knew it was nonsense.
For a town awash in tragedy, they come up empty on this one.
Other Articles of Interest:
One Response to Haunted Towns – McDonough GA – S01E08