Ghost Adventures Documentary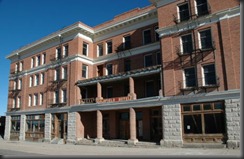 I've been looking for this show for months and last night I finally got a chance to watch the original Ghost Adventures Documentary with Zak, Nick and Aaron which they shot on their own back in 2006 before they had a series on the Travel Channel. They are on their first ghost hunt trying to find evidence of the paranormal and investigating different locations, specifically the Washoe Club and Virginia City.
It's interesting to see how it all began. We do get more insight into the paranormal experience Zak had which started him investigating. In an old apartment, he would repeatedly get woken up at 3:00 AM by the sound of a woman calling his name. During the documentary he talks to the maintenance guy who says he's not surprised since a woman was killed in that apartment. From that point Zak sets out to document the paranormal. What I find odd is that he kept having this paranormal experience with the woman speaking to him, yet there are no recordings or anything else. I figured he would have captured something of the event.
So at least we learn what brought Zak to the paranormal field. He's talked a little bit about it before but here we get more details about his experience.
The documentary starts by showing Zak, Nick and Aaron trying to find locations for the paranormal and not having too much luck. But at Virginia City things begin to change for them.
This is also the documentary where they captured what they believe is a full bodied apparition walking across the screen at the Old Washoe Club. It shows Nick in the middle of the room setting up the equipment, then a figure comes into frame, seemingly following him.
This fuels their passion for the paranormal since now they feel they've actually captured solid evidence. Interestingly there are clips of them on several news programs talking about the footage. And they get some write-ups in the local newspapers. This basically launches them as paranormal investigators and then leads into the second part of the documentary where they explore the Goldfield Hotel.
After talking with several of the local residents they're given a tour of the hotel and shown the multiple locations where people have seen things and had experiences. For this investigation it's just Zak and Nick since Aaron isn't convinced this ghost hunting business is for him. And during that investigation things get a little topsy-turvy. Zak films a brick being thrown at him. This causes complete chaos for Zak and Nick as they run from the room and then become separated. It's just the two of them and now they're in complete darkness.
No doubt the first instinct is to laugh at the screams and running, but I have to admit if I was roaming around in the dark and something started throwing bricks at me from out of nowhere I would probably haul ass out of there too!
Zak claims the brick literally lifts off the pile and flies at him. He even has the footage to prove it. And low and behold it does look like a brick comes flying at him and some boards get knocked over in the darkness.
It's certainly interesting and different. You can see the team developing the style they would later use on their show. While the amount of evidence isn't overwhelming, they do capture some pretty attention-grabbing stuff. It has a different feel than the currently running TV show, but its entertaining none-the-less. I have to say I like their documentary style where they give the background of a place, talk to people and then focus their attention on multiple buildings in the same location. I'm glad I finally got to see their original paranormal investigation.
Goldfield Hotel photo courtesy of Wikipedia.
Other Articles of Interest:
6 Responses to Ghost Adventures Documentary