Expedition Unknown – Coumbus Unearthed – S02E08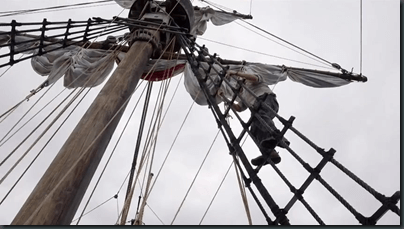 Our previous episode concludes with Josh and a small group of men making an impressive discovery in a field containing a significant number of artifacts from the time period Columbus would have run aground. There are pottery items from the Taino people, the natives Columbus would have met when he landed. But there is quite a mystery about those people. When Columbus lands, he is on good terms and is welcomed. However, that may have soured and Columbus forced them to find gold and other wealth he promised to his benefactors.
The link between the Taino and Columbus can be found in cave paintings. In the beginning of the drawings there are no horses, those were brought over by men like Columbus. And before Columbus arrives, there were over a million Taino people. A couple of decades later only a few hundred survive. Is this merely a coincidence or did Columbus bring disease and oppression with him? Clearly there is no definitive answer.
After his return home, Columbus is given the opportunity for multiple trips to continue looking for China. He ping-pongs around the world, but in reality, doesn't seem to land in North America. He comes close, but did he set a foot on the continent? A curious thing.
But as we question where Columbus may have gone, there is still the question of where he is buried. It is claimed his Will requested he be buried in Santo Domingo. There is a large memorial to Columbus and those who guard over it are absolutely sure he's in their sarcophagus, yet they won't let anyone test the remains for confirmation. They have nothing to prove and won't allow any more testing. As we see, the grave is guarded with military effort. In fact, Josh and his team are kicked out of the church because filming isn't allowed and they're getting too close.
To follow up on the dodgy story, Josh heads to a cathedral where his remains are supposedly kept as well. Josh is given permission to go into the subterranean crypts and discovers the platform where Columbus would have rested. There are no traces of Columbus, but I think it's incredibly neat there is a crypt under the church.
The other resting place of Columbus is Valladolid. Seville is where he actually died and was interred for a time. Josh meets Javier and Andrea who have a copy of his Will and nothing states he should be buried in Santo Domingo. Since the remains were in Seville for quite some time, the small team puts together an idea of where they would have been stored. In a bit of irony, it appears that site is currently occupied by a casino, restaurant and other businesses. Like the tunnels in Britain, Josh is able to enter the catacombs simply by entering the sub-basement. He finds some old bones, but they are most likely from an animal and have nothing to do with Columbus.
Without much to go on from this angle, Josh goes to a museum that has the actual contract giving Columbus permission to go exploring for China. It gave Columbus rights to all sorts of things including the previously mentioned titles and lands. But even within these records, there is nothing declaring his final resting place.
It is also in Seville, where the University of Granada was previously given the opportunity to test the remains located in Santo Domingo. Despite what we may think, the remains they had access to were meager at best, a mere 150 grams of material most of which was ash, not a complete skeleton. Dr. Miguel and his team didn't have enough material and it was too degraded to be of use. Interestingly, it is stated that since Columbus never sat for a portrait, the images we see of him are artist renditions and not necessarily pictures of the real man. Is nothing about this guy real?
In the end, Josh is no closer to finding the truth about Columbus than when he started. There is confusion over the sinking of one of his ships, there is confusion about his relationship with the native people, there is confusion about whether or not he reached and set foot on North American soil and there is just as much confusion about where he is buried and if those remains are even his. It seems we may not know a whole about Columbus at all.
Other Articles of Interest: