Deadly Possessions – Peggy the Doll and John Murrell's thumb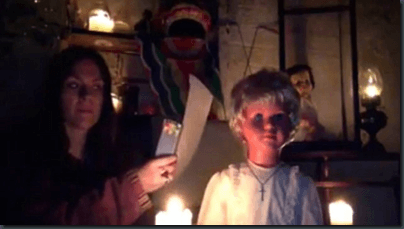 Our next outing on the Paranormal Antiques Roadshow, also knows as Deadly Possessions, brings Peggy the Doll and the mummified thumb of John Murrell.
Jayne Harris is the owner of Peggy the Doll, a doll so sinister that merely looking at her can cause pain, suffering and even a heart attack. Or so claims Katrin Reddick, who believes that looking at an image of Peggy caused her to have severe heart trauma.
Peggy is brought to the museum with a bag over her head, because she is so dangerous, so completely out of control, that a warning has to be display before the camera looks fully upon her. But strangely, before we get to the unmasking, flies begin to swarm Zak, the ballroom camera fails and after just moments of looking at her, Zak is filled with rage and wants to kill everyone. Normally when people say that sort of thing, you get them counseling and medication.
But as the power of Peggy fills the museum, its time for Katrin to face her fears. Zak brings in psychic Patti Negri, who we saw on the Black Dahlia episode. She has been enlisted to perform a seance to make contact with the spirit of the doll and perhaps calm the devil within.
As the seance gets underway, a set of candles flickers every so slightly and there is a chime that might be associated with a typewriter. However, there is no change in the doll and no one in the room seemed to suffer ill effects. Of course, Katrin is unsettled after being left in the room with the doll.
The next strange trinket is the mummified thumb of John Murrell, housed at a Tennessee museum. Mary Skinner brings the bizarre item and gives a bit of detail about John. Apparently he was a horse thief and bandit and caught the attention of Mark Twain, who writes about him in the book, Life on the Mississippi.
One of John's tricks was to dress up as a minister, and while giving fake sermons, his band of outlaws would steal horses. Despite his notorious ways, John was not killed in some wild shootout, or hunted down for a handsome reward. He died from tuberculosis, common for the day, but his body was then mummified and put on display. But there are claims that he was "dismantled" and his body parts sent to different places. It's claimed he was decapitated and the head is currently missing.
It is claimed that the thumb, like Peggy, can cause illness and distress in people. It is believed to still retain some energy and power. To confirm this, Zak has Jamie Pistel, a descendant of John Murrell, come to the museum and they put the paranormal puck near the thumb. Jamie then asks questions and they receive the words, Cut, Cave, Swim and Drowned.
Out of context, these don't mean much. But Bud Steed has a tale that might add some detail. He explains that he and a buddy were coming home when they saw some men fishing a body out of the river. However, the bodies disappeared into the fog and at no time did they pay attention to Bud's intrusion.
So now we have yet another doll that is so powerful, so malicious, so intrinsically dangerous that instead of burying the doll, or destroying it, or hiding it where no one can find it, it's paraded about on television where the only thing keeping the spirits from penetrating and ripping out your soul, is a cloth sack over the head. It's a good thing the evil spirits are so easily thwarted and contained.
I find it shocking that someone would believe that a doll is responsible for causing heart problems. And not even looking at the real doll, but a picture of it. Funny how the owner is still kicking and she's been looking at it for years.
What about Zak getting all that aggression? Well, the word psychosomatic comes to mind. Or perhaps, in all seriousness, Zak may be suffering from real mood swings and might need to have that checked out.
Other Articles of Interest:
One Response to Deadly Possessions – Peggy the Doll and John Murrell's thumb