Ghost Adventures – Dumas Brothel – S13E10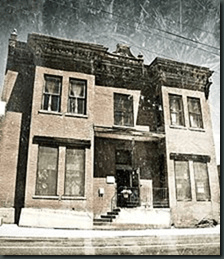 Zak and team are in Montana to visit the Dumas Brothel, a location with a sinister presence. It's claimed that evil resides in the basement and is responsible for pushing people, poking them and flat out knocking them to the floor, if the owner is to be believed. There are even reports of men being touched in the privates.
The owner, Michael, who looks to be either over or under medicated, has a whole slew of stories to tell about the place, that is, when you can get him to stand still long enough. He claims to have seen a hostile older man in the basement. No explanation for why he's hostile or why he doesn't like Michael, he just doesn't. Michael also claims several men have run screaming from the building only to throw up in the street. We also have the classic story of the prostitute in love, her lover who dies in a mining accident and never comes back for, so she kills herself. I'm pretty sure every Western town they've visited has this same story. It's either that, or the woman in white.
What is the cause of all this unrest? No one knows for sure, but according to Ginnie, Michael's friend, it's because of someone called "The Judge" and he doesn't like anyone. Mind you, this isn't based on any evidence or records, it's what Ginnie believes. She claims to see and feel the judge all the time. And she's just as jittery and confused as Michael. But Zak says this is due to possession and an attempt by the spirits to control their consciousness.
As they tour the brothel and discuss the presence of a woman Michael felt at the top of the stairs, Zak gets a red mark on his neck. Turns out this has nothing to do with a woman and is in fact the judge, again according to Ginnie. When asked why the judge doesn't like him, they get an EVP of "I just don't." This has to be the work of the paranormal, because it's impossible to make your own neck red.
To start off the investigation, Zak brings in actresses to play the role of prostitutes in the brothel. He sends them to different rooms and tells the spirits they can do whatever they want. A few minutes later, McKinley, who's in the basement hears footsteps. This is followed by the sound of a little girl and the words, "I found ya" and "I'm Otto."
In one of the upper rooms, Kaitlin is zoning out and they see yet another light anomaly. Zak rushes to her aid and brings the hacked up Kinect motion sensor also known as the SLS camera. He captures a stick figure touching Kaitlin who says she is extremely cold. When then get a temperature reading of 62 in that area, up from the still cold temperature of 67.
After the ladies leave the house, Zak says two more light anomalies go shooting into him. Billy keeps claiming he's losing time and ends up in places with no idea how he got there. They repeatedly say they have cold energy and a static feeling all over their bodies. The Rem Pods they previously set out start going off at random.
Next, they bring out the paranormal puck and get the following:
Who is up here – Debbie
What do you miss – paper, value
How did you die – found
Billy claims this is the prostitute that killed herself. That's pretty incorrect as the plaque in the room says the woman who killed herself was Eleanor. Billy is trying to make wild connections and is clearly missing the mark.
Billy also claims there is an ice cold wall of energy, too bad he forgot to actually take the temperature. Maybe this is another ice cold temperature change of 5 degrees.
Meanwhile, we have another example of Zak going into a stupor then claiming he has no idea what happened. He claims to be in a spiritual fog and he wandered off from Billy and Aaron for reasons he can't explain. They find him slumped in a chair with claims of missing time. With this happening, the Rem Pods upstairs are going off, including one above the room Zak is tripping balls in. This proves an entity is at work.
For the finale, we have a loud bang that can be heard throughout the brothel.
Zak is quite convinced the spirits of the brothel are channeling through Ginnie and Michael and they're being controlled. I'm going to have to disagree with that assessment. I think Michael and Ginnie have a few issues to sort out. And let's not forget, Michael is in financial distress over the building, so nothing like a good old fashioned haunting to scare up some business.
Additionally, if you pay attention to some of the footage, parts of that building are a wreck. And based on the age, who knows what chemicals and other materials are in there. Check the environment to see what contaminants are floating around before you go and blame everything on the paranormal.
Butte men buy historic Dumas Brothel
Other Articles of Interest:
One Response to Ghost Adventures – Dumas Brothel – S13E10