Kevin Bacon is jumping into a new role which from the description sounds pretty gripping:
A brilliant and charismatic, yet psychotic serial killer communicates with other active serial killers and activates a cult of believers following his every command.
So we have a serial killer inciting other serial killers to act out and kill. Ok, no good will come from that. I have no idea how this story is going to come together, but I will be tuning in to see what happens. It seems like this could be some mix between Criminal Minds, Helter Skelter and perhaps a tinge of the serial killer Red John from the Mentalist?
The premiere episode is this Monday, the 21st. It's definitely worth a look.
Other Articles of Interest: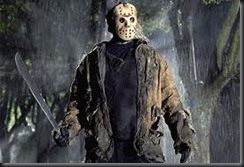 I'm always amused with days like this, the trepidations, the superstitions. There are several people I know who would rather hide at home and wait for the day to pass then venture outside and tempt fate. But I will indulge in and live up to every cliché by watching scary movies and chasing around ghosts. I'm sure I can find a ladder and some cracks in the sidewalk if I'm feeling particularly adventurous.
So where did this legend come from anyway? Some says it's just a modern creation. Some day it dates back to the Templars. Even the Templar connection may be a very recent one and may have more to do with Dan Brown than anything else. But the mystery of the legend just adds to the allure.
And this is an usual day since this is in fact the only Friday the 13th for 2011. We only had one last year as well. Clearly celebrations of some sort are in order.
Let's also not forget that there's a new Ghost Adventures episode this evening where the team investigates the Kentucky Slave House. That should be interesting!
So, has anyone actually had bad luck befall them on a Friday the 13th? I can't say I've ever had anything usual happen. In fact, I tempted fate and got married on Friday the 13th. Happy Anniversary to me!

A quick history of Friday the 13th
First off, the jittery camera work and swinging camera motions made me somewhat motion sick. About halfway through the movie I felt queasy and light headed. Just fair warning if you're susceptible to motion sickness you need to prepare yourself.
I went and saw this movie last night and for a low budget film this kicks ass! To get a sense of what you're in for it's a movie length episode of Ghost Hunters or Ghost Adventures. Toss in a little Blair Witch action and you're good to go.
I won't go into any of the details of the movie since that would spoil it, but the premise is simple: Micah and Kate are experiencing something odd in their home and Micah goes out and buys a video camera to document what's going on. He puts the camera on a tripod lets it run through the night. We are watching the footage that has been found after all the events have taken place.
It starts off mostly as a game, Micah wanting to capture something and make his girlfriend feel better about living with him. But something is happening, and the lack of sleep and helplessness starts to take its toll and soon the couple is tired, scared and desperate. They begin to lash out at each other which seems to feed this entity and soon it's all spiraling out of control.
We'll leave it there for the details of the movie. Half the experience is seeing it all unfold. I had a great time watching this, despite the motion sickness caused by the jerky camera motions. I'm not thrilled with the ending though, I thought it would have been done better. We won't go into the details, at least not yet, but I think it went a little too Hollywood and broke with the spirit of the rest of the movie. But that aside this is good stuff and it shows that if you have a worthwhile story you don't need $100 million in special effects.
If you have any interest in the paranormal, enjoy Ghost Hunters or Ghost Adventures or thought The Blair Witch Project was good then you'll have a fun time with this one. Lots of bizarre things going on and you're constantly scanning the screen to see what's coming.
Definitely worth seeing!
Other Articles of Interest:
In case you missed the live Halloween episode of Ghost Hunters at Fort Deleware, here it is in 4 parts. There are a few audio and video quirks, but that is due more to live television than the file itself – at least I hope so. The quality is good and there is plenty of fun to be had watching this massive 7 hour event.
I haven't watched the entire thing yet, but in a similar vein as last year, there is a little too much goofing around and trying to be amusing rather than investigating the Fort. Again, I'm disappointed in Kristen and her antics of trying to showcase the ECW wrestle "The Miz" rather than focusing her attention on the investigation. I had the same complaint for the Halloween episode last year where she seemed to spend more time trying to show how smart she was and belittling the "Hunt for the Hunter" contestants than doing her job as an investigator.
Josh is great as usual as host, adapting to the live scenario with good humor and clever wit. I'm glad they got him again; he keeps everything moving and keeps it interesting in the quiet times.
It's fun stuff to watch, so if you missed it live the other night now is your chance to get you downloadable copy.
Ghost.Hunters.Live.Halloween.2008.1of4.PDTV.Xvid-SER
Ghost.Hunters.Live.Halloween.2008.2of4.PDTV.Xvid-SER
Ghost.Hunters.Live.Halloween.2008.3of4.PDTV.Xvid-SER
Ghost.Hunters.Live.Halloween.2008.4of4.PDTV.Xvid-SER
Technorati Tags: ghost hunters, halloween, josh gates, haunted house, scifi
Other Articles of Interest: