There is little doubt Zak went to the William Shatner school of overacting, but his crazy over emphasis, baggy pants and gravity defying hair gives him his own unique charm. But, unlike the couch dwelling Ghost Hunters, Zak's enthusiasm keeps him constantly moving. He's ready to jump into that mine shaft or go down the creepy tunnel, even if it does mean Aaron is going to bang his head. Maybe he is a little excitable, but I still enjoy listening to him tell the "dark" history of the place they're investigating. Plus, it's better than the underwhelming tone of Ghost Hunters and Ghost Lab. His mannerisms and tone bring the story to life and it builds up excitement for the episode.
Aaron, or as I like to call him, "Shaggy" is one scared pup and half the fun is watching him react to his environment. If you go into a building in the middle of the night that's supposed to be haunted and full of dark energy, I'm not sure why you get to the point of soiling yourself every time there's a loud bump or bang near you. It never ceases to amuse me that as they're all standing in the dark that inevitably Aaron will yell "Oh My God!" and go running across the room like he got a cattle prod in the backside. He then follows it up with, "Dude, I Swear To God!" It's funny every time!
Speaking of cool investigations I watched the episode at the abandoned Remington factory, the company that makes weapons and munitions. Even in the daylight that place was creepy. The buildings are falling apart, there's tons of holes in the floor, and not much about the place seems structurally sound any more. And from some of the pictures they showed, it doesn't look all that different now than when it was in operation. If nothing else you get a glimpse into the working conditions of the day. Perhaps working in a cubicle isn't so bad after all.

Their reliance on "orbs" hitting them in the back of the head or neck, which then causes odd behavior, headaches and in more than one case possession, is really bringing the whole show down. I'm not going to say that orbs of energy don't exist and Zak and crew can believe in them all they want, but from what I'm seeing those are dust particles. With the night vision cameras everything looks like an orb, especially when you're trudging through an abandoned building. I'm just not buying that those particles are an explanation of anything. If dust bunnies are ghosts my house is the most location on the planet!
The other drawback is the use of Frank's box and the other voice database tools they have. I have to say, those seem pretty silly and don't really bolster their scientific method or credibility. How is a spirit supposed to know what frequency a word is on? Is there some owner's manual they refer to ahead of time? But again, I'm not tuning in for the scientific aspect (I'm not even sure there is one), I just think the places they go are really interesting.
Even though the show can come across as juvenile at times – the Halloween special certainly had them in hysterics, but at least they had a Halloween special – Zak, Nick and Aaron are still engaging to watch. They get up and move around. They don't just sit in the corner and hope something comes their way. It's not perfect by any means, and I don't think they've actually captured a whole lot, but they still have enthusiasm for investigating. A little too quick to say something is paranormal for my tastes, but after three seasons I'm still tuning in and having fun.
Other Articles of Interest:
First off, the jittery camera work and swinging camera motions made me somewhat motion sick. About halfway through the movie I felt queasy and light headed. Just fair warning if you're susceptible to motion sickness you need to prepare yourself.
I went and saw this movie last night and for a low budget film this kicks ass! To get a sense of what you're in for it's a movie length episode of Ghost Hunters or Ghost Adventures. Toss in a little Blair Witch action and you're good to go.
I won't go into any of the details of the movie since that would spoil it, but the premise is simple: Micah and Kate are experiencing something odd in their home and Micah goes out and buys a video camera to document what's going on. He puts the camera on a tripod lets it run through the night. We are watching the footage that has been found after all the events have taken place.
It starts off mostly as a game, Micah wanting to capture something and make his girlfriend feel better about living with him. But something is happening, and the lack of sleep and helplessness starts to take its toll and soon the couple is tired, scared and desperate. They begin to lash out at each other which seems to feed this entity and soon it's all spiraling out of control.
We'll leave it there for the details of the movie. Half the experience is seeing it all unfold. I had a great time watching this, despite the motion sickness caused by the jerky camera motions. I'm not thrilled with the ending though, I thought it would have been done better. We won't go into the details, at least not yet, but I think it went a little too Hollywood and broke with the spirit of the rest of the movie. But that aside this is good stuff and it shows that if you have a worthwhile story you don't need $100 million in special effects.
If you have any interest in the paranormal, enjoy Ghost Hunters or Ghost Adventures or thought The Blair Witch Project was good then you'll have a fun time with this one. Lots of bizarre things going on and you're constantly scanning the screen to see what's coming.
Definitely worth seeing!
Other Articles of Interest: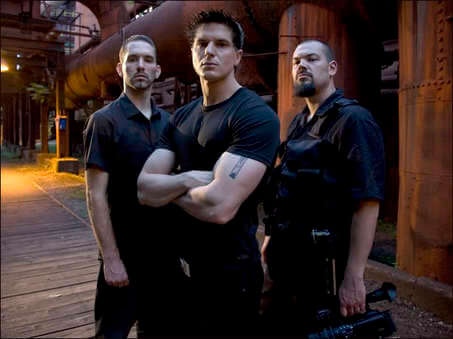 It would seem all the really cool kids have their own ghost hunting show on TV these days. They have become the crime dramas of a decade ago; every network needs to have one. Even though it's been on for two seasons I just discovered Ghost Adventures on the Travel channel. With so many shows on the air each one needs a gimmick and these three investigators, Zak, Nick and Aaron lock themselves in with the spirits so there is no escaping. Further, they take a more direct approach to the spirit world with a lot of provoking and daring the spirits to touch, hit or slap them. It's all fun and games until a spirit punches you right in the balls. Their locations are a little different too, they have chosen locations which seem to have a turbulent past, prisons, asylums, murder sites and battlegrounds, not just the cozy house down the street, so their methods may be somewhat appropriate.
Surprisingly, Zak is a rather good narrator. He seems genuinely interested and excited about the past and his voiceover work brings the story to life. He seems ready to jump into that demon hole, climb that rickety-assed staircase, or find out what's behind the locked door. But I have to say, when they begin to find evidence, things take on a whole different atmosphere and the members of the high school AV club show themselves.
I have never heard the words "Dude!", "I swear to God bro!", "Oh my GOD!", "What just happened", or "Did you just see that?" yelled so frequently. After a few minutes it becomes comical. Isn't this what you were expecting to happen? Why so shocked?
Further, as with so many of these shows now days, everyone is all badass to call out the spirits and dare them to do something, but when something happens, they completely soil themselves and go running out the room like a stuck pig, the camera shaking like a scene from Cloverleaf! If you're going to taunt and mock the spirit world, it's not a good idea to gasp, scream and completely lose it when you think you get some sort of response. Way too many times these guys go into hysterics when they hear noises or think they see something. If you are sitting in a junk filled attic and something behind you falls over, like say a doll or birdcage, calling for Jesus and hauling tail is going to make me laugh and shoot soda through my nose, not make me believe in the paranormal.
Even Zak has a tendency to jump like he got a cattleprod to the buttocks and practically falls over when he feels something. Try to keep your cool, it looks better on film.
And the evidence gathering? Well, that's seems sketchy at best. Their methods are pretty goofy, the evidence is questionable, and I sure as heck don't hear what they hear. I'm not saying they aren't capturing something; I just have no idea what it is. Cold spots, orbs, flashes of light, or something falling over really isn't evidence to me. You're outside, there are flashes of lights from cars. Bugs look like orbs and make weird patterns on camera. Cold spots could just be a draft. Doors opening and all those pops and creaks could just as easily be the building settling. To me, the paranormal is something can't be explained through normal methods. Everything I've seen so far has perfectly valid alternate explanations.
All of that aside, I still like the show and have fun watching. I watch these sorts of shows because of the places they get to visit not because I expect them to actually find anything that would be considered credible. I can't say they've found anything noteworthy, unusual or even something that makes me scratch my head; it's more they're adding to the urban myth of a place. But they have style, so it's all good.
So why do I keep watching these shows? Because they make me laugh, and I think it would be a great job to go running around abandoned buildings in the middle of the night with the chance you might get something creepy to happen. You wouldn't have to ask me twice to come along on one of their adventures.
They're still entertaining and I'm still watching Season 2 and the upcoming Halloween Special. I'm pretty excited these guys will have their Halloween Special, then Ghost Hunters will have theirs. At least I assume Ghost Hunters is having one since I haven't read anything about it yet.
Other Articles of Interest: