Paranormal Lockdown – Franklin Castle – S01E03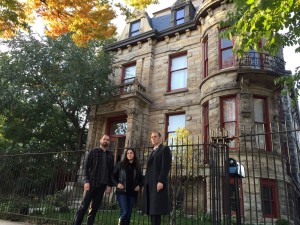 Nick and Katrina head to Cleveland Ohio, to investigate Franklin Castle which looks like the house from the first season of American Horror Story. And like that TV house, this one has seen quite a few deaths. It is said that the Tiedemann's experienced several deaths within the house including multiple children. There is a tinge of a rumor that some of the deaths may not have been accidental.
The house has been owned by several families and Kristina catches up with Jim and Dee Romano who lived in the house as children. They claim to have seen and played with an apparition who died decades earlier. They believe it was Emma and she wore Victorian era clothes and visited them many times.
John Tenney makes a brief appearance to look around the house wherein his microphone dies while talking about the little girl Emma. Everyone attributes this to paranormal intervention and are quickly running around the house looking for the ghostly source.
To start their investigation they play hide and seek with Emma. Nick feels he gets touched and both he and Katrina hear knocking. Rob thinks he captures a shadow figure but it's not really showing up on the replay.
For the first night, Nick feels someone was touching his head all night. Katrina isn't saying much except she has odd dreams of being in a haunted house. They pick things back up by investigating a small room that might be a closet. Nick says he feels drained and experiences emotions. Katrina says she gets the words, "get out" on her recorder.
Next up is the attic and the electronic spirit box, which also has motion sensors. They feel something is running down the stairs and Rob again feels he captures something poking its head around the doorway. Nick says he sees a black mist and decides that is a good place to sleep for the night. He put up motion sensors which ultimately go off. On his recorder, he feels he gets the words, "I need help".
In the end, the batteries die for a microphone, they get knocking sounds in an old house, what they feel is a mist, a cry for help on a recorder and feel drained by some sort of presence. I wouldn't say those have no explanation.
Additionally, where is this little girl that Jim and Dee said they played with on dozens of occasions? They made it sound like she popped up every day and was as real as any other kid in the room. How come she didn't make an appearance?
It's also interesting how Jim and Dee talk about playing with Emma, but yet they are scared of the house. There's no mention of Emma getting violent or scaring them or throwing things, so what's the story? And again, here are people that won't enter until the cameras are rolling.
There's also some odd approaches to these investigations. First, going into sleep deprivation is going to make you hallucinate and see things that aren't there. It's not going to make you vulnerable, it's going to distort reality. It leads to misinterpretation and misunderstanding of your surroundings.
Also, Nick and Katrina sleep in the house and say they jump out of bed and start investigating. However, a minute later, we're back to night time. What are they doing during the daylight hours? Clearly there is some personal hygiene and eating to be dealt with, but why no investigation during the daylight hours? Why no recording of the noises the house makes during the day? Why aren't they looking to see if they can find the source to the noises they hear or give the house a bit of a debunking? Feels like there's a whole lot missing.
Sure, this house has had tragedy, but when you compare the "stories" to what was captured, it's really hard to say that Nick and Kristina captured anything more than the creaking of an old house.
Other Articles of Interest: