So many to choose from where do you begin? Here we have lots of pumpkins just waiting to fulfill their ultimate Halloween destiny. Will they become a pie? Perhaps they'll get face paint? Or will they sit on the porch and keep a watchful eye on your tricky neighbors? This orange highlighted theme will surely dress up your blog. Nothing too dramatic, just a nice look with fun pumpkins and plenty of space to write in.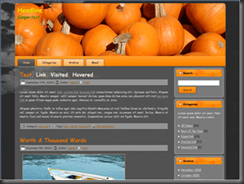 Click here to download a lot of pumpkins:
Other Articles of Interest:
Who can resist this orange beauty that just waiting to come home with you? A simple theme to help dress up your blog and celebrate the season. Featuring a light gray with orange highlights this theme is easy on the eyes. Just like the others it's a 2 column beauty that widget ready. All it needs is your favorite Halloween activities.
It's simple and elegant just the like the pumpkin itself.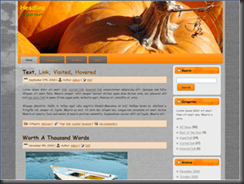 Other Articles of Interest:
Flaming Pumpkins and Haunted Trails may not be for everyone, so we've created a more mild mannered theme featuring that most special of gourds, the pumpkins. Wander into this pumpkin patch and choose a jack-o-lantern. Enjoy the colors of the season with this gray theme tinged with orange. It's a great seasonal theme your guests should enjoy visiting. This should really get them into the spirit of Halloween.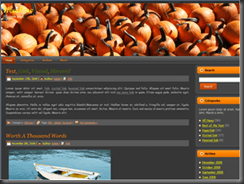 Click here to enter the Pumpkin Patch:
Other Articles of Interest:
The forest can be a lonely place, especially when you're lost. Should you keep going forward or give up and try to make your way back? Or does it matter any more? What was that noise?
Here is our Dark Forest theme, a 2 column widget ready theme, tested with WordPress 2.8.4. All this theme needs is some ghost stories and it's ready to go. We're not sure where this path leads, but something tells us it's not all pumpkin pie and gingerbread at the end of it.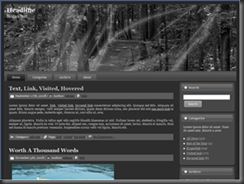 Other Articles of Interest: