It's time for another round of pumpkin carving. On the chopping block we have Iron Man and Killer Klown. I have a feeling Tony Stark would throw down against this clown. However, when things get heated Iron Man looses his cool and his battle armor starts to show some weaknesses. He doesn't last too long in this death match!
Another very fun night of the pumpkin carving!
Check out my fiery pumpkin gallery:
Other Articles of Interest:
Here's some more of my pumpkins that met a fiery end last night. As usual, the flames were pretty high and quite spectacular. I have to say the pumpkin was less than cooperative. I thought I had thinned the walls down sufficiently, but it was still quite difficult to cut through. The rind was a bit more fibrous than I had anticipated. It didn't lend itself to well to my cutting technique.
In the end I think it all worked out. I like these two patterns. They were pretty straight forward and the cuts were relatively easy. Strangely, El Chupacabra bares a striking resemblance to my dog…
Anyway, here a couple more of my pumpkin cutting adventures for this Halloween season.
View the rest of the flaming pumpkin gallery
Other Articles of Interest:
This is my first batch of the year and I have to say things went quite well. I got some spectacular effects and had a massive 6 foot flame shooting out the top. This one really went off and lasted for nearly an hour. I went all in and bought the expensive mega rolls of toilet paper to stick in there. They claim it's like 4 rolls all wrapped into one!

Judging from the burn length, they might be right.
I did make a slight change to the pumpkin burning process and now the pumpkins are nestled in a fire bowl for safe keeping until they meeting their ultimate Halloween destiny. It works really well actually and keeps the home owners association at bay, and that's really what it's all about.
So here we go, let the pumpkin burning begin!
Check out the rest of the gallery here:
Other Articles of Interest:
It would seem some residents in Boston are fearful of the power and might that comes with lighting pumpkins. Or perhaps they don't use some good old fashioned common sense and thus have a tendency to set themselves on fire at the most inopportune time.
But let us not forget that even though Boston makes a damn fine chowder, they do have a tendency to overreact.
But fear not, just because they have been told they can't do it doesn't mean I'm going to listen. I have plenty more pumpkins waiting in the wings. If the weather holds one of those baby will meet it's maker tonight!!
With Halloween less than two weeks away, you may be in the design stage of your planning for a jack-o-lantern, but weekend suggestions from the Boston Globe had the State Fire Marshal's Office on phone with editors at the paper.

The pumpkin design in question called for decorators to create a pumpkin with a three-foot flame.
Flaming Pumpkin Scrapped By Globe
The article did have this handy dandy image of the lighting instructions: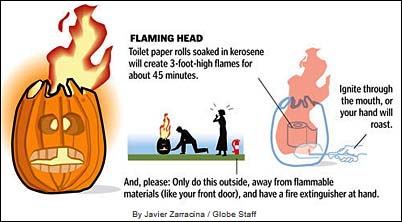 Other Articles of Interest: