The embers of Halloween have finally died down and I have put together my Rogue's Gallery of pumpkin carvings for the year. It's a pretty gruesome lot that was incredibly fun to carve! I did a couple of these patterns twice so they could actually be displayed on Halloween night. I spent that whole weekend gutting and carving.
So here's the final tally of the carnage:
Number of pumpkins burnt to a crisp: 7
Number of gasoline soaked toilet paper rolls: 7
Number of templates: 11
Gallons of gasoline used: 4
I have to admit I didn't get as many pumpkins carved as I wanted to; there was simply too much to do and I ran out of time. But the ones I did complete were fantastic and got plenty of compliments from the people at work and from the trick-or-treaters who saw them on the lawn.
Ironically, I have one more uncut pumpkin sitting on the porch. I haven't yet decided its fate. Will it get to live out its days as a Thanksgiving decoration or will it go under the knife and become my final flaming pumpkin creation for the year? Hard to say at the moment, but more than likely the urge to carve will win out and it will be off with its head!!
October was a fantastic month and Halloween was a lot of fun. I even got to have pumpkins at work! You can't beat that! I'll have to come up with even bigger and better schemes for next year!
Don't forget you can see all the flaming pumpkins in one place by going here:
As for the best pumpkin of the year? Well, I think Dexter was actually the coolest one for display, but when it comes to flames, there is something about a clown with flames shooting out of the top of his head!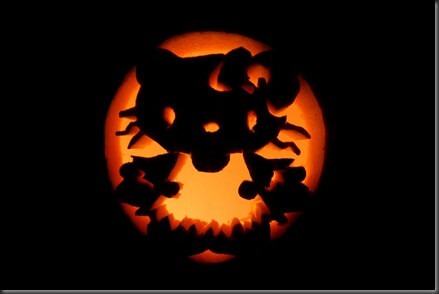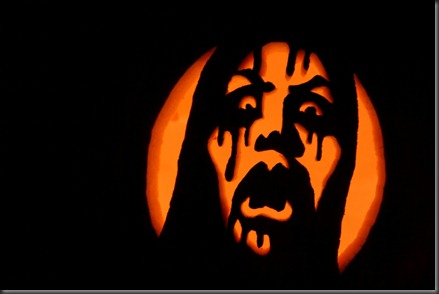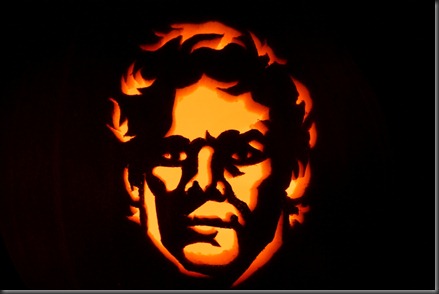 Gargoyle and Tongue Lashing
Old Hag and El Chupacabra
Iron Man and Killer Klown
Dragon Flight, Gelatin Skeleton
Zombie Hello Kitty and Bloody Mary
Dexter
I also carved Pretty Poison, Mr. Incredible and Baron Mojo into Funkins, they just aren't pictured.
Other Articles of Interest:
I've been sawing away at the pumpkins and here are three of my latest creations – Zombie Hello Kitty, Bloody Mary and Dexter. There are no pictures of these beauties engulfed in fire since it's been either too windy or too rainy for such antics. Instead, I proudly displayed them outside my office at work and got plenty of compliments.
Tonight I'll be gutting four huge pumpkins I just bought from the local farmer. They weight about 25lbs each and I had to pay for them by the pound. I'm keeping all the seeds so hopefully next year I'll have my own pumpkin patch.
Anyway, here's my latest carvings.
Other Articles of Interest:
It's time for another round of pumpkin carving. On the chopping block we have Iron Man and Killer Klown. I have a feeling Tony Stark would throw down against this clown. However, when things get heated Iron Man looses his cool and his battle armor starts to show some weaknesses. He doesn't last too long in this death match!
Another very fun night of the pumpkin carving!
Check out my fiery pumpkin gallery:
Other Articles of Interest:
Here's some more of my pumpkins that met a fiery end last night. As usual, the flames were pretty high and quite spectacular. I have to say the pumpkin was less than cooperative. I thought I had thinned the walls down sufficiently, but it was still quite difficult to cut through. The rind was a bit more fibrous than I had anticipated. It didn't lend itself to well to my cutting technique.
In the end I think it all worked out. I like these two patterns. They were pretty straight forward and the cuts were relatively easy. Strangely, El Chupacabra bares a striking resemblance to my dog…
Anyway, here a couple more of my pumpkin cutting adventures for this Halloween season.
View the rest of the flaming pumpkin gallery
Other Articles of Interest: