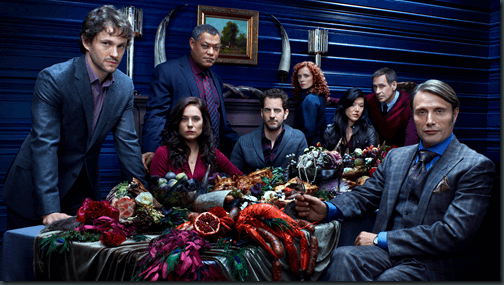 As we come to the end of the season (and hopefully there will be another) it appears Will may have turned over to the Dark Side. Will's tumultuous relationship with Hannibal has reached an interesting level with perhaps some sort of unusual understanding of each other.
This latest episode had me woefully confused as we see Will stooping to all new levels. Not only does it appear he killed the intruder in his home that was perhaps sent by Hannibal, he brought him back and splayed him out in Hannibal's office as a presentation. He also acknowledges that he and Hannibal are even. Since Will sent someone to kill Hannibal, it's only fair that Hannibal send someone to kill Will. It makes them Even Steven and puts them on the same level.
But just acknowledging the event doesn't seem to be enough we have the displaying of the body on a skeleton in the museum. Now you have to wonder, which one of them did it? Is Will analyzing Hannibal or the other way around? It's a pretty grim scene regardless.
We also see Will get involved with Margot even though he has the wrong parts for the job. It doesn't seem to slow them down. Not only that we have a very odd montage of Will and Hannibal both engaged in the same act with an odd mix of partners. Will and Hannibal may be sharing Alana figuratively and literally.
After the therapy sessions with Margot, Hannibal decides to pay her brother Mason a visit. Mason is in the middle of his latest experiment to make the man eating pig. Unfortunately, he's using the scent and clothes of his sister Margot to fuel the anger of the little beasts. I'm not sure this sends the correct familiar message between siblings. But it wasn't a wasted trip as Hannibal selects his own pig and presents it as a lovely dinner to Alana and Will.
Freddie begins to show doubt about Hannibal and feels that Will was right about Hannibal and she is still right about Will. After making some interesting connections Freddie starts to do her own investigation and winds up finding a bit more than she should. And where of all places does she end up? At the farm of Will Graham. Seems that shed of his contains many secrets and several freezers full of meat.
Jack is then confronted with a phone call from Freddie as she cries out for help. Will is then informed she hasn't been heard from in quite some time and she was last seen getting gas a few miles down the road from his farm. Oh dear, it looks like Will may have gotten tired of all her meddling and took drastic action.
Will and Hannibal sit down to a private meal together where the main entrée is a meat of dubious origin.
I really, REALLY, hope we get to see a season 3 of this show. To be honest, I'm going to be pissed if we don't get all 7 seasons! The current season is almost over and NBC still hasn't made a decision to renew the series. Egad, what are they thinking? This show has some of the best writing out there and the actors are playing their roles perfectly. Freddie is the perfectly blend of elegance, determination and sleaze. Will is the perfect blend of deduction, insight and utter instability. Hannibal himself is a wonderful blend of sophistication, confidence and subdued evil.
The dialog is crisp with lots of double meaning and plenty of points to ponder. Yes, the show can be dark and gruesome, but that's the nature of the story. Could it be done without all that? Sure, I don't see why not. But if that's the problem, why are you watching a show about serial killers anyway? Dexter had plenty of gory scenes and it ran for 8 years with no problem.
If anything, if NBC wants to throw in the towel, then sell it off to FX and put it as a companion to American Horror Story or over to WGN to support Salem or off to A&E with Bates Motel. Moving to a cable show would probably be the best thing for the show, but NBC has a real winner on their hands, I only hope they see it.
Other Articles of Interest: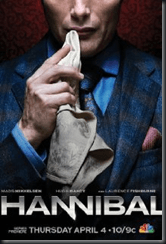 I've said a few times that I'm a big fan of the NBC adaptation of Hannibal and think this new portrayal of Hannibal is intriguing and suspenseful. I've never been that big of a fan of the original movies though- and by original movies I mean Silence of the Lambs. I saw it years ago and didn't think very highly of it. I seem to be in the minority in that respect since the vast majority of people think it's an amazing movie and Anthony Hopkins put in an award winning performance. I thought the movie was quite boring and found Hopkins to be annoying and almost comical as Hannibal Lector. This seems a direct conflict to the Hannibal we see in the TV series. So I thought it was time to go back and watch the movies over again and how it all blends together. When taken all together we now have an "active" Hannibal who works alongside the FBI and is quite adept at carrying out his crimes. We have young Hannibal who gets thrown an incredibly dark path due to horrific events involving his sister. And then we have the jailed Hannibal who works to put other serial killers away. Finally, we have an escaped Hannibal with a bounty on his head. How do all of these flow together if in fact they do flow together?
Red Dragon – The movie that should (or perhaps was if you take into account Manhunter) have been released first. Since we were thrown into Silence of the Lamb, the character of Hannibal never made sense to me. In this introduction to Hannibal all the characters are presented and to be honest they all come across as incredibly flat. We see that Will just barely escapes with his life after Hannibal attacks him, but the reasons for that never really show themselves. We're supposed to fear Hannibal but we never really see why. All we know is that he's a cannibal and a brilliant psychologist, but I never really felt a fear of Hannibal. He acts foolish and juvenile and doesn't strike me as someone who could hide an Easter Egg let alone be responsible for all the crimes leveled against him. He doesn't come across as being smart enough to get away with anything.
Silence of the Lambs – A very slow and boring movie. Even after all these years and all these rave reviews of Anthony Hopkins, I still don't like this movie. Even when Hannibal kills his guards and wears a face he carved off he doesn't instill fear or panic. His mannerisms up to that point just make him seem on the verge of shaking his head and foaming at the mouth like you expect to see from Charles Manson. He doesn't seem sophisticated, he doesn't come across as calculating, he doesn't give an air of cool planning or reserved danger. He just comes across as a lunatic who's no more capable of controlling his emotions and behaviors than a 5 year old on the playground. This was supposed to be award winning performances and I struggled to get through.
Hannibal – A movie with a plot and storyline that made no sense whatsoever. Everything about this movie felt forced and pointless. All the sequences with Mason Verger as Hannibal's nemesis didn't strike a chord with me. Someone is going to take the time and spend the money to do away with Hannibal using feral pigs? Oh for heaven's sake. Talk about an overly elaborate and easily escapable plan. None of the over the top violence made sense either. Fine you can have Hannibal twisting open someone head like a can of beer to expose their brain, but that really doesn't do much for the character. Yeah, it was gross, like a lot of other scenes, but this doesn't make Hannibal sinister or foreboding. Since he has nothing else it's just a shock factor.
Hannibal Rising – A movie that seems universally disliked, but a movie I like quite a bit. While I don't fully buy into the origin story I do like and understand this Hannibal. He is cold, calculated, plotting, reserved and always thinking ahead. The misdeeds against his sister have thrown him out of whack and his heart and mind burn for revenge. This explains his initial motivation, but is that really enough to sustain his serial killer desires?
Hannibal the Series – Here we see a tormented Will Graham and a sophisticated and lurking Hannibal. Will is being worn down by the atrocities he has to face on a daily basis. Hannibal steps in to watch and feed off that downward spiral. I think in this series we see all the characters that were lacking from the movies. Hannibal is calculating and sophisticated and a master of misdirection and suggestion. He points the FBI away from him at every turn. He's twisted and manipulated Will so no one will believe the wild stories he tells. His calm and sophisticated exterior make you like him, but the staging of his victims make you fear him. And you always have it in the back of your mind as to whether or not Hannibal is responsible for the crimes. We see him commit some, but he's able to throw enough clues and suspicion on others that we can't be sure of some things. I think Mads Mikkelsen is a far superior version of Hannibal Lector. He has a smooth and comfortable presence that draws you in. By comparison I felt Hopkins was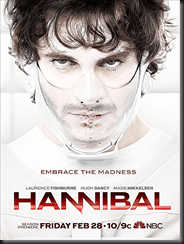 abrasive.
Of course you have to watch the movies in a completely different order than they were released. Silence of the Lambs was a confusing mess and Hannibal Rising feels like a forced origin story. I still think the movies are terrible and don't understand or agree with the draw people have to them. The movie portrayal of Hannibal is cliché and lacking. The TV portrayal of Hannibal feels dark and menacing. In the TV series, Hannibal feels like more like Jack the Ripper – a ghost of a killer that no one can catch, that disappears into the night after leaving behind a wake of devastation and fear. He's the gentleman killer that will cozy up to you and you'll never know until it's too late. None of that comes across from the movies.
I've read about the direction the TV series want to go and I would love to see Red Dragon, Silence of the Lambs and Hannibal re-written using these characters and personalities. I think it will make for a far superior story and will far eclipse anything the movies have to offer.
Other Articles of Interest: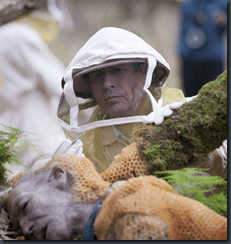 As we jump into the latest episode of Hannibal we see Will trippin balls and seeing hallucinations or perhaps the realities of what Hannibal has done to him. Did Hannibal induce seizures in Will to cause time loss and gaps in memory? From the "flashback" we see, Hannibal overstimulates Will with drugs and flashing lights. That's how we get the deformed clock Will drew.
We also have another serial killer on the loose – an acupuncturist gone wrong. She has decided the body would make a fine honeycomb for her bees. This is of course after using the icepick to take their pain away. Don't try the honey kids!
But the idea that the bee stings hide the acupuncture wounds leads Beverly to recheck the wounds on her previous serial wherein she learns the liver is gone. Will declares Hannibal is behind these deeds, but where are all the bodies? Based on his memories, Will says Hannibal is eating them. That doesn't go over very well.
Finally, Beverly checks out Hannibals house while he is at the hospital with Jack and his wife after he foils the wife's failed attempt at a morphine overdose to end her suffering with cancer. Beverly discovers and unlocks a couple of secrets room including one underneath the kitchen. She may have bitten off more than she can shew as this curious Katz is now face to face with Hannibal in his lair. Darkness and gunshots ensue and one of them isn't getting out of there alive.
Other Articles of Interest: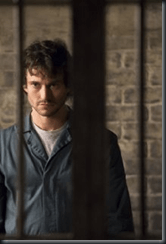 The new season of Hannibal starts off with a bang, or rather a massive take down brawl between the lead characters. Not to give anything away, but we see Hannibal and Jack locked in mortal combat with dozens of blows being landed and some near misses with the cutlery. It ends with what looks like a fatal wound, but we immediately jump to 12 weeks earlier and get on with the story where we left off with Will incarcerated and suspected of killing multiple women. Of course, this leaves us wondering, was this a real fight sequence or was this some sort of dream sequence from Will? As we quickly learn, Will suspects Hannibal is behind all the crimes and set him up. He recalls Hannibal doing things to him, but can't swear any of it's real. In fact, he doubts anything is real anymore. Has Hannibal manipulated him or is that what he wants to believe?
While Will is trying to sort out his issues we're also on the trail of a new serial killer that's taking victims and preserving their bodies with some sort of shellac. Their bodies are discovered at the dam of a river and since Will is behind bars Hannibal steps in to help with the investigation. Through the sophisticated suit he's able to think like a serial killer and offers his own insight. Little do they suspect.
We also see some tensions between Hannibal and his own therapist Dr. Maurier. There's an usual past between these two and a lot more than meets the eye. The way things come out, Maurier is aware of Hannibal's tendencies and at one point may have even been the victim of his wrath.
Will is determined to prove Hannibal isn't what he appears but obviously he's working against the clock. The FBI is about to wash their hands of the whole affair and let the prison system have Will. But he won't be the only one going down. Jack and Alana will face a stern ass kicking since they left Will work out in the field knowing he was unstable.
I have to say it's a damn good start to the new season. We have a ton of information thrown at us and plenty of details to make us wonder how it's all going to turn out. The fight scene at the beginning really makes you wonder how we're going to get there and of course was it all real? We should have a very entertaining, dark and suspenseful season on our hands.
Other Articles of Interest: