Killer Contact – Vlad the Impaler – S01E02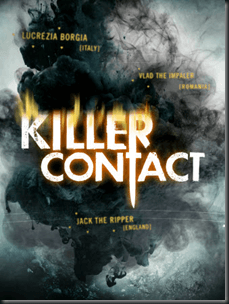 For this episode our new team of investigators heads over to Transylvania to investigate the legend of the most widely known figure in the world – Dracula. Their destination is the Hunyad Castle where Vlad was a prisoner for some time. This is one of the locations that the Ghost Adventures team visited on their less than impressive investigation of this same legend. Does the Killer Contact team fare any better?
In the castle they investigate the Bear Pit, The Chapel and Vlad's Cell. The reports for all these locations include people getting hit with rocks. Some hear voices and others claim to have their hair pulled. It should come as no surprise in a castle that's a couple of hundred years old that falling rocks can be seen or heard. I think we need to discount that sort of thing right off the bat. That's sort of like going to the beach and getting stupefied over getting sand in your shoes.
While in the chapel they get one hit on their RemPod and then say for certain there is a presence in there. They get no other signs, just that one beep. For them that's enough.
In the bear pit they hear mumbling and once again feel that is confirmation someone is there. And someone evil no less. Let's discount the echo effect those high stone walls would have. We must skip all the logical ways of hearing a noise and assume every sound is the presence of evil. It's Dracula's castle, what else could it be?
During their investigation they feel they get an EVP of the name Llona. What a crazy random happenstance this happens to be the name of Vlad's wife. That's not what I hear, but thank goodness everyone else hears it that way or the next segment would seem silly.
In Vlad's cell, Austin is fixated on this idea that Vlad is the undead and a Stragoi. He continually asks this question desperately hoping to see a spike. He eventually gets one, which to him is confirmation that Vlad has become the undead. While he's asking these questions there's a loud bang at the window which is of course proof of Vlad. There's no way it could have been a branch from the trees right outside the window or a bird or yet another rock tumbling and hitting the window, it must be Vlad.
Austin feels he's communicating with Llona and she confirms that Vlad is living beyond the grave.
Overall their evidence is incredibly weak. If you take the individual pieces you have rocks falling in stone castle, the sound of mumbling echoing in a stone castle, the sound of something hitting and old wooden door and finally a couple of spikes on a TriField meter. I think it's a huge stretch to say any of this is paranormal let alone it speaks to Vlad the Impaler being undead or the legendary Stragoi. That is some insanely flawed logic right there.
Another part of the investigation that shows how unsophisticated this team is, is the yelling from Greg in Vlad's cell. What the hell is that all about? What is he trying to prove? Despite what they think of Vlad he was fighting to save his people from an overwhelming army. He was outmanned and needed to instill fear into the oncoming enemy. If you were coming to get Vlad and saw that would you keep going? Vlad may have been desensitized to the death around him, but I don't he should be labeled a mad man. And when did he start drinking blood? That's part of the vampire legend of course, but I don't think that extends to the real man. I think we're getting carried away with legend and myth.
The location is of course interesting, but I don't know if this episode was better than the first. I admit fully I'm jealous of the two places they've gone so far. For those of us interested in such things, it would be a dream come true. I guess we'll see what the next location brings.
Other Articles of Interest: