Ghost Adventures – Enchanted Forest – S16E06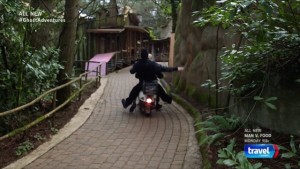 Heading up from California, we find ourselves at the Enchanted Forest Theme Park in Oregon, where Aaron spent time as a child. But from the go, Zak says the theme park sits on a portal to another dimension and that the dreams and nightmares of children are coming to life. We can also tell from the start that Zak will have a hard time in this location as it's filled with creepy dolls, figures and portraits. He even claims the "haunted house" is actually haunted because it causes anxiety. There is also reference to the land being tainted and cursed due to the battles fought in the surrounding area.
As they tour the different buildings, it's obvious Roger Tofte, the owner and creator, set out to create a bizarre and strange tourist attraction. It clearly gives a funhouse effect through it's odd angles, off kilter paintings, and distorted proportions. Admittedly, it's straight up weird.
The odd feeling it would induce leads Zak to say there is something overwhelming inside and that something touched his elbow. Chris, who works one of the rides says he has heard footsteps. Even Aaron's sister Amy, says that something touched her shoulder, when she was 8 years old.
To start the investigation, Zak and Billy go to the Challenge of Mondor attraction, which to be honest, is pretty bizarre and creepy looking in the dark. There, they use the Mel Tir device which detects cold spots and points the way to them. A pretty dubious device to be sure, but it beeps and shows blue lights, so we have to assume it's scientific.
It should come as no surprise that Zak feels multiple cold spots and tracks orbs floating around. These orbs are even moving toward the altar so their intent should be taken as sinister. And this is enforced by Billy stating there is a circle on the floor. These are clear signs of nefarious behavior.
At a different attraction, the Gingerbread House, Aaron uses a parabolic microphone and hears all sorts of noises. Of course, using a microphone like that would let you hear all sorts of noises. At one point, he gets feedback, which should be taken as a sign of the paranormal. Because the story plays on his mind, Aaron feels like he's going to be eaten and gives himself all sorts of anxiety. Each noise and feeling affirms that something mysterious is going on, even though he admits the place scared him as a child.
For the end of the investigation, they head into the actual Haunted House. This has Zak on edge right from the start, and Billy is almost to the point of having yet another panic attack.
As they use the SLS camera, a stick figure appears and dances around at Zak's behest, proving it's intelligent. Even though he is taking images from behind the glass, he's quite sure it's not a reflection of any kind. We should also keep in mind that a hacked apart Kinect hooked to an iPad is a scientific instrument.
Billy then brings out the sweep device, which looks like another iPad hooked to a series of dials. And judging by those dials, you can conjure up all sorts of sound effects. Because it's an iPad, or a computer nonetheless, we must believe it doesn't have the ability to prerecord sounds or voices and that it's not giving back the exact messages they want to hear with tons of echo and reverb.
Through this device of their own making (I believe Billy, a sound engineer, created it), we get the phrases, "this is my home", "good evening" and even, "come to mom" which Zak says the woman calling to the child voice he heard earlier.
But it's not just a woman lurking around, there is man who says, "he saved my life". With that, Zak feels that through all the strange paintings, statues, and buildings, that this location has turned children's dreams into a reality and because they've thought about these stories for so long, that the mere thought of such has manifested them into reality. In Zak's world, if you believe something is real, and believe it long enough, and thus convince yourself, then it's real. Reality has no bearing.
While this may be a portal, or another dimension, or perhaps even a haunted house, it's open to the public and for a small fee you are more than welcome to have the experience yourself.
Other Articles of Interest:
One Response to Ghost Adventures – Enchanted Forest – S16E06