Check out these little guys! They were made by a friend of mine who works with polymer clay. It seems he had a few moments to spare over the weekend and made himself a pumpkin patch. I can only assume this was done while he was waiting for the Great Pumpkin to appear. I'm not sure if these were an offering or a presentation of a standing army. The Great Pumpkin can be fickle you know. Either way, they are cute as hell and each one is unique. As you can see, some have small mouths, some have jagged mouths, some have teeth, some are smiling and some look scared. You can even see the vines have differences between them. I hope he'll sell these on his Etsy store, but even if not I wanted to share them with you. Maybe you can leave a comment and persuade him to sell a couple.
Pretty neat aren't they?
Other Articles of Interest: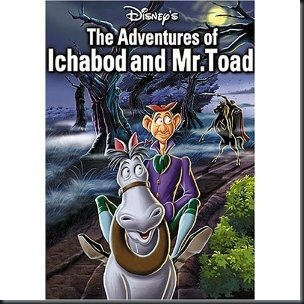 This 1949 Disney feature has never been available on video in its original form until now. The 68-minute film contains two shorts: The Wind in the Willows and The Legend of Sleepy Hollow. The former is a lively version of Kenneth Grahame's book of animal adventures, including Mr. Toad, a rambunctious sort with a passion for motorcars. Basil Rathbone narrates the story. Sleepy Hollow is the Washington Irving story of a stuffy schoolmaster and his ability to win the love of the fair Katrina from the brutish Brom Van Brunt. Many fans will see a resemblance to Disney's masterpiece created some 40 years later, Beauty and the Beast, in style and story. The end is still scary enough to send youngsters under the table. Bing Crosby supplies the narration, character voices, and songs. The opening number in a library including two stories has been included in this good-looking restoration. The shorts were made in Disney's prime, a year before Cinderella, and the look is wondrous. The exaggeration of Ichabod's skinny frame and his slumping horse is a glorious example. –Doug Thomas
Product Description
In the great tradition of SNOW WHITE AND THE SEVEN DWARFS and CINDERELLA, Disney's 11th animated masterpiece, THE ADVENTURES OF ICHABOD AND MR. TOAD, introduced two literary classics to the screen. Through award-winning Disney-animated wizardry, these unforgettable children's stories come together as one fabulous adventure. THE WIND IN THE WILLOWS follows the wild ride of J. Thaddeus Toad, squire of Toad Hall. Smitten with motorcars, the wealthy and reckless sportsman soon drives his close friends Mole, Rat, and Angus MacBadger into a worried frenzy! Then meet Ichabod Crane, the spindly schoolteacher who dreams of sweeping the lovely Katrina off her feet — until Brom Bones, the town bully, gets involved. Their comic rivalry introduces Ichabod to THE LEGEND OF SLEEPY HOLLOW, the fabled Headless Horseman, and a hair-raising, heart-thumping climax. Narrated by legendary stars Basil Rathbone and Bing Crosby, THE ADVENTURES OF ICHABOD AND MR. TOAD is brimming with high-spirited adventure, brilliant animation, and captivating music — now available for the first time in keeping with Walt's original theatrical vision.
The Adventures of Ichabod and Mr. Toad
Other Articles of Interest:
I just had an encounter with Dan Aykroyd and the local beverage shop. He probably knows more about spirits than anyone, both figuratively and literally. Here was down here for a signing of his Crystal Head Vodka so naturally I had to go. The shop was about 10 minutes down the road and I'm a sucker for drinking liquor out of a skull.
The line was massive, Dan was very pleasant and I hope the vodka is equally so. Anyway, here is my collection of spirits, all of which are signed (except the tiny ones, they are just too small) with two of them being personalized.
Cheers!
I had a million things going on yesterday so I barely got to say anything about this event. Here is a news article that gives some of the highlights, including several fans dressed as Ghostbusters. I actually got pictures of these guys and their car. Nice job guys!
Actor Dan Aykroyd greeted by hundreds of fans in Fort Mill
So what was it like?
I showed up at Frugal's just before 12:30 and there were already well over a hundred people in line. It took nearly two hours just to get inside. I thought I was waiting for some damn ride at DisneyLand. We were right across the street from Carowinds, so … Once inside it took another 30 minutes to actually meet the man. But, once I got up there I found he was very generous and seemed genuinely excited to be there. (why does this sound like I'm meeting Santa?) There was a lot of chaos as his staff kept unboxing and chucking bottles at him to sign. He'd sign one, toss it to the side, then wait for another. Amidst all this confusion, he had no problem taking pictures, saying movie quotes and signing other things besides bottles (you would not believe how many Blue Brothers DVDs showed up). As you see in the picture, I bought two of the big bottles and two of the medium bottles (I got the mini bottles as I left the store). He signed all of them and took a moment to personalize the big bottles. One is signed for me and one for my father in-law who's also a big fan.
By the time I got out of the store with all my bottles and back to the car it was 2:30. He was only supposed to be there until 3, but there was at least 300 people still standing in line (there might have been more, I didn't want to go wandering around with all that liquor and get mugged). I can only guess he stuck around and signed some more bottles. The article states they sold about 600 bottles that day. I think that might be a little low. I saw dozens of people walking out of there with a case of 6 bottles. It was rare for someone to buy just one bottle. After standing in line that long, you need to make it worth the effort.
But it was a good time and Dan was a very friendly guy. I'd love to sit down and talk with him about making vodka and the paranormal.
So how is the Vodka itself? Well, I'm not a huge Vodka drinker. I went down there to meet Dan, get an autograph and get some bottles that cool as hell. That being said, I thought the Vodka was very good. I put it in the freezer to chill it down and drank it straight. It was very smooth and was quite enjoyable as a sipping Vodka. I have to say I'm impressed. It's not just some crap liquor he's put his name on, it's actually an enjoyable drink that's worth the price. Even Donna thought it was smooth and drinkable.
Standing in line was boring as hell, but overall it was a good time. Like I said, Mr. Aykroyd was very pleasant the Vodka was quite pleasing. It was certainly worth the effort. If you're in the Carolinas, you have one more chance to meet him today. If not, he's got several more stops on his tour (damn he does sound like Santa Claus doesn't he?) so maybe you can catch him at one of those.
Other Articles of Interest:
Oh yes indeed, I did buy a couple of these! And as an extra bonus try this coupon to save 15% — 3LEMS1A
This glass decanter lets him have his drink and keep his head, too! Holds a full fifth of his favorite brand & has a cork stopper. Cap. 27-oz.
Other Articles of Interest: