The urge for mood music was almost overwhelming this weekend as I was working on several computer projects. I'm a huge fan of Midnight Syndicate, and I keep seeing Nox Arcana as a recommendation from Amazon, so using their preview option I completely immersed myself in their music to see what I liked. Quite frankly I liked them all for different reasons, but decided to download three CDs for this run. I went with Shadow of the Raven (it's a tribute to Poe, how can you resist that?), Blackthorn Asylum and Transylvania. I'm starting off with the older stuff for right now.
Like Midnight Syndicate they're very atmospheric and tell a narrative through music. They're pretty much all instrumental or spoken word. I had a great time listening to each of them and will probably buy a couple more as time goes by. Of course, I plan to play a lot of this over the next month and a half and probably beyond. And make no mistake, all of this will be playing through the house on the big night.
Midnight Syndicate and Nox Arcana are a great pair and between the two of them, I have a massive Halloween playlist brewing. Brewing! Get it?
Got any other suggestions of what to listen to?
Other Articles of Interest: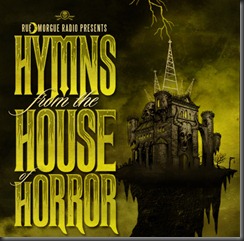 In honour of Rue Morgue's 100th issue, it gives us great pleasure to gift you, Dear Music Lovin' Reader and Web Fiend, this free, downloadable compilation album we've sacrilegiously christened Rue Morgue Radio Presents…Hymns from the House of Horror! Thousands of horror bands have graced the pages and airwaves that emanate from this unholy place over the course of thirteen years, more than 300 radio shows and 100 magazines. We put our misshapen heads together and enticed a handful of the many artists we believe best encapsulate Rue Morgue into giving us exclusive mixes, previously unreleased tracks, obscure rarities and classic cuts for this morbid mixtape, hosted by Rue Morgue Radio's proprietor of perpetual darkness, Tomb Dragomir.
It's a free download, nearly 150mb, so grab your copy while it's still available.
Rue Morgue Radio Presents…Hymns from the House of Horror!
Other Articles of Interest: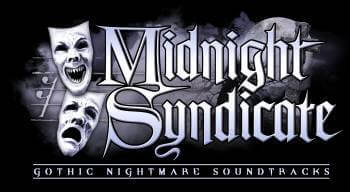 I heard the music from Midnight Syndicate about 4 years ago now and thought it was some of the best stuff I've heard. Unlike other Halloween style CDs which are more sounds effects such as rattling chains and creaky doors, or perhaps a CD full of memorable horror move sound bites, this is actual music. And not music like Monster Mash or some other silly song, this is "mood" music' or rather, it tells a story. Written like the score of a movie or as an excellent soundtrack each CD tells its own story through music.
For example, in The 13th Hour you arrive at the house in a horse drawn carriage. The floor creaks as you wind your way through. Each room offers its story and mood through an eerie recounting of the events that took place there. The past comes alive with haunting music and sounds that bring your right into the story. It's a complete tour of the house set to music.
If you want to get yourself in the mood this Halloween or you're looking for great ambient music to play as the trick-or-treaters come around then this is definitely what you need.
The collection is increasing with two new CDs added to the collection. I grabbed a copy of "The Dead Matter" from Party City last night. I was only able to give it a quick listen last night, but it's just as good as their other offerings. The music unfolds to tell you a story and guide you through some dark and unfamiliar places.
I haven't purchased a copy yet, but there is also the "Rage" soundtrack which Midnight Syndicate put together. It goes along with the movie "The Rage" which is that old bedtime story of the mad scientist who creates a formula to seek his revenge on the humanity who has wronged him and now that it's been released it goes completely out of control. I know nothing of the movie but the soundtrack gets excellent reviews on Amazon.
The one disappointing thing is that Amazon doesn't offer these CDs as MP3 downloads. Considering "Rage" was released at the end of 2007 and "The Dead Matter" just a month ago, it's very annoying that Amazon doesn't have them available as a download. It would just be so much more convenient.
But even still, you should do what you can to get a copy, they're great.
The Dead Matter:
Beyond the cemetery gates, the dead do not rest easily. An ancient Egyptian relic, vampires, and the living dead lurk amongst its shadowy crypts. Midnight Syndicate beckons you into the dark world that inspired the upcoming motion picture…
The Rage:
Midnight Syndicate's score to Robert Kurtzman's drive-in/late-night horror show thriller, The Rage. Menacing ambience and signature Midnight Syndicate dark soundscape mixed with high octane action and chase themes guaranteed to get your blood pumping.
A winding cobblestone road meanders its way deep into the thick forest blanketing the hillside. Up ahead, you can make out several spires rising above the treetops, signalling your arrival at Haverghast Asylum – your new home. As your horse-drawn carriage comes to a stop before its imposing front gates, you catch a glimpse of something scrawled across one of the otherwise-pristine windows high above you. "Turn Back" it says. Just then, a guard emerges from beyond the gate to escort you inside. Haverghast is said to be a place of healing for wayward minds, but there have been whispers of other things as well. Things that are too terrible to speak of…things that, if true, could make your nights here rather…unpleasant…
Unleash your darkest nightmares as you enter the world of the Vampyre. Echoing from ancient crypts, these haunting symphonies call forth the horror, mystery, and passion of the night that awaits you . . .
The past does not rest easily… The 13th Hour draws listeners into the halls of a haunted Victorian mansion, through the sinister history of the Haverghast family (Gates of Delirium). A truly interactive listening experience for those ready to take a journey into the dark side of the supernatural.
Before the Haverghasts, before the haunted asylum and the Crypts of the Foresaken, there was Arcacia, a ruined village by the sea with a dark past and a mysterious link to an ancient tower hidden away among the cliffs of the Northern Jarls. Out of the Darkness (Retrospective: 1994-1999) features re-recorded and re-mastered horror music classics from Midnight Syndicate's Midnight Syndicate, Born of the Night, and Realm of Shadows as well as four previously unreleased tracks.
CDs Out Of Print:
Born Of The Night (the first disk I happened to listen to)
Realm Of Shadows
Technorati Tags: halloween, halloween music, haunted house, movie soundtrack, the dead matter, midnight syndicate

Other Articles of Interest: