Here is another from the artrojasdesign collection, a brown theme, tinged with orange for the sidebar and a cracked and peeled header. The header is actually a picture from inside one of my charred pumpkins which I think gives this theme a nice look.
Again, this is a two column theme that is compatible with WordPress 3.x. It has a slightly dark and offbeat look which should work very nicely for Halloween. Give it a try and tell me what you think.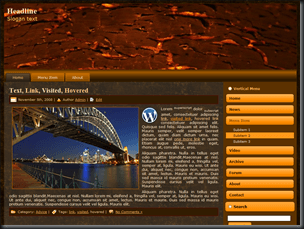 Download Crumpled Brown for WordPress:
Other Articles of Interest:
Speaking of the zombie apocalypse…
Left4Dead and Left4Dead 2 (PC version) are both on sale at Steam. Each is only $6.79 which is a massive savings unto itself, but if you buy the bundle it's only $10.19. I'm not really sure how you can resist!
Those Zombies, they're getting all the publicity these days!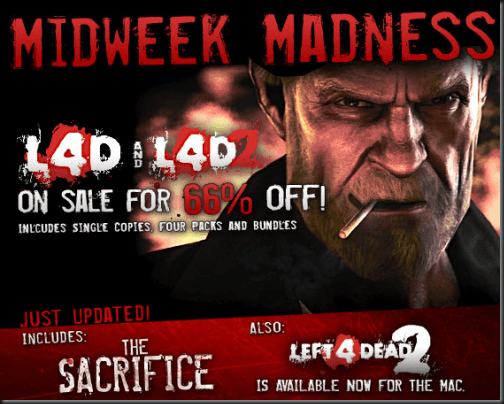 Left 4 Dead – $19.99 — $6.79 /
Left 4 Dead 2 – $19.99 — $6.79
Best Value: Left 4 Dead Bundle $29.99 — $10.19
Other Articles of Interest:
Now you can really take your zombie ass kicking to a whole new level with Zombie Infection. You'll get your hands dirty in this first person shooter where you're on the streets armed with shotguns and your wits.
Things start off easy as you're dropped off and work your way through a couple of waypoints. But the zombies are coming so you can't just stand around. And while you're out there you need to check in the crates and other hidden stashes to see if there's any spare ammo or guns laying around. Besides the zombies coming at you, there's a lot to pay attention to. Zombie shooter and scavenger hunt!!
The controls are actually quite cool. You have one control for movement and another for looking around. This is very similar to Left for Dead, Resident Evil and other console games. In fact the game feels very much like your playing a console game. The graphics are well done, the sound is really good and the game is quite immersive. You're not just going to sit back and idly play along. You're in the thick of it!
You have certain tasks you need to complete to move on to the next section, so it's not the same thing over and over again. And it's not just shooting the zombies, you need to work your way through the levels to find out who created and released the virus that caused all the problems. Plus, you get a little help, a news crew has unfortunately been thrown into the thick of things with you. You get to switch back and forth as to who you want to play as.
There's a little bit of everything and little bit for everyone in this game. It's a well done zombie survival game with great graphics and excellent game play. I grabbed this game when the price dropped so you might be able to catch it on sale if you're willing to wait. However, if you need to jump in right now, there's an iPhone/iPod Touch version and the full blown HD version for the iPad. Ironically, I have both and they look and play equally well on both devices. Impressive all the way around!

Other Articles of Interest:
There is just no end to the zombie horde! All that zombie mayhem you created in the other games is finally coming back to haunt you! The citizens need to be saved! The zombie pandemic has hit!
Zombie Escape is a line drawing and action/adventure game. People have fled to the streets in panic and you need to draw a path for them to follow to the helicopters. Zombies roam the roads and can block the way to safety. In this case, it's bombs away so you can clear a path. Or maybe you need to drop in some rifles?
For those that like line drawing games like Flight Control this is right up your alley. More and more citizens need to be saved while more and more zombies fill the screen. You need to get enough people on board the helicopter before it takes off. But it can be surrounded as well so you have to keep it from being overrun. A helicopter full of victims looks like a tasty treat! Things can get pretty panicky once you have helicopters on the ground but you're still waiting for people to climb on board.
This is a fun little game with good graphics and plenty of overhead carnage. It's all fun and games to start off with, but once the zombies increase in number and strength you'll have to decide how to deal with them. There's lots of action and weapons upgrades you can work with. You also need to manage your resources. Nothing in life is free, so don't expect to saturation bomb the area to survive. Weapons cost money!
This is an amusing little time waster and the people are so thankful when they make it to a helicopter! It's cheap entertainment and should keep you in good form for when the real zombie apocalypse comes!
I think this is another game that actually plays better on the iPad since you can see and select the objects more easily. Oh that iPad, it makes me so happy.

Other Articles of Interest: