Here's an interesting twist on a theme; instead of escaping the zombie horde by means of shutgun and flamethrower you are the infected and it's your job to create even more mass hysteria by creating an even bigger zombie horde. You run around gnawing people on the head, turning them into zombie while the masses try and stop you.
And as with any good game there are powerup and skill upgrades. It's crazy and absurd and it looks like a whole lot of fun. There's zombie games galore, but it's not every day you get to be the zombie. And seriously, it's only $0.99.
66% OFF SALE TO CELEBRATE THE LAUNCH!
be zombie! infect them all
Infection zombies is a game that can make zombie world by infecting and eating people.
You can enjoy this game with easy and simple controls.
You are gonna fascinated by the combination of dynamic actions factors and simulation factors which make more and more zombies
FEATURE
– 3 types of playable zombies
– 20 types of enemies unit
– You can team up with tens of your zombies in a melee.
– A huge scale shows more than 150 enemies at a time
– 7 abilities which can be upgraded with 30 levels
– 50 stages of campaign modes
– Survival mode aims for how long you can survive
– Blitz mode, in which  you have to gain scores as much as you can within limited time.
– Openfeint highscore and acheivements
– Support two ways of control: Gyro sensor and pad
– Original sound and voice
– Outstanding Artwork.
– Additive play
You can check out a video of the gameplay at
http://www.youtube.com/watch?v=UL_-p2fkJX8
Other Articles of Interest:
Ask The Tiki is ready for download in the app store! It's free and should only take a moment get. Plus, its features and capabilities are so awesomely powerful that you need iOS4 in order to run it! Jobs is at one with the Universe and the Tiki taps into that power to bring you spiritual answers from beyond this plane of understanding.
So while you're downloading iOS4, you should take a moment to bring peace and enlightenment into your life and download Ask The Tiki. You have nothing to lose except doubt and uncertainty.
Do you have questions about life and the meaning of it all? Do you have doubt and uncertainty about what to do next? Are people looking to you for answers but you have nothing to offer them?
Have no fear, Ask The Tiki is here. Don't dwell in darkness anymore, let The Tiki give you spiritual guidance. Clear your mind, concentrate on that which you really want to know, then ask the Tiki and be given divine inspiration. Be amazed and amused at the awesome fortune telling power of The Tiki. But be careful, The Tiki knows all. The Tiki tells all. The Tiki is brutally honest. Are you prepared for what The Tiki has to say?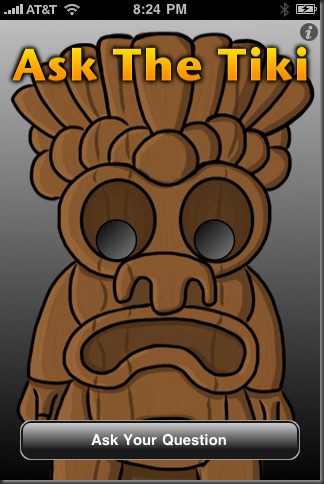 Other Articles of Interest:
Personally I thought this little incident was behind us, but it seems Robert Bess is calling some folks out. He claims he can capture paranormal activity and wants the Ghost Adventures team to be a part of it.I'm not really sure why he needs them to prove his parabot works, but apparently Bess has issued the following challenge:
The challenge involves a live capture of a ghost and to produce real evidence on the spot.

"I've told them anywhere," Bess said. "They can even pick the location and bring as much help as they need."

"If I win – meaning, if I deliver real proof of paranormal existence in the location of their choice right then and there as it happens – I request that they cancel the next season and tell the public exactly why."

"If they win, it's up to them what they want in return." he added.
I think there is a lot of innuendo going on in that statement. What's the deal with this line? -"I request that they cancel the next season and tell the public exactly why." Is he saying there is fakery afoot? Did something else happen during the investigation that hasn't been brought up? Is there some claim against the Ghost Adventures team he's thinking of making at some point? I'm really curious what he means by that. Do we have another jacket pulling incident in the making here?
Other Articles of Interest:
I don't know why I wasn't reading it before, but I just caught up on Josh' Tweets and not only is he just as humorous about his adventures, it proves we're going to get another season of Destination Truth. And he's off to just as many wild places as ever before.
As you can see, it's amazing where he can get a web connection…
http://twitter.com/joshuagates
Other Articles of Interest: