Even though Jason and Grant have abandoned their post for Halloween that doesn't mean we are left without some ghost hunting excitement. The Ghost Adventures crew will step in and helm a 7-hour live investigation of the Trans-Allegheny Lunatic Asylum in West Virginia.
(Chevy Chase, MD) This Halloween season, on October 30, 2009 from 8PM to 3AM ET the Ghost Adventures crew, Zak Bagans, Nick Groff and Aaron Goodwin, will voluntarily lock themselves in one of America's most haunted locations, the Trans-Allegheny Lunatic Asylum, for a LIVE seven-hour, paranormal investigation.
Zak and his crew maybe a little "odd" at times, but he still has a stage presents I find interesting and engaging. I have a feeling their quirky antics could make for a very worthwhile show. Plus, the place they are visiting certainly has a checkered and troubled past.
For example:
Ghost Adventures will have unprecedented access to the entire asylum — from the seclusion cells, where the most violent patients were shackled, to the medical center, where primitive procedures and autopsies were performed.
And where some of the "primitive procedures", why the lobotomy of course, the cure-all to mental disease:
Dr. Walter Freeman, who had no surgical training, "perfected" the lobotomy on the patients at the Trans-Allegheny Lunatic Asylum. The patients would not be given anesthesia, but were instead given electroconvulsive therapy (which are basically electrically induced seizures) until they became unconscious. He would then stick an ice pick between the eyeball and eyelid and hammer it into the brain, where he made sweeping motions with the ice pick to destroy brain matter. He performed around 3,500 lobotomies in his lifetime, until he killed a patient during one and lost his medical license.
Their methods are a touch different, but I like these guys. As I stated in a previous post Zak has a great narrative style and his enthusiasm draws you in. He seems really excited about the location he's at and wants to see what he can find. I can't say everything they find is compelling or that yelling, "Dude! Did you see that?" doesn't make me roll my eyes, but I'll be tuning in for this event, this looks cool as hell!
Want to read more of the events that took place at the Asylum? Check out this article:
http://www.associatedcontent.com/article/2301337/halloween_ghost_adventures_live_transallegheny.html?cat=2
And read more about it on Wikipedia:
http://en.wikipedia.org/wiki/Trans-Allegheny_Lunatic_Asylum
More details on the show can be found here:
http://www.travelchannel.com/Ghost_Adventures_Live/
As an aside, if you want to do your own Ghost Hunt on Halloween, you can! The Trans-Allegheny Lunatic Asylum is offering a Witches Ball from 7pm – 1am and then a Ghost Hunt inside the Asylum from 1:30am until 7am.
http://www.shop.trans-alleghenylunaticasylum.com/product.sc?productId=47&categoryId=10
I don't think you could ask for more on Halloween night!
Other Articles of Interest:
We're halfway to Halloween! Looks like a bunch of stuff is going on sale this weekend; they start earlier every year. It will make everything only moderately outrageously overpriced.

If you haven't already gotten your blog decorated, then you need to get a move on! Don't forget we have 17 brand new Halloween themes for WordPress just waiting to be downloaded. And while some sites are giving discounts and putting their themes on sale, ours are free!
Come on, get on it!
Other Articles of Interest:
We couldn't make and orange and black theme without doing a black and orange theme too. Yes, there is a difference! Checkout his true Halloween theme. The body is Halloween black with the sidebar in pumpkin orange. And for good measure the header has everything you need for Halloween, pumpkins, skulls, bat and black cats. It really is a beauty!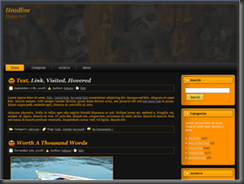 Download Halloween in Black and Orange
Other Articles of Interest:
Halloween is all about orange and black and we've combined them for this spectacular theme! A great orange theme with black sidebar and a banner full of bats, skulls and pumpkins. If this doesn't say Trick or Treat, nothing does!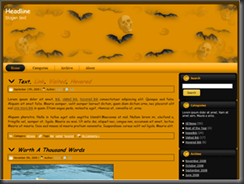 Other Articles of Interest: