MonsterKill by Origin8 is free for today. A fun little castle defense game featuring all the classic monsters such as Mummies, Dracula and the Wolfman. The graphics are very good and it's a lot harder than you might think.Give it a try, you have nothing to lose!
REVIEWS
AppVee.com
"Overall, it is obvious this game was designed masterfully as the graphics and gameplay are well-done."
appVersity.com
"Awesome death animations…Great game modes for extended replay…Strategy elements…Halloween Theme"
AppChatter.com
"…MonsterKill is a great game that is fun and has great graphics…"
Appmodo.com
"If youre like me, there are two things in this world you cant live without castle defense games and zombies. With MonsterKill you get a fresh new way to defend your castle against zombies, vampires, werewolves and Frankenstein monsters. Sounds perfect? It is!"
AppAdvice.com
"If you are into castle defense games, MonsterKill is absolutely worth a look"
THE GAME
They're cute, they're cheeky – you just want to squeeze the life out of the little monsters!
Hordes of tiny terrors have broken free of their chains and are running amok!
CLASSIC MINI-MONSTERS!
The Mummy aka The Geezer
Count Dracula aka Vlad
Werewolf aka Scott
Frankenstein aka Frankie
… you've a few tricks up your sleeve to deal with these guys:
TOUCHSCREEN GESTURES
Summon a variety of spells as you battle against these classic mini-monsters.
Slice and dice them – cut them in two with the cut spell!
Summon lightning – give them a shocking experience!
Turn up the heat by casting fireballs – watch 'em burn!
Need to slow them? Sculpt an ice block to stun them!
FEATURES
Simple gesture system to summon spells
Stunning characters, animation, backgrounds & fx
Multiple game modes: Normal, Endless & Onslaught!
OpenFeint for online high scores & achievements!
Awesome music & sound effects by Earcom!
iPod music library access (for OS3.0+ users)
Automatic game saving
VIDEO
http://www.youtube.com/v/f_7yrFbNZdM
or check out http://www.origin8.com/monsterkill

Other Articles of Interest:
App Description
This is an amazing Match game. Click the area that have two or more SAME Halloween ghost face to free up the board and get the score.Its the best way to enjoy your spare time.
Still agonized by the loading page or complex startup procedures? Here comes the Crazy Halloween Click! Click and you can jump into game and play immediately. It will bring you brand new experience. Simple wizard, auto-save/load, quick response, attractive icons and well designed sound, you'll fall in love with it at almost the first glance.
Eight difficulty levels for challenging, you can re-play any of the passed level at anytime to achieve a higher score.

Other Articles of Interest:
It's not all about Paranormal Television, sometimes you just want to go running around laying waste to Zombies and other diabolical creatures of the night. I haven't downloaded this one yet, but as you well know, I'm a sucker for these types of games. It looks pretty interesting and for $0.99 I hardly think I'm losing out on anything. So give it a try and let me know what you think.
To the App Store!
In Ghosts'n Zombies you play as a bushy-eyebrowed, cigar-smoking, shotgun-toting monk who apparently was dispatched from the Vatican to investigate a mysterious haunted chapel. Upon your arrival, you discover the church is absolutely loaded with rats, ghosts, zombies, and other demons. So, as an agent of the Vatican, what do you decide to do? Shoot everything that crosses your path of course.
Read more about 'Ghosts'n Zombies' – Vatican Ghostbusters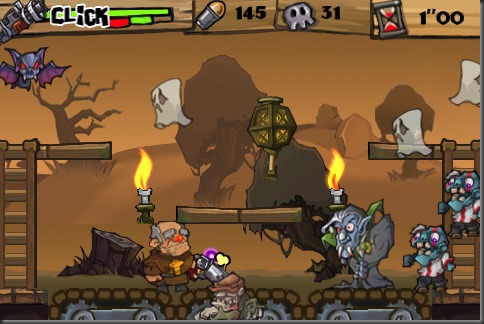 Other Articles of Interest:
Can you ever have enough games featuring Zombies and Aliens? And for $0.99 this is some serious, mindless entertainment. And just in time for the weekend! Blast way Zombie Hunter!
2012 Zombies vs Aliens falls into an action/strategy nook that pits you, as either the alien or zombie race, in trench warfare versus the other side.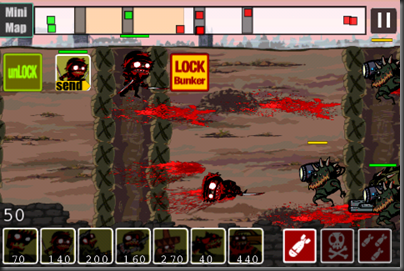 Read the full review at 148apps.com
Buy 2012 Zombies vs. Aliens at the App Store
Other Articles of Interest: