Zombie Infection is now on sale for only $0.99/ 0.59£ / 0,79€! This offer is available for a limited time, so you'd better hurry!
The infection is spreading and fear is everywhere in this non-stop survival shooter.
Head to South America as a soldier and reporter try to uncover the origin of another zombie outbreak.
12 LEVELS OF FEAR
Survive 12 levels in Campaign mode as you fight your way through favelas, mines, a zoo, docks, a boat and secret lab.
KILL 'EM WITH STYLE
You can finish off weakened zombies with brutal and amazing fatalities by touching the action icon at just the right time.
WATCH YOUR BACK
Switch between 2 characters, ex-soldier Damien Sharpe and reporter Alex Rayne, as they fight together to survive and uncover an evil plot.
MANY FORMS OF EVIL
Fight countless enemies of all shapes and sizes, including mutants & infected animals, each with unique abilities
UNCOVER THE STORY
Discover the full depth of the intrigue as you discover the source of the infection and the plans of the ones who created it.
IMMERSIVE VISUALS
Every environment and character is meticulously rendered in full in 3D so you can feel as close to the action as possible without starting your own zombie outbreak.
Unlock 20 trophies and show them off to friends over Gameloft LIVE!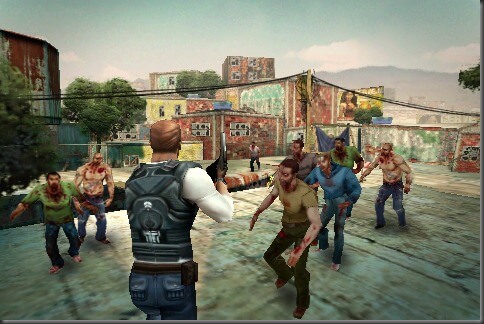 Other Articles of Interest:
Who can resist Zombies?
And who can resist a good game for 99 cents?
And here they are together! I remember hearing about this game several months ago and thought it looked pretty good. Well, they've finally got it in the app store and my copy is already downloaded. Looks like there is plenty of action and gore to go around, and losing a few people to the zombie horde might be part of the overall strategy.
Check out these screen shots and a trailer for what it looks like. Plus, there is a review from Touch Arcade and they seem very pleased with the game.
I'm in the spirit for zombie fun, who's with me?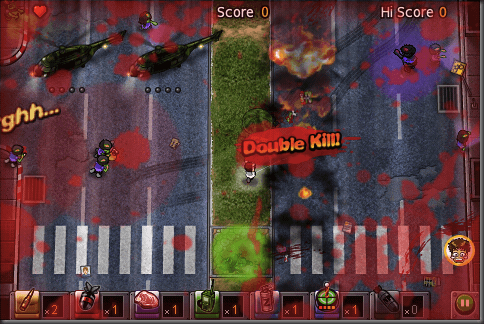 Look at the carnage!!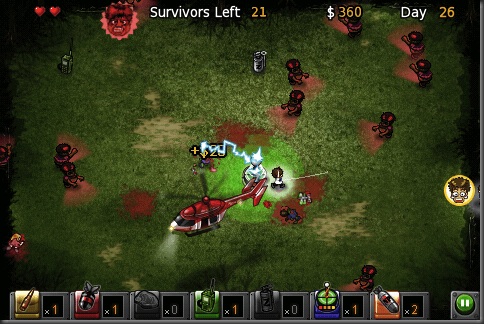 Other Articles of Interest:
The most innovative 3D tower defense game of the year! Defend the town of UnDeadwood in this hilarious slapstick horror game with a western twist.
As the new Sheriff in charge of defending the town, hire a wild posse of Cowboys and Cowgirls for your fight against the undead hordes. Upgrade and reposition them to defend against wave after wave of zombies who are hell bent on destroying the town.
Unlike most tower defense games, you need to protect your cowboys from attack by positioning them on rooftops.
However, the Zombies destroy the buildings, diminishing the safe places you can choose to place Cowboys on. You will have to choose when to repair a building and when to abandon a building and fall back to a better position. If the zombies destroy all of buildings, they will come after the Sheriff and you lose.
Meet the Posse:
Pistol Packin Cowboys – these young, dumb, sons-of-guns are your basic gun for hire. A good base unit with great upgrades to both speed and damage.
Shotgun Shootin Cowboys – the Shotgun Shooters are older and wiser than their Pistol Packin brethren, and a little more ornery too. Shotgun Shootin Cowboys can blast multiple zombies at once.
The Prospector – this crazy old coot has spent far too much time underground packin dirt in his ears. He can be a little reckless – tossing sticks of lit dyn-o-mite into a crowd of zombies – but he sure does get the job done.
Fannie Smokely – the sharpest sharpshooter in Wild Ol Bill's Wildest of Wild West Shows! Fannie Smokely can shoot the stink off a dog at 800 yards with her trusty huntin' rifle Sally May.
Features:
– Hire more cowboys, upgrade their guns, or repair the damaged buildings you are defending – each decision will have lasting effects on your strategy!
– Progress through colorful game areas, going from "A Fistful of Zombies", through "Little Zombies on the Prairie" and up to "The Great Brain Robbery" in your quest to cleanse UnDeadwood of the zombie menace!
– 2 unique views! Rotate the phone for either a top-down view of the action, or the cinematic street view!
We love this game and are really excited about getting it out there for you to play. We've got lots more content we plan to roll out as soon as we get'er done.
We are already working hard on the next update and look forward to hearing your feedback.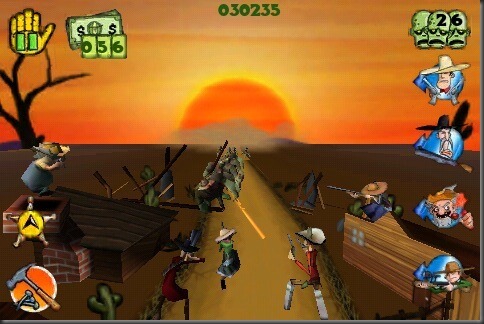 Other Articles of Interest:
I'm starting really early this year. My computer already has its Halloween costume and is sporting the Rest In Peace 2007 Windowsblind theme. It's the same them I was using in October of last year, but I just couldn't wait any longer. Funny thing is, it works perfectly under Windows 7. If you're already looking to dress up your desktop this will take care of it in one click. Check out the picture below to see what the full theme looks like and check out this article to get some more ideas on how you can change the way Windows look. Personally, I think it should ship this way.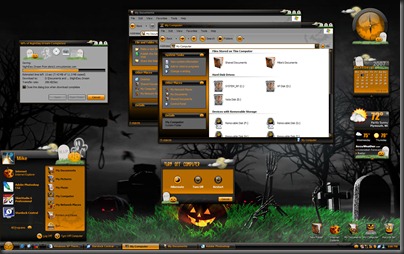 Halloween Desktops by Stardock
And don't forget, they have plenty of desktop wallpapers, icons and mouse cursors that you can change around as well. The MyColors theme costs a few bucks, but there's plenty of free stuff to be had as well.
Other Articles of Interest: