The Ghost Hunters Live Halloween Special has changed yet again. There will be an investigation but Jason and Grant will not be along for the ride. They will instead be hosting a Halloween party at their Inn.
Jason and Grant have posted the following comments about how the night will play out:
grantswilson: There will be live web cams online and Steve and Tango will be answering questions & panic button hits. There you go.

Jchawes: Here's the deal on Halloween. TAPS is not doing a live show. There will be a GH marathon on with Josh gates. We're not investigating.

grantswilson: Halloween show. Hosted live by J Gates, top 5 GH episodes. Get to meet GHA crew. Jay & I prerecorded lead-ins to the shows…
So it looks like Steve and Tango will take the helm with the help of Josh Gates. It's not really clear how all this is going to play out. Will there be an investigation of any sort? Will the cameras simply be set up and people can watch them to see what happens? Will there be a full investigation with Steve and Tango and the new Academy recruits? Will there just be a marathon of previous episodes? I think I'm more confused about what they're doing than I was before… Something might be happening, we're just not sure what. Hopefully Josh can work his magic and pull this mess back together. I'm not very confident this is going to be an entertaining event.
Help the Ghost Hunters, host Josh Gates and the Ghost Hunters Academy recruits make history at the Essex County Hospital, by contributing your expert analysis during the live event. You can join the hunt from home by visiting Syfy.com to help scan the location through live camera feeds and by using the panic button if you see something suspicious. Connect with Syfy.com for this exclusive, one-night-only event, as the team pillages through 325 acres of terror.
Over 10,000 patients died in Essex County Hospital. Now TAPS is on a mission to see how many souls remain. Log on October 31st at 7pm EST to find out. You'd be insane not to.
Other Articles of Interest:
You are the hunter. Vampire hunter. Well, not quite. In fact, you are being hunted. Or you're just trying to survive a little more against the horde of Vampires, Werewolves, Witches and Dracula himself.
Can you stand the night? iDracula is an intense survival shooter – the most intense game in the App Store. You begin with a simple gun and slow monsters, but as the time passes, they grow stronger and faster, dropping better weapons. You will also be able to gain "perks", as you earn enough experience.
iDracula Game Features:
– The Most intense game ever! Not for the nervous!
– Amazing graphics, superlative animation
– 8 different weapons – Gun, Rifle, Crossbow, Grenade Launcher, Machine Gun, Blade Ripper, Flamethrower and BFG (yes, it's big).
– Four game modes – Survival, Rush, Super Survival, and Wave Attack
– Perk system.
– Great overall quality at an incredibly low price.
Dracula Lite now available – Beware – gameplay in Lite not available in Full !
iDracula is developed by MoreGames Entertainment and published by Chillingo Ltd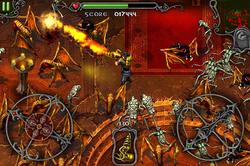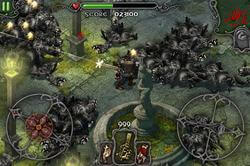 Other Articles of Interest:
First off, the jittery camera work and swinging camera motions made me somewhat motion sick. About halfway through the movie I felt queasy and light headed. Just fair warning if you're susceptible to motion sickness you need to prepare yourself.
I went and saw this movie last night and for a low budget film this kicks ass! To get a sense of what you're in for it's a movie length episode of Ghost Hunters or Ghost Adventures. Toss in a little Blair Witch action and you're good to go.
I won't go into any of the details of the movie since that would spoil it, but the premise is simple: Micah and Kate are experiencing something odd in their home and Micah goes out and buys a video camera to document what's going on. He puts the camera on a tripod lets it run through the night. We are watching the footage that has been found after all the events have taken place.
It starts off mostly as a game, Micah wanting to capture something and make his girlfriend feel better about living with him. But something is happening, and the lack of sleep and helplessness starts to take its toll and soon the couple is tired, scared and desperate. They begin to lash out at each other which seems to feed this entity and soon it's all spiraling out of control.
We'll leave it there for the details of the movie. Half the experience is seeing it all unfold. I had a great time watching this, despite the motion sickness caused by the jerky camera motions. I'm not thrilled with the ending though, I thought it would have been done better. We won't go into the details, at least not yet, but I think it went a little too Hollywood and broke with the spirit of the rest of the movie. But that aside this is good stuff and it shows that if you have a worthwhile story you don't need $100 million in special effects.
If you have any interest in the paranormal, enjoy Ghost Hunters or Ghost Adventures or thought The Blair Witch Project was good then you'll have a fun time with this one. Lots of bizarre things going on and you're constantly scanning the screen to see what's coming.
Definitely worth seeing!
Other Articles of Interest: