Zombie Infection is now on sale for only $0.99/ 0.59£ / 0,79€! This offer is available for a limited time, so you'd better hurry!
The infection is spreading and fear is everywhere in this non-stop survival shooter.
Head to South America as a soldier and reporter try to uncover the origin of another zombie outbreak.
12 LEVELS OF FEAR
Survive 12 levels in Campaign mode as you fight your way through favelas, mines, a zoo, docks, a boat and secret lab.
KILL 'EM WITH STYLE
You can finish off weakened zombies with brutal and amazing fatalities by touching the action icon at just the right time.
WATCH YOUR BACK
Switch between 2 characters, ex-soldier Damien Sharpe and reporter Alex Rayne, as they fight together to survive and uncover an evil plot.
MANY FORMS OF EVIL
Fight countless enemies of all shapes and sizes, including mutants & infected animals, each with unique abilities
UNCOVER THE STORY
Discover the full depth of the intrigue as you discover the source of the infection and the plans of the ones who created it.
IMMERSIVE VISUALS
Every environment and character is meticulously rendered in full in 3D so you can feel as close to the action as possible without starting your own zombie outbreak.
Unlock 20 trophies and show them off to friends over Gameloft LIVE!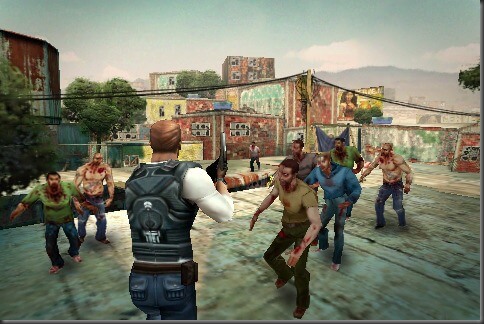 Other Articles of Interest:
I know I'm really late to this party, but I finally decided to jump on the bandwagon and see what this True Blood show was all about. It's pretty good, but not quite what I expected. Actually, the last vampire show I watched was Moonlight and I thought that was pretty interesting. That show had quite a bit of potential, too bad they killed it.
Anyway, I like the location and the characters (Lafayette always cracks me up) but the story is pretty standard fair isn't it? At least so far. I'm sure there's more to this murder mystery, that would just be too damned simple.
I guess you have to expect a slow build with a new series, you have to introduce everyone and go through the long process of giving the back-story riddled with issues and problems. And you have to know who's sleeping with whom. And I have to admit, I'm a little surprised at the volume of sex in this little tale. I'm not being prudish or shocked by it, quite frankly I think most of it is embarrassingly funny, just strikes me that the only one keeping it in his pants is vampire Bill.

Although I think that's about to change.
One thing I do like is how each episode picks right back up where it left off. They don't skip over huge gaps of time and leave you wondering what happened.
I'm certainly going to finish out this season then jump into Season 2. I'm sure things are going to pick up nicely as we move along. I'm sure this will hold me over until September when a whole slew of shows return for new seasons.
True Blood fans, is it worth the ride?
Other Articles of Interest:
GHOST HUNTERS – Returns Wednesday, August 25, at 9PM – The fall season of Jason, Grant and the rest of The Atlantic Paranormal Society will feature some of the team's most thrilling locales, including cases at the famous Philadelphia Zoo and the Baseball Hall of Fame. The crew kicks it off with an investigation at the historic Otesaga Hotel in Cooperstown, New York, where they come away with stunning video evidence of paranormal activity. In addition, the crew will host a trio of special guest investigators at Atlanta's Rhodes Hall: Bravo's The Real Housewives of Atlanta's Sheree Whitfield, NeNe Leakes and Kim Zolciak. Ghost Hunters is produced in association with Craig Piligian's Pilgrim Films and Television (Dirty Jobs, The Ultimate Fighter, My Fair Wedding). Piligian and Thomas Thayer, along with Rob Katz and Alan David, serve as executive producers.
DESTINATION TRUTH – Season 4 Premieres Thursday, September 9 @ 9pm (NEW NIGHT & TIME) – Syfy's hit adventure travel series Destination Truth will return for season four — as anchor of the new Thursday night reality block — with host Josh Gates taking viewers around the globe in eight all-new episodes, traveling to the farthest corners of the earth in search of answers behind some of the world's most intriguing unanswered mysteries. The crew's itinerary will include investigations in Madagascar, Tanzania, Guam, Kenya and Cambodia. The team will also conduct the first underwater paranormal investigation when they travel to a remote Micronesian island to search for the spirits dwelling in a sunken fleet. The season kicks off with a trip to Pompeii, where Josh and crew conduct the very first overnight paranormal investigation in the famous ancient city.
BEAST LEGENDS – Series Premiere Thursday, September 9, at 10PM –The six-part series journeys around the world using scientific data to reconstruct what mythological monsters, from Krakens and Griffins to Fire Dragons, would have been like – if they had ever existed. In each of the hour-long episodes, Beast Legends uncovers historical and eyewitness accounts by zeroing in on archaeological and other physical evidence to assemble the most accurate picture possible of these monsters, from where they might have lived to how they would have behaved. The show then uses the information to create incredibly realistic CG animations of the creatures. Executive Producers of Beast Legends are Pauline Duffy and Elliott Halpern. Series Director is Robin Bicknell. For Canwest: Production Executive Nick Crowe and V-P, Factual Content, Michael Kot. Beast Legends is produced by Yap Films in association with Canwest, Syfy and BBC Worldwide, with the participation of the Canada Media Fund and Rogers Cable Network Fund, and with the assistance of the Canadian Film or Video Production Tax Credit.
SCARE TACTICS – Returns for Fourth Season Monday, October 4, at 9PM –
Hosted by Tracy Morgan, star of 30 Rock. Set-up by friends and loved ones, unsuspecting victims are placed into elaborately staged scary situations involving movie-style special effects and makeup. The horror hoaxes are skillfully designed to tap into the wildest fears of the prank's prey. Viewers laugh along to the hilarious reactions of the show's "stars" as they are caught off guard and on camera. Scott Hallock and Kevin Healey of Hallock Healey Entertainment are the executive producers and creators of Scare Tactics. Morgan also serves as an executive producer.
FACT OR FAKED: PARANORMAL FILES – Series Return Thursday, November 4, at 9PM – Fact or Faked: Paranormal Files, Syfy's new break-out hit summer series, continues with its mission to uncover the truth behind some of the most compelling, mystifying and seemingly unexplainable images caught on camera and posted on the Internet. The series features former FBI Special Agent Ben Hansen, lead scientist Bill Murphy, effects specialist Larry Caughlin, journalist Jael De Pardo, photography expert Chi-Lan Lieu and stunt expert Austin Porter. Their quarry is comprised of all unnatural phenomena including ghosts, poltergeist activity, UFOs, strange creature sightings, and unknown energy anomalies. Fact or Faked: Paranormal Files is executive produced by John Brenkus and Mickey Stern for BASE Productions, and is a co-production with Universal Networks International.
Fall 2010 TV Shows Premiere Dates
Other Articles of Interest: