For those that are interested the Ghost Hunters team will do a Live investigation of the Pennhurst State School and Hospital on October 31st at 7pm EST.
Special guests include Ghost Hunters International team members: Barry Fitzgerald, Kris Willams and Joe Chin. As well as Fact or Faked: Paranormal Files investigators: Ben Hansen, Jael De Pardo, Devin Marble.
The Ghost Adventures Crew went there in 2009 and the Pennhurst episode was the kickoff to their new season. The evidence came across as a little light to me, but they didn't get to dedicate nearly the amount of time the place deserves. I also think they barely scratched the surface when it comes to covering the grounds.  You can read all about that episode and the location here: Pennhurst State School and Hospital
Let's not forget that Josh Gates will be hosting this episode and he does a fantastic job. Hopefully this is actually a live investigation and not just a recording of a live event.
Ghost Hunters Live Halloween Special 2011 at Pennhurst State School and Hospital on SyFy
Other Articles of Interest:
I loved the first one ! The carnage!! The carnage!!
The definitive zombie shooter returns, reborn with stunning new graphics, gameplay and more!
Brought to you by the creators of Battleheart, OMG Pirates!, and the original Zombieville USA – this sequel is jam packed with content and features. Take command of your favorite character, customize them with a spectrum of weapons and skills, and do battle with the living dead – either alone, or with your friends!
– Features –
• Simple, pick-up-and-play arcade action. Fight hordes of enemies, make the most of your ammo, and go for your high score!
• Tons of unlockable content, including dozens of weapons, skills, playable characters and upgrades.
• Incredibly fluid, stylish animation optimized for retina displays.
• Full Game Center integration, including achievements and leader boards.
• Wireless Co-op multiplayer via bluetooth or wifi! (requires iPhone 3GS+, iPod Touch 3rd Gen+, or any iPad)
• iCloud support, allowing your zombie slaying progress to sync automatically to all of your devices!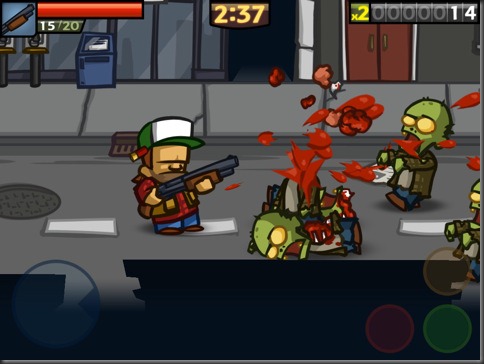 Other Articles of Interest:
Zombies HD
Inspired by Left 4 Dead and Alive 4-Ever, Zombies HD is the ultimate mobile first person zombie shooter, with the most advanced graphics engine on a mobile device to date! For more games visit www.RockingPocketGames.com
#1 iPad Adventure Game!! (Sept 13, 2011)
Designed to push the iPad 2 to it's limits, this game features per pixel dynamic lighting and shadows like you see on console games! The game is also playable on iPad 1 if you disable the effects in the options menu.
FEATURES:
– Use cash to upgrade your speed and other capabilities
– Variety of guns, all upgradeable
– 3 scenes each with 25 increasingly difficult missions
– Unique types of zombies: Crawlers, walkers, runners, tanks, poppers, jumpers, jumping tanks, and even pygmy zombies.
– Leaderboards and achievements using Game Center
– Realtime shadows
– Normal mapping, detail mapping, parallax mapping
– Freedom to move anywhere in the 3D environment
– 3D Audio (best played with headphones)
– 7 spooky and exciting background music tracks
CONTROLS:
– Analog stick to move,hold and drag in lower right to aim and shoot at the same time. Swipe anywhere else to rotate camera.
OR
Use the gyroscope to aim if your device supports that!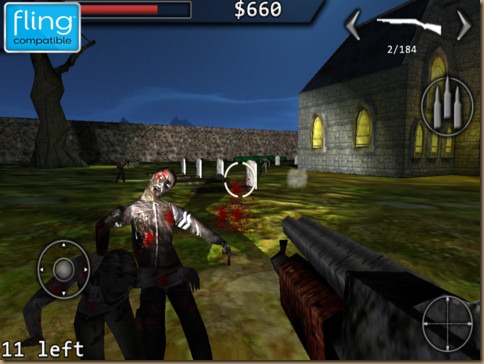 Crack O' Lantern
Free for Halloween! Happy Crackin'
The Objective is simple, crack your jacks on the wall or ground — use your cracked pumpkins to destroy the giant pumpkin to level up. Avoid ice and weapons, use fire for double points, and bombs to break up ice.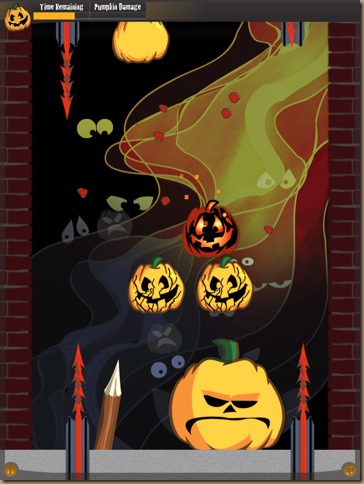 Halloween Soccer HD
Everyone is afraid of evil forces, but nobody knows that soccer is the secret passion of them. On the eve of Halloween witches, warlocks, vampires and other undead creatures emerge from the woods and swamps in order to find out who will be the winner in the annual soccer championship. Choose your own character, and we hope, you will enjoy the victory!
Halloween Soccer HD ™ is a splendid game that gives you marvelous feeling of victory. Playing for the undead characters you can see all theirs power and fury. Combining the various teams and soccer fields, find out who is stronger.
Meet in v 1.0:
• High quality graphics & sound
• Atmosphere in best tradition of horror films
• Intuitive one-click gameplay, you can play vs. CPU or vs. your friend at one device!
• 4 types of players
• 4 types of soccer fields
******
Don't forget to rate Halloween Soccer HD ™ 5-stars in iTunes when you buy it, get it for free or every time an update comes out!
Your 5-star iTunes ratings and reviews keep the updates coming!
******
Soon in next update:
• New characters and soccer fields!
• Unique bonuses for even more exciting and dynamic game!
• Facebook & Twitter!
• Game Center
• Other additional abilities for more your fun!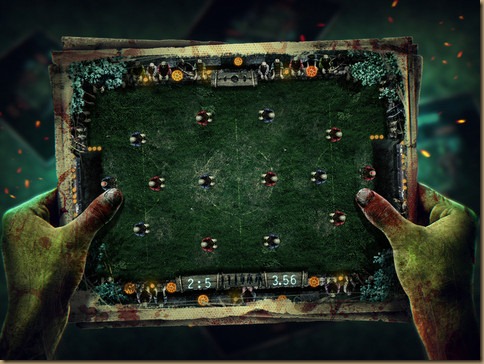 Other Articles of Interest:
As a famed mystery writer, you're looking for your next case to crack when an unexpected invitation arrives from the ghost of Edgar Allan Poe. Collect clues, interview witnesses and piece together the conspiracy behind the writer's mysterious death. But, hurry you only have 24 hours to solve this Midnight Mystery!
* Celebrate 200 years of Poe in this seek and find murder mystery
* Hidden object adventure lets you crack a 160-year-old case
* Guided by Poe himself, you'll collect items and clues through his most famous works
* Solve intriguing puzzles to figure out exactly whodunit!
Midnight Mysteries – The Edgar Allan Poe Conspiracy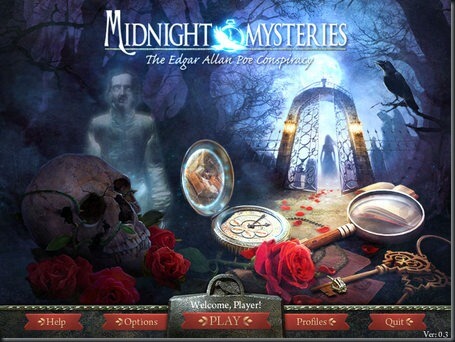 Other Articles of Interest: