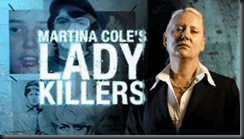 While movies like Halloween, Friday the 13th and Nightmare on Elm Street are meant to scare us because of their unbelievable villains and acts that can only be described as human, the truth as they say is something stranger than fiction. And with that I present to you Martina Cole's The Ladykillers, a series of stories that will leave you shocked and stunned. Comparatively speaking, Freddy is a pussy!
Martina Cole is a British crime author who is researching female serial killers. I came across this series while doing my own bit of research on H.H. Holmes. There is no doubt Holmes is a wicked man, but these woman are sinister companions and it's hard to tell who's the greater evil.
We start off with the story of Elizabeth Bathory, the 16th century Hungarian noblewoman who is said to have murdered hundreds of young girls. She was so notorious that it's even rumored she bathed in the blood of those she killed to keep herself young. That has turned out to be legend and rumor and while the true body count is unknown it's very clear she murder a great deal of women and much of her life is shrouded in violence and sexual sadism.
In the mid 1800s there was Mary Ann Cotton a female serial poisoner who is believed to have murdered 21 people including her own children. She murdered multiple husbands to get the insurance money and dispatched multiple children to make it easier to find new husbands. She had dozens of men in her life and children by several fathers. In the end she was hanged for multiple counts of murder.
During the late 1800s we had Amelia Dyer a baby farm murderer in Victorian England. While only hanged for one murder it is believed she carried out the murder of over 400 children. She did it all for the money. Her crimes are pretty grim and may not be for the faint of heart. No need to be gruesome so you can look up the details on the links below.
Myra Hindley is the female part of the team responsible for the Moors Murders, a series of murders where the bodies were buried on the moors and at least one of their victims has never been found. Myra Hindley was the victim of violence and abuse in her own life and when she teamed up with Ian Brady they went on a murder spree with 5 people losing their lives. Myra has been described as a "sexually sadistic psychopath".
Evil doesn't just lurk in the past, it's right here with us now. Such is the case of Beverly Allitt, a young nurse who was convicted of the murder of four children, attempting to murder three others and causing grievous bodily harm to another six. She worked in the children's ward and would administer massive doses of insulin and then do her best to revive the children be claimed their savior. It's some pretty gruesome business and like some of the others may not be for the faint of heart. Allitt was found guilty and is scheduled to be locked away until 2022.
Beverly Allitt may only be outdone by the serial killer Rose West. Rose was convicted of 10 murders, most of which involved torture and sexual abuse. Rose lived a life of abuse and then in turn began to abuse others. With her husband Fred, they imprisoned several woman and made them into sex slaves. Rose would easily be classified as a sexual sadist. West has been sentenced to life in prison.
The information presented in these documentaries is stunning. It's hard to image these crimes and how they were carried out. And sadly, most of these crimes were carried out for the sheer thrill of doing them or the age old motive of money.
Watch with caution. That's not a joke, these are some seriously twisted tales.
Ladykillers – Elizabeth Bathory
Ladykillers – Mary Ann Cotton
Ladykillers – Amelia Dyer
Ladykillers – Myra Hindley
Ladykillers – Beverly Allitt
Ladykillers – Rose West
Elizabeth Bathory – Wikipedia
Mary Ann Cotton – Wikipedia
Amelia Dyer – Wikipedia
Myra Hindley – Wikipedia
Beverly Allitt – Wikipedia
Rose West – Wikipedia
Other Articles of Interest:
The third season of Whitechapel and what I thought was the final season until a trailer for season 4 popped up, is broken down into 6 – two part episodes.
For the first episode, how is someone murdered in a locked room? With tinges of Edgar Allan Poe, this is quite an eerie storyline.
Second, body parts are showing up in the city and washing up on shore. Do we actually have a Murder Castle in the style of H. H. Holmes or is this a repeat of the Torso Murders?
For the finale, a dangerous patient and former Whitechapel resident escapes from a psychiatric unit around the same time that a babysitter is murdered. Is all the attention focused on the wrong suspect?
Ed, crime historian and Ripperologist joins the team, much to the distress of just about everyone, especially Miles. Tensions are still running high as Chandler and Miles argue over just about everything. Even Kent is arguing with the boss and feels the investigation is taking a wrong turn.
Inspired by a series of real life serial murders, this set is quite bit darker than the original two. Relationships are falling apart and the team is barely able to function together. Fights break out left and right and the horrors of the murder are taking their toll. Tensions are running high for this one.
Again, lots of good stories and acting. The focus is on the police and how they deal with the crimes and conduct their investigations. And for this set, they're coming unglued. It all seems to be coming apart. Even if they do solve a cast, it's up in the air as to whether or not they can work together. Team members have been bought off, others have been killed off. They're all suspicious of each other and keep each other at a distance.
A really interesting season that leaves you guessing as to whether or not they're coming back. And if they do, who's had enough of this lifestyle…
Whitechapel – Season 3
Other Articles of Interest:
Right after the nerve wracking events of the first season the team is faced with another set of mysterious deaths. A series of murders is linked with the acts of twin mobsters from decades ago. With plenty of clues and tons of circumstantial evidence the team is able to attribute the murders to the Krays. But they've been dead for decades. Or are they?
DI Chandler and his team dig into the archives to understand a new set of murders and go back to the original crime scenes. Everything is happening again, but how can they pin the murder on a suspect when they can tell them apart?
This series has a whole set of interesting twists and turns and brings up crimes from the past to help predict the future. The team is still at odds over the Jack the Ripper copycat and tensions run high as the whole department is put on notice to perform or there will be consequences.
Again, this is a pretty interesting story that makes you wonder how the team is going to catch a suspect. We also see Chandler starting to come unglued as his OCD starts to get the better of him. Crimes scenes make him uneasy and dirty and the rest of the team wonders if he's still fit to lead. Plus, Ripperologist, Miles is back with historical documentation the team needs to follow or else there will be more bodies. But of course, everyone thinks he a quack, except for Chandler. But everyone thinks he's a quack too.
If you like a drama that actually focuses on the story and how they solve crimes without computer technology that doesn't exist (CSI) then you will have fun with this. The story can be a little confusing, but if you pay attention it's quite thrilling. It's a slow build. Nothing is solved in the first 45 minutes. And again you have to wonder if some of the cops are working for the other side.
Whitechapel Series 2
Other Articles of Interest:
History is repeating itself as bodies start turning up, murdered in the same style as Jack the Ripper. The local police force is baffled and can't bring themselves to accept a copycat murder. But they have more problems as they clash with their new Detective Inspector who doesn't think they look, act or even smell real policemen. How can they solve crimes when they lack discipline and hygiene?
So begins Whitechapel, where Detective Inspector Chandler is put in charge of a group of men who don't want him around. His obsessive compulsive habits go against their disorder and chaos. But they're forced to work together as they race to find clues or even a suspect.
Whitechapel is quite interesting in that it focuses on the police force and how they deal with trying to solve the crime. What do they do when they have no evidence? How do they move forward when everyone is saying Jack the Ripper is back?
Going outside the lines they consult a Ripperologist who enlightens them on the crime urges them to take the mythology seriously. What follows is a group of men who can't work together chasing after a killer they can't identify.
And it works very well. Everyone comes across as a suspect. So many people seem to have an ulterior motive. Even when it looks like they're on top of the murders and have the location picked out, it still happens right under their noses. Who's the mole in the force? Is Jack the Ripper wandering among them?
Even though it's only three episodes it's a very well written and well executed story that will make jump up to play the next one in the series. I watched these through Amazon and found it to be very enjoyable. As with most BBC productions, the grim nature of the content is implied and they don't dwell on the gore at least not visually. They consult the Ripper lore and go into details about the murders, but you want see the streets or the screen running with blood.
The original murders are detailed and the original crime scene photos are put up on the board so they can compare with modern day events. Even the alternate theories are explained and tested. There is plenty of history with modern day drama.
If you have an Amazon Prime account you can watch the series for free or you can pay a mere $2.99 to watch all three episodes. That's about the cost of a bottle soda these days isn't it?
Each episode is around 45 minutes and will keep you guessing until the end, because after all, Jack the Ripper was never caught was he….?
Whitechapel – Series 1
Other Articles of Interest: