So the big question is, will there even be one? There's nothing listed on their site and normally at this time of year they've selected the haunted location (usually a large location they investigated earlier in the year), the host (Josh Gates who is always amusing), the guest star (no more wrestlers please) and they're promoting it as much as possible.
But all is quiet in the Ghost Hunters camp. The Halloween Special seems to be its own ghost. From the bits and pieces I'm seeing it looks like Syfy is going to run a Ghost Hunters marathon rather than a live show. What's the point of a marathon when you replay the episodes on a daily basis and just about everyone has the episodes on DVD?
Have the hijinks and all the backlash and controversy surrounding last year's live show caused the Ghost Hunters to give up on the idea of a Halloween Special? Or are they just too damn busy promoting their new Inn and Halloween Party to bother with a live broadcast? From the looks of things right now they won't be joining us for Halloween, unless you're on their guest list for the party.
Considering the ratings this event draws in, by the guys skipping it, does that indicate the show is in its twilight hours? Are Jason and Grant planning to step aside and let their legacy (not to mention the bankroll) live on within Ghost Hunters International? Are they setting Steve and Tango free to pursue their own TV careers with the launch of Ghost Hunters Academy? Even though the show is supposed to be renewed through 2010 piece appear to be in place for Jason and Grant to bow out of the ghost hunting biz so they can run their hotel and cash in on its possibly haunted ways.
The show has seen a lot of changes over the years, both in personnel and format. Brian, love him or hate him, has been booted off both shows and has since disappeared. Andy took the helm for GHI, but I guess he annoyed the hell out of everyone and they told him to go away. Donna of course had to bail out due to illness. Some of the other investigators they have are just plain annoying (Joe, Kristyn) so I would personally like to see less of them.
The turnover rate is getting pretty high, but the format has changed as well. It used to be the team would investigate from dusk until dawn. Now it seems they can't be bothered to work through the night and half the time they're sitting down as though it's too inconvenient to actually wander around and debunk anything. No need to go toward the noise, just sit where you are and it will come to you.
There are lots of indicators that lead me to believe the show is on its last legs. The excitement and passion seems to be gone. I get the feeling Jason and Grant have made enough money that they want to go off and do other things. While they aren't charging the client, make no mistake they are making a fortune off this show.
Is the time right for another show to come in and take over the paranormal reigns? Or is the ghost ride over? With so many shows on the air can they no longer compete in the market they basically created? Or are the allegations of trickery getting to be a bit much? Are they tired of the abuse or did they just narrowly escape getting caught? Did the problems all start with that stupid K2 meter?
I get the feeling the Ghost Hunters will soon be disappearing into the shadows themselves.
Other Articles of Interest:
I've added a new character to the Flaming Pumpkins picture gallery! Oh yes, one a weekend from now until Halloween!
It seems only fitting to make a flaming pumpkin tribute to that most noble of Zombie Hunters – Tallahassee. With some help from Zombiepumpkins I was able to carve this figure in just a few minutes. I was originally going to go with another pattern but this one was too good and timely to pass up. I have to say he looks cool as hell and he let out some wicked flames.
Click on the picture to check out the full gallery!
Other Articles of Interest:
Fight zombies in the dark!
+-+-+-+-+-+-+-+-+-+-+-+-+-+-+-+-+-+-+-
"A terribly addictive game with enormous replay value."
— Game Vortex
Kids Vs. Zombies is a very addictive game.
— appVersity.com
Unique concept with great execution and challenging game play. – Gamedroid.net
"One heck of a good zombie game that we can recommend to every shoot-em-up lover" — Slide To Play
+-+-+-+-+-+-+-+-+-+-+-+-+-+-+-+-+-+-+-
You control 3 kids attempting to survive an army of undead monsters. To defend your fort, you must effectively use their unique abilities:
– Dexter: demolitions expert
– Scarlett: long-range sniper
– Marcus: close combat specialist
Every level begins as dusk fades to the pitch black of night, making it difficult to know where the attackers will come from next! Survive the night and you will be rewarded with a trip to the Hardware Store to upgrade your weapons and defenses, in preparation for the next assault.
Each night offers more challenges, zombies and surprises. Survive as long as you can!
Features:

– 45+ Levels
– 3 characters with unique abilities – use them together to survive
– Over 10 different zombie types
– Boss fights!
– 3D Gameplay – Tilt your iPhone/iPod to adjust the view
– Store containing 12 unique items to upgrade
– 4 difficulty levels — "Nightmare" will have you begging for mercy!
– Auto-save anywhere for easy on-the-go gaming
****************************************
NEW!! Update 1.1 contains these improvements:
– 5 more nights to survive!
– Settings page allowing tilt, vibration, and aiming customization
– Sound effect improvements
****************************************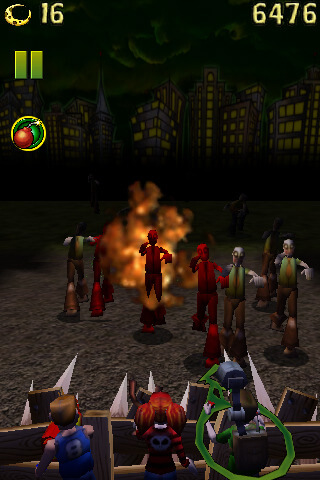 Other Articles of Interest:
So many to choose from where do you begin? Here we have lots of pumpkins just waiting to fulfill their ultimate Halloween destiny. Will they become a pie? Perhaps they'll get face paint? Or will they sit on the porch and keep a watchful eye on your tricky neighbors? This orange highlighted theme will surely dress up your blog. Nothing too dramatic, just a nice look with fun pumpkins and plenty of space to write in.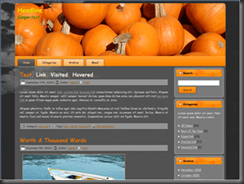 Click here to download a lot of pumpkins:
Other Articles of Interest: