Halloween is all about silly pumpkins and kids in costumes. So here is a theme that features some silly pumpkins my kids made a few years ago. Big teeth, triangle eyes, and super silly grins make this theme fun. It's a dark theme with grey highlights and orange sidebar. It's also got fun little pumpkins decorating the sides and orange text to really bring out the Halloween feeling. The kids should have fun with this one, but it's certainly fun for the adults too!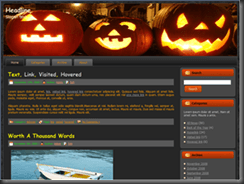 Download KidFace Halloween Theme
Other Articles of Interest:
Old and weathered headstones with names that have long since disappeared. Does anyone still visit this site?
You can't have Halloween without an old cemetery. So of course here's one for you. A 2-column grey theme with red sidebar that is compatible with WordPress 2.8.4 and is widget ready. This is a really usable theme with cool graphics. You should have a lot of fun decorating your site with this theme.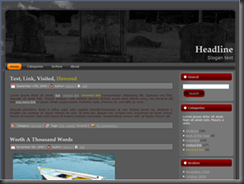 Other Articles of Interest:
Some scary faces that should look familiar and instill fear for their terrible deeds. They appear in your dreams and perhaps, they even lurk under the bed.
We continue our Halloween themes with this dark theme with blood red sidebar and a header featuring many movie creatures. It's an easy to use theme and should set the mood for Halloween. As always it's compatible with WordPress 2.8.4 and widget ready. Personally, I like the puke green font color in the main body. You should have a good time with this one.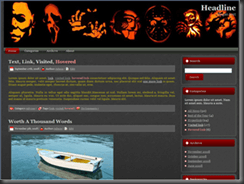 Download Blood Red Halloween Theme
Other Articles of Interest:
So the big question is, will there even be one? There's nothing listed on their site and normally at this time of year they've selected the haunted location (usually a large location they investigated earlier in the year), the host (Josh Gates who is always amusing), the guest star (no more wrestlers please) and they're promoting it as much as possible.
But all is quiet in the Ghost Hunters camp. The Halloween Special seems to be its own ghost. From the bits and pieces I'm seeing it looks like Syfy is going to run a Ghost Hunters marathon rather than a live show. What's the point of a marathon when you replay the episodes on a daily basis and just about everyone has the episodes on DVD?
Have the hijinks and all the backlash and controversy surrounding last year's live show caused the Ghost Hunters to give up on the idea of a Halloween Special? Or are they just too damn busy promoting their new Inn and Halloween Party to bother with a live broadcast? From the looks of things right now they won't be joining us for Halloween, unless you're on their guest list for the party.
Considering the ratings this event draws in, by the guys skipping it, does that indicate the show is in its twilight hours? Are Jason and Grant planning to step aside and let their legacy (not to mention the bankroll) live on within Ghost Hunters International? Are they setting Steve and Tango free to pursue their own TV careers with the launch of Ghost Hunters Academy? Even though the show is supposed to be renewed through 2010 piece appear to be in place for Jason and Grant to bow out of the ghost hunting biz so they can run their hotel and cash in on its possibly haunted ways.
The show has seen a lot of changes over the years, both in personnel and format. Brian, love him or hate him, has been booted off both shows and has since disappeared. Andy took the helm for GHI, but I guess he annoyed the hell out of everyone and they told him to go away. Donna of course had to bail out due to illness. Some of the other investigators they have are just plain annoying (Joe, Kristyn) so I would personally like to see less of them.
The turnover rate is getting pretty high, but the format has changed as well. It used to be the team would investigate from dusk until dawn. Now it seems they can't be bothered to work through the night and half the time they're sitting down as though it's too inconvenient to actually wander around and debunk anything. No need to go toward the noise, just sit where you are and it will come to you.
There are lots of indicators that lead me to believe the show is on its last legs. The excitement and passion seems to be gone. I get the feeling Jason and Grant have made enough money that they want to go off and do other things. While they aren't charging the client, make no mistake they are making a fortune off this show.
Is the time right for another show to come in and take over the paranormal reigns? Or is the ghost ride over? With so many shows on the air can they no longer compete in the market they basically created? Or are the allegations of trickery getting to be a bit much? Are they tired of the abuse or did they just narrowly escape getting caught? Did the problems all start with that stupid K2 meter?
I get the feeling the Ghost Hunters will soon be disappearing into the shadows themselves.
Other Articles of Interest: