This isn't a lockdown, but a recap show featuring the strange and usual prisons Zak, Nick and Aaron have visited over the years. They recall their adventures at the Moundsville Penitentiary, Old Idaho Penitentiary, Preston Castle, Eastern State Penitentiary, Ohio State Reformatory and the Central Prison Unit.
The go over some of the their previous evidence and give some of their impressions about the places they been. It's an interesting look back and out of all of those, I think Moundsville and Eastern State are the most unusual. It seems they both had the best of intentions when they were made, but it all went to hell by the time they were done. Ironically, their idea of prison reform and rehabilitation usually drove inmates out of their minds.
Other Articles of Interest: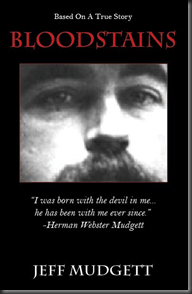 Every family has their secrets. Every family has a dark sheep. And there is a dark side to us all. But what if you were forced to look into your own past and discovered unsavory secrets? What if your family tree contained criminals. What if those criminals committed violent crimes? What if there was murder?
If that weren't bad enough, what if that lineage contained a serial killer? What if that killer turned out to be the first recognized serial killer in America? What if you found evidence he was THE serial killer…
Jeff Mudgett takes us on a journey of discovery as he opens a seemingly innocent box of fishing lures left to him by his deceased grandfather. That box contains two journals that date all the way back to the late 1800s. In fact, they belong to the infamous H.H. Holmes, the alias for Herman Webster Mudgett, Jeff's great-great-grandfather.
But why two journals? He was hanged while barely in his 30s.
Or was he?
That's the question Jeff investigates as he reads through what appear to be the real journals of H.H. Holmes. And there are two of them because it is believed that Holmes was actually able to escape the gallows and continued to live on until the 1950s, perhaps the 60s.
At times this book is startling and shocking and I found myself reading as quickly as possible and turning pages so I could take in all the much information. Jeff provides a lot of insight into Holmes and makes multiple links between Holmes and other events in history. It gives way to amazing theories.
Was Holmes indeed Jack the Ripper? Was he actually out of Chicago during that time period? Did Holmes actually train an assistant to cut up the bodies and make such a spectacle so as to cover his true intentions of being in London?
Did Holmes escape the gallows? Was the public confession and the demand for cash part of his plot to escape? Did he use the power of suggestion to morph his appearance in the public eye so that he could actually switch places with one of the guards? And the cash was so he could start his life over once he was out and free?
Is the former site of the Murder Castle haunted? Jeff visited the site and had some powerful experiences. Did he run into the spirits of the victims, perhaps even Holmes himself?
Was the post office built on the former site of the Murder Castle because Holmes was actually able to convince the President at the time it was a good idea? Was he actually covering his tracks by burying the infamous basement and it's acid baths, lime pits and crematoriums?Is this further evidence he actually escaped the gallows?
Does the Holmes grave, encased in concrete and buried 10 feet deep contain the body of a prison guard? Was the concrete actually to hide the evidence on his crime and his switch rather than a way to keep people from digging up and dissecting his own body?
Is Holmes buried in an unmarked grave Jeff's grandfather knew about?
Is there some link between Holmes and the Zodiac killer?
Jeff explores all of these and it's a truly fascinating read. I was riveted. However, like many other have said, it's hard to tell what is actually information from the Holmes journal, what is conjecture on Jeff's part, and what is simply fiction. Are his Ripper theories really based on Holmes teaching someone else to commit the crimes and make them so heinous they distract from his real purpose in London? Or is it just an interesting way to get people to read his book?
As I read along, I bought into everything Jeff had to say. I trusted his authorship based on the fact he had these two journals. The book starts off with him having them authenticated and conclusions that they were written by the same person. But by the time we get toward the end of the book things change. Jeff is having seizures, visions, voices in his head, hallucinations, lost time and dreams where he is being coerced to commit murder. He's becoming violent, aggressive, dismissive of people and their feelings. Is this the work of Holmes, gripping him from beyond the grave?
In the final chapter, things come unraveled. It's hard to tell what's real and what's imagined. What starts off as a book rooted in fact ends with wild stories of unmarked graves along the railroad tracks, during a rain storm under the light of a full moon.
And then the hammer falls. Jeff has had multiple grand mal seizures, brain damage and has actually been brought back from the dead. He's been studied and the doctors say nothing he experienced was real.
Does that mean all of this was a dream? Were the last 300+ pages simply a wild goose chase? Is there evidence to support his theories? Everything seemed so logical, so based on fact, it all seemed to make sense. Then we are hit with the idea that none of this could be real. All of it has been part of brain damage he suffered from the seizures.
I'm intrigued, but frustrated. It's a great book to read, but I feel somewhat duped. Does Jeff Mudgett really have these journals? How much of the book is real? Will we ever get to see these journals so we can judge for ourselves? Did he take some liberties to spice up the story?
Here we have what I think is a golden opportunity to provide facts never available before and sweep away the myths surrounding Holmes and the actual crimes he committed. Unfortunately, I think Jeff has muddied the waters even more. While his book is fascinating and well worth the read, it's hard to separate the fact from the fiction. We don't have clear lines to tell us what is straight from the journal and what is conjecture or theory. Just that little addition would make me feel so much happier about what I read. But, perhaps there is still more to this story.
If anything, this makes me want to dig deeper…
Other Articles of Interest:
Happy Halloween Everyone! This is the busiest day of the year for both me and the site. Thousands will pass through while I diligently carve away at the pumpkins. The candy will be put out, the decorations all put in place, the lights and the music set into motion. It's going to be a beauty of night. Once darkness comes the fun will begin! There will be chills, screams and perhaps even a little fire. I hope you all have a fantastic night!
And since it is All Hallows' Eve, I want to take just a sec and thank Ryan Wickstrand of Zombie Pumpkins for the fantastic templates he makes. I've been visiting that site for 5 years and he never ceases to impress.
I want to thank you all for a wonderful time this year. I absolutely love playing around with this site and hope you get some bit of enjoyment out of it too.
Trick or Treat one and all!!
Other Articles of Interest:
Looking for some new games that speak to the atmosphere and mood of Halloween? Well, here are some real gems that will give you plenty to do while you indulge the inner macabre.
Zombieville USA
When your town is overrun by the walking dead, there's only one thing left to do – go through their pockets and look for loose change! As the lone survivor of a zombie apocalypse, it's up to you to battle legions of the undead in a never ending fight for survival! How long can you hold out? Scrounge for cash and ammunition, and buy up to 15 upgradeable weapons as your inevitable doom closes in around you…
Zombieville USA 2
Zombieville USA – this sequel is jam packed with content and features. Take command of your favorite character, customize them with a spectrum of weapons and skills, and do battle with the living dead – either alone, or with your friends!
Bloody Mary Ghost Adventure
Bloody Mary is a mix of scary adventure game with interactive novel using an innovative system based on the IPAD Real-Time Clock, you have to be at the right place in the right time to see things happening and they will!
The Bloody Mary Ghost Adventure presents a new way of entertainment, creating a personalized experience for each user. Imagine being part of a story and, with your own perceptions and choices, write their end.
The story is divided into chapters (releases free in updates). As a novel, the course and its end are undefined and will depend on your choices.
Redemption Cemetery: Curse of the Raven HD (Full)
After getting into a car accident, you wander into a mysterious graveyard while searching for help. The doors slam shut behind you and you realize that you are trapped! Escape from the eerie Redemption Cemetery by helping trapped spirits save their loved ones, and free their souls! Use your Hidden Object skills to help these ghosts and escape, in Redemption Cemetery: Curse of the Raven!
Mystery Case Files: 13th Skull HD (Full)
Shortly after moving into a creepy mansion in Louisiana, Sara Lawson is struck with tragedy when her husband mysteriously disappears. Sara's daughter, Magnolia, believes her father was kidnapped by the ghost of a vengeful pirate seeking to protect his lost fortune. With the locals terrified of the pirate's curse, you are the family's last hope. Only a Master Detective with incredible Hidden Object skills can locate Marcus Lawson in Mystery Case Files: 13th Skull!
Midnight Mysteries: Salem Witch Trials (Full)
Explore 10 adventurous missions in stunning HD in this intriguing hidden-object adventure game. The famed writer Nathaniel Hawthorne has died during a freak snow storm, and his ghost has come to you, asking for help. There's more to this case than first appears, and only you can help free his spirit.
Midnight Mysteries: Devil on the Mississippi (Full)
Mark Twain's ghost has come to you seeking help from an evil that has been stalking him in the afterlife. Trace the steps in Twain's past that led to a lifetime of anguish. Twain's passion for literary history reignites a controversial debate about the true identity of Shakespeare; the age-old question resurrects a series of malevolent characters. After waking an unexpected evil, Twain sets about to rid his time of the darkness, but the plot only thickens. With Twain's help, you have to unravel the connections to try and set history straight while dangerous forces loom.
Midnight Mysteries: Haunted Houdini (Full)
Famed illusionist Harry Houdini knew he wouldn't escape death forever. When he promised his wife that he would try to reach her from the afterlife, it was seen as the ultimate stunt. But after years of séances, Bess was never able to reach Harry in this life or the next, and her spirit has come to you in a final plea to reunite her with her partner!
Sleepy Hollow: Mystery Legends HD (Full)
All small towns have their secrets and stories, but none such as Sleepy Hollow, whose legends are most grim and gory. By day a quaint village full of sunshine and banter, by night a place haunted by hoof beats and spectral laughter. Explore Sleepy Hollow as never before, searching for clues into the ancient legend. But beware; each night the Horseman rides, he takes another victim. Unravel the mystery before it's too late…
Escape Rosecliff Island HD
Find the Clues, Escape the Island! Find the Clues, Escape the Island!
An unexpected storm has left you shipwrecked on a mysterious private island. Can you find your way back home? You'll need a sharp eye to solve this captivating hidden object game. Explore 25 mysterious scenes and track down 2,100 hidden objects that will lead you to safety. Solve intriguing mini-games to piece together all the clues.
Plants vs. Zombies HD
Get ready to soil your plants in this high-definition, multi-touch adaptation of the PopCap hit! Winner of over 30 Game of the Year awards.* Plants vs. Zombies™ was spawned from the fertile minds that created Bejeweled®, Peggle®, Zuma® and Bookworm®.
Spider: The Secret of Bryce Manor
SPIN WEBS, TRAP BUGS, UNLOCK THE SECRETS OF BRYCE MANOR
Kick the Buddy: Trick or Kick
Boo! Kick the Buddy™ has become really SCARY! An entertaining adventure in the world of evil spirits awaits you! Get rid of stress in the atmosphere of the scariest holiday in the U.S.
Zombie Flick HD
During the 1970s an incurable virus spreads throughout mainland America. With no food or guns to hand, it's down to you as lone survivor to make the dead masses feel the pain.
Using nothing but useless everyday objects, flick, dismember and decapitate all that come at you to survive! Wrapped up in an atmospheric cinematic style, Zombie Flick will provide a fresh and bloody challenge to gamers with the tastiest brains.
ZombieSmash HD
ZombieSmash! HD brings the iPhone's original #1 hit "Survival Comedy" game to the iPad. Taking the frenetic physics-based gameplay from the original, ZS! HD blows it up to epic proportions – more zombies, more ways to kill them, and plenty of airspace for you to fling those bloated corpses!