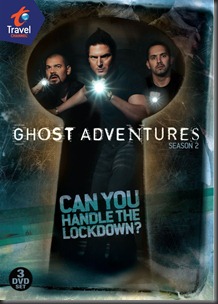 Just in time for the new season to start, the Travel Channel has released the Ghost Adventures – Season 2 on a 3 DVD set. There were a lot of really good episodes in this season so you can get all blurry eyed catching up on them all before Friday.
Even though it came out during Season 3 I wonder if they plan to release their Halloween Special on DVD. Maybe that will come out right before Halloween itself. But you never know, considering some of the "issues" that took place on that show, who knows if we'll get it.
But anyway, Season 2 is here so maybe if you have Netflix it's already sitting in your mailbox. Maybe you can run down to BestBuy and get a copy. They have Season 2 for $19.99 and Season 1 for $14.99. Those are both pretty darn good deals!
Either way, the countdown has begun! Friday we'll get to watch all new Ghost Adventures!
Other Articles of Interest:
After scraping away all the barnacles, I'm left with two paranormal shows. (At least for now).
Not only is Destination Truth my favorite paranormal show, but it's one of my favorite TV shows period. The locations Josh goes to are simply fascinating (the main reason I liked GHI as well) and the people he encounters are quite "unique". With places like Egypt, Chernobyl, and Transylvania and the constant warnings that he'll be eaten and never come back alive it's all pretty exciting stuff. Not to mention the slew of unreliable vehicles he seems to get saddled with. And ill-tempered camels. The question of "did you hear that?" has been replaced with, "Is Josh's boat going to sink?", "Is Josh going to run out of gas in the middle of that lake?", "Is the roof of that airplane going to come off… again?" and "Do you think Josh will jump on that parade float?"
Half the fun is seeing if Josh and team actually make it to the location, and by what mode of travel.
And when it comes to the paranormal, it really doesn't matter since we already know that most of the stories are urban legends anyway. Are we really expecting "Skunk Ape" to make an appearance? Do you think "El Chupacabra" is going to come out and play? However, these myths have taken on a life of their own and are just as much a part of the culture as anything else. But why do people believe these stories? What keeps them alive in their minds?
In most cases Josh comes away with unexplained noises, plenty of wild animals and lots of treacherous terrain. It's very exciting and he's a fantastic host. He rarely gets rattled, keeps his sense of humor and when faced with less than ideal circumstances he simply soldiers on. Plus, his enthusiasm for people and their culture just pulls you right in. He really has no problem going up in that rickety plane or drinking until he sees leprechauns. And if you recall, he was actually told to drink that much…
This show could be about the quest for the perfect ball of yarn and I'd still be tuning in!
And finally, there's Ghost Adventures. Admittedly, everything in their world is paranormal and dark energy. And yes, they have a tendency to curse like sailors and scare themselves senseless, until they crash into walls. But they're so damned entertaining to watch. Zak has a contagious enthusiasm and his narrative style is very compelling. Plus, they deal with old and mysterious buildings, sort of like the Ghost Hunters did in the beginning. They normally don't show up at someone's home (and even when they did it was still basically a castle) so the location is steeped in history, tragedy and violence. Even the Execution Rock Lighthouse gave you the chills when you heard about what happened there. And Poveglia Island? If the stories are true, that place makes you cringe.
Ghost Adventures is still like watching and listening to someone tell you a good ghost story. The idea of being locked up in an abandoned jail or asylum is still really compelling. Most of the noises you hear are just the building creaking, cars driving down the road, animals in the distance and other perfectly normal sounds for an old building. And those shadows are probably coming from the car headlights or a streetlight. But you combine that with the somewhat sinister tales of the past and you have something pretty interesting. Something worth watching. And maybe that noise isn't the building settling. And that shows isn't from a car headlight. And maybe that whisper will make sense…
But if everything is haunted in the Ghost Adventures world and haunted in the Ghost Hunters world, why did I turn my back to the GH team? It does seem like a contradiction so let me explain. First off, the GA team has already declared the place haunted before they ever step foot in there, that's why they're there in the first place. They're not trying to prove or disprove anything. They're being locked down for the experience.
Second, it's about the experience. Just like with Josh, Zak, Nick and Aaron are more fun to watch. They aren't sitting on a couch all the time. They're constantly talking and doing something. And we don't see them playing stupid games in the middle of the show or daring each other to do something moronic for a couple of bucks.
To me it's a completely different show with a vastly different style. Now, before we go too far, I don't really think Zak and team have come up with compelling paranormal evidence either. Far too much is based on personal experiences and I don't put any stock in those EVP recordings. But I like the places they go and the backstory that goes with it.
It's not a perfect show but it's infinitely better than Ghost Hunters. Ghost Adventures doesn't seem to be as concerned with getting the right "look" for people sitting on the couch.
Other Articles of Interest:
I'm getting my desktop ready and I'm looking forward to some new seasons of investigations. It looks like we lost a few shows along the way, but to be honest, that's not necessarily a bad thing. A few of those shows needed to go and a couple more still need to go. So which ones do I think are coming back?
Shows on now:
Right now there is only one show back on the air and it's GHI. I really liked the first season of this show but there have been dozens of cast changes and the way they break up the season is just maddening. I can't say how much longer I'll be on board for this one.
Shows coming soon:
I know two shows will be starting soon, Destination Truth on September 9th and Ghost Adventures starting up in September as well. These are the two I'm looking forward to the most, I just have a great time watching these and they look like they're having a great time making the show.
Shows on the fence:
Paranormal State: It has no start date listed but the fact it's still on the books leads me to believe it will be coming back. That being said, I wouldn't be surprised if this is the last year for Satan seeking, Holy water throwing, seeing shadows in every corner, Ryan Buell and the PRS team. Ryan has become just way too damn melodramatic and quite honestly the show just isn't that interesting anymore. Every single thing about this show seems staged and fake. The stories are weak, their reactions from the PRS team are WAY over the top, nothing is ever discovered and in the end Ryan buries a couple of medallions, tells the "spirits" they aren't welcome, says a blessing and then heads home. And that "Director's Log" crap is really wearing thin.
Shows that probably won't be back:
Ghost Lab looks like it got the axe. Nothing is listed on Discovery and no new listings on IMDB. A Wikipedia entry sites they're coming back for a second season but there is no actual confirmation of that. Their own websites lists two upcoming investigations this year, but no mention of the show. They may have had some of the coolest equipment, but their crazy antics and experiments may have done them in.
Looks like Paranormal Cops didn't make it either. It has no return date listed in IMDB and the show has been pulled from the roster on the A&E website. There were some interesting aspects to this show, but overall it needed some work. They had procedures and guidelines which was great, but some of their fact checking seemed a little off and they made far too many connections that seemed to be huge leaps at best.
Shows that should never come back:
Ghost Hunters Academy. Please tell me we'll never have to see or hear of this stupid show again… I can only hope.
Ghost Hunters will air again sometime this year, but really, who cares anymore?

Other Articles of Interest:
I've been reading a bunch of Tweets from Josh and Zak about their time at Comic Con. Looks like they dove right in and hung out with lots of fans and stuck around for pictures. Did anyone get a chance to see either of them?
As usual it looks like the place was packed. Zak was taking pictures of the huge lines of people waiting to come up to their booth. Looks like a lot of fun though! They even took some time out for an impromptu investigation:
Haunted Hotel Spooks 'Ghost Adventures' Stars
Other Articles of Interest: