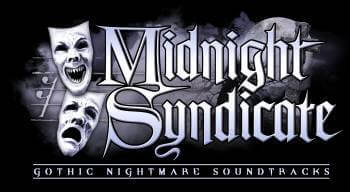 I heard the music from Midnight Syndicate about 4 years ago now and thought it was some of the best stuff I've heard. Unlike other Halloween style CDs which are more sounds effects such as rattling chains and creaky doors, or perhaps a CD full of memorable horror move sound bites, this is actual music. And not music like Monster Mash or some other silly song, this is "mood" music' or rather, it tells a story. Written like the score of a movie or as an excellent soundtrack each CD tells its own story through music.
For example, in The 13th Hour you arrive at the house in a horse drawn carriage. The floor creaks as you wind your way through. Each room offers its story and mood through an eerie recounting of the events that took place there. The past comes alive with haunting music and sounds that bring your right into the story. It's a complete tour of the house set to music.
If you want to get yourself in the mood this Halloween or you're looking for great ambient music to play as the trick-or-treaters come around then this is definitely what you need.
The collection is increasing with two new CDs added to the collection. I grabbed a copy of "The Dead Matter" from Party City last night. I was only able to give it a quick listen last night, but it's just as good as their other offerings. The music unfolds to tell you a story and guide you through some dark and unfamiliar places.
I haven't purchased a copy yet, but there is also the "Rage" soundtrack which Midnight Syndicate put together. It goes along with the movie "The Rage" which is that old bedtime story of the mad scientist who creates a formula to seek his revenge on the humanity who has wronged him and now that it's been released it goes completely out of control. I know nothing of the movie but the soundtrack gets excellent reviews on Amazon.
The one disappointing thing is that Amazon doesn't offer these CDs as MP3 downloads. Considering "Rage" was released at the end of 2007 and "The Dead Matter" just a month ago, it's very annoying that Amazon doesn't have them available as a download. It would just be so much more convenient.
But even still, you should do what you can to get a copy, they're great.
The Dead Matter:
Beyond the cemetery gates, the dead do not rest easily. An ancient Egyptian relic, vampires, and the living dead lurk amongst its shadowy crypts. Midnight Syndicate beckons you into the dark world that inspired the upcoming motion picture…
The Rage:
Midnight Syndicate's score to Robert Kurtzman's drive-in/late-night horror show thriller, The Rage. Menacing ambience and signature Midnight Syndicate dark soundscape mixed with high octane action and chase themes guaranteed to get your blood pumping.
A winding cobblestone road meanders its way deep into the thick forest blanketing the hillside. Up ahead, you can make out several spires rising above the treetops, signalling your arrival at Haverghast Asylum – your new home. As your horse-drawn carriage comes to a stop before its imposing front gates, you catch a glimpse of something scrawled across one of the otherwise-pristine windows high above you. "Turn Back" it says. Just then, a guard emerges from beyond the gate to escort you inside. Haverghast is said to be a place of healing for wayward minds, but there have been whispers of other things as well. Things that are too terrible to speak of…things that, if true, could make your nights here rather…unpleasant…
Unleash your darkest nightmares as you enter the world of the Vampyre. Echoing from ancient crypts, these haunting symphonies call forth the horror, mystery, and passion of the night that awaits you . . .
The past does not rest easily… The 13th Hour draws listeners into the halls of a haunted Victorian mansion, through the sinister history of the Haverghast family (Gates of Delirium). A truly interactive listening experience for those ready to take a journey into the dark side of the supernatural.
Before the Haverghasts, before the haunted asylum and the Crypts of the Foresaken, there was Arcacia, a ruined village by the sea with a dark past and a mysterious link to an ancient tower hidden away among the cliffs of the Northern Jarls. Out of the Darkness (Retrospective: 1994-1999) features re-recorded and re-mastered horror music classics from Midnight Syndicate's Midnight Syndicate, Born of the Night, and Realm of Shadows as well as four previously unreleased tracks.
CDs Out Of Print:
Born Of The Night (the first disk I happened to listen to)
Realm Of Shadows
Technorati Tags: halloween, halloween music, haunted house, movie soundtrack, the dead matter, midnight syndicate

Other Articles of Interest:
It's time to get started on Halloween
And first up is this great haunted house desktop wallpaper. I found this picture last year and it's one of the best I've seen. The detail is fantastic, the color is superb and the overall feel is wonderfully atmospheric. I already have this set as my background image. I will be dressing up the rest of the desktop with some Windowblinds Skins (namely RIP 2007), but this is a great image to creep out your desktop with. There is a ton of detail to look at; the dead trees and shrubs, broken stairs, crumbling headstones in the graveyard, and if you look carefully you might see a face or two in the windows. At least I do.
This image was created by Daniele Montella and can be found at the following websites:
http://features.cgsociety.org/story_custom.php?story_id=2634
http://www.redbubble.com/people/dan-ka
http://www.dan-ka.com
Actually, if you do a Google image search for "haunted house" you find this image pretty easily. There are a couple of different size variations so you might be able to find a good one to tinker with.
The image is a little small to use as wallpaper, but a quick run through the resize function of Paint Shop Pro and I scaled it up nicely. I did it in small increments and I think the "jaggies" and "halos" are kept down to a minimum.
Daniele Montella maintains all copyrights to this image. I have simply made it a little larger to be displayed on a computer screen.
To download the full sized image click here:
Technorati Tags: halloween, haunted house, haunted mansion, graveyard, desktop wallpaper

Other Articles of Interest:
It's about time this damnable DVD came out. It was supposed to be released on Sept. 2nd, but I haven't actually seen it available until this weekend. Which is of course why I bought a copy.
For Halloween last year, Jay, Grant and the team went out to the Waverly Hill Sanatorium for a 6-hour Live broadcast of the show. The DVD is only 3 hours from the program with Josh Gates and the host and presenter.
For mood and ambiance the show is great. They crawl around in the dark in a location that couldn't have a more turbulent past. As a tuberculosis hospital the death count is as high as 63,000 with dozens of stories about sick patients, employees would couldn't take the strain and of course the infamous "body chute"; a tunnel which was the main route of taking the deceased patients out of the hospital and to the crematorium. With 50 or more people passing away each day, the chute was used hourly and the turmoil is easily understood.
As far as activity goes, it's a little more hit and miss than the Stanley Hotel. They have plenty of personal experiences, but there isn't that much tangible evidence. Everyone sees shadows and figures moving, as well as hearing noises, but they aren't caught on tape for the rest of us to see. In fact, The Reveal is only a few seconds long as they have almost no evidence to show after all the time they spent. So it is haunted? The raw data says no, since nothing was captured, but the personal experiences make the place seem active with unrest. Hard to say on this one.
On the whole this extended episode is fun and entertaining. There is plenty to see and look for and just the general atmosphere makes the place creepy and unnerving. There are only two segments which threw me off.
This Hunt for the Hunter contest is something I was completely lost on. Where did these people come from? I didn't see a single episode that related to this contest in anyway. Confusing, but not that big a deal. A few new faces on an investigation on that size is fine. But the little segment of Kristyn and Heather interrogating this guy Patrick was just plain awful. They are rude, and condescending and turn the investigation in a childish bout of Sorority hazing. They don't even know who this guy is and they start talking crap to him about how he only wants to be on TV and he doesn't even understand the paranormal. When he does make a slight mistake with the video camera, they mock him and treat him like a complete idiot. Even though it only goes on for about 5 minutes it's so distracting I wish they would have left it out.
Overall the show is pretty entertaining even if there isn't that much paranormal activity. I'm sure I'll be watching it again as we get closer to Halloween.
Technorati Tags: Ghost Hunters, paranormal, halloween

Other Articles of Interest:
Worst romantic comedy ever. However, if you like guns, car crashes, potty humor, swearing and of course, zombies, then this movie is pretty damn funny!
Meet Shaun. Shaun works at a dead end job selling TV's. He lives with an uptight roommate and a freeloading friend, Ed, he's known since primary school that can't seem to pick up anything and of course can't hold down a job. And then there's his girlfriend Liz; or rather, ex-girlfriend. She decides that their relationship is going nowhere and she doesn't want to spend the rest of her life going to the pub every night and having Ed hang around. And finally there is the strained relationship Shaun has with his father. Excuse me, Step Father.
As Shaun muddles through life and dealing with the breakup with girlfriend, he begins to realize that everyone in town is turning into zombies. After a slow moving and grunting herd of them show up outside his flat, Shaun and Ed realize they need to do something in order to survive. Inspired by the televisions commentator's advice of "Cut off their heads or bash in their brains" Shaun and Ed swing into action.
Their modest attempts at tossing toasters and rocks at the undead prove ineffective, they move to the woodshed and the take up arms with cricket bat and shovel. With a quick pummeling to the head, Shaun and Ed feel they have the means to save themselves and rescue Liz. They battle their way across town, bobbing and weaving to collide with zombified pedestrians to save his mum, step dad, Liz and her two friends. Shaun chooses the Winchester Pub as his safe haven and it's an all out cricket bat swinging survival of the fittest.
Can Shaun and his friends find sanctuary in the pub and if so, how will they survive? How long can they last? Can they outwit the slow moving, but ravenous undead?
And ultimately will Shaun get the girl?
If Shatner were to make a horror film this would be it. Overly dramatic, tension filled, bloody, gory and riddled with gun play, this is some serious fun. Shaun of the Dead is damn is low brow humor at it's finest.

Other Articles of Interest: