For our next exciting expedition, Josh heads out to Mongolia in search of the tomb of Genghis Khan and one of the first things we learn is that his name should be more properly written as Chinggis Khaan. To be honest, I was unaware that Khaan had gone out of his way to make his burial place a secret. Sort of seems like if you take the time to conquer such a vast empire, you might want to have a few monuments to point out how badass you are.
There are quite a few stories about Khaan's death that state he wanted to be buried in an unmarked grave and anyone who saw the funeral procession was to be killed. Stories even go so far as to say that a river was diverted to cover the burial spot. For someone who lived such a grand life, Chinggis wanted his deeds to live on rather himself as a person. Or perhaps, he didn't want enemies digging up and desecrating his remains as an act of revenge.
But as we move into Ulaanbatar, it's pretty obvious that Chinggis is worshipped and revered at nearly god like levels. His image and name are everywhere – statues, monuments, bars, vodka. Khaan is attributed with uniting the nomadic tribes, establishing trade routes and offering people complete religious freedom. Even if his methods were a bit rough, it was more than what a lot of people had before him.
Josh arrives in time for the Festival of the Three Games which includes Archery, Wrestling and Horseback riding, the 3 things Chinggis instilled in all his warriors. It should come as no surprise that Josh is going to give the wrestling a try although he spends more time in the dirt than anywhere else. At least the guy takes it easy on him and doesn't outright pull his arm out of the socket.
After the festival and while visiting the massive 130 foot tall statue of Khaan outside the city, Josh is told of an archeological dig in search of the tomb. He heads out across the muddy plains to Karakoram, the former capital city that Khaan established and is said to be where the funeral procession started. Josh helps to excavate the site where they find some skeletal remains. Ominous stuff to be sure.
But this isn't the only site where they think Khaan might be buried. There is another on the Burkhan Khaldun mountain that shows what could be three temples. However, it's not a place you can just walk into and start digging. It's actually considered to be a holy mountain referred to as the Forbidden Zone and there is no access without permission from the tribe that guards the gate. This tribe believes they are acting on orders from Chinggis himself to keep the location of his burial place secret. Oddly, the protectors of this area don't say it's actually the burial site and quite frankly, they don't want to know. They believe that Khaan's resting site should remain a secret and not become common knowledge.
With that, Josh and the team have to ask for permission to even be allowed on the mountain, but the gatekeeper isn't sure of their intentions and says he will ponder the matter. Perhaps it was for dramatic effect, or perhaps he just wanted some new drinking buddies, but as the sun goes down, the gatekeeper invites Josh and crew in for a drink and before the night is over, they're all good buddies and Josh gets permissions to press on.
In the morning, the gatekeeper says he will need to accompany them to the mountain to make sure they don't get up to any funny business. No digging or excavating is allowed. To be blunt, they can look, but not touch. The tribesmen are very serious that nothing is to be disturbed.
Turns out the survey photos were correct and they discover stone bricks from a wall and ceramic tile from a roof. These are certainly older than the time of Khaan, but it does lead to some other discoveries. Josh finds multiple spear heads in the base and roots of a tree. These are warrior spears, but they appear to be from the wrong time period as well. But the question remains, there are no other temples in the area so why was one built here? What is the significance of this mountain and this location? Does this location have something to do with Khaan and a temple built on it? Or was the temple built first and they are applying the worship of Khaan after the fact?
With the weather turning bad, they manage to get a chopper to come in so they can take high resolution photographs of the mountain. Not sure why they didn't call up the services of the chopper earlier, but, they scan the mountain several times and there is some sort of man-made bump at the top. They aren't allowed to land, even if the weather did allow it, so some photos is the best they can do. There aren't defining characteristics so this bump could literally be anything and so the mystery continues.
Is Josh and these teams of researchers within arms reach of Khaan's tomb? Or are the stories true and it's actually under a river or in some other completely nondescript location where nobody would think to look? And if the researchers are close, what happens if they actually find something? The men of the tribe seem like they would take some rather drastic strides to keep that information from getting out. Dare I say, finding Khaan's tomb  might result in a throat cutting.
Khaan certainly took steps to disappear after his death and with all the stories and deliberate attempts to keep the location secret, perhaps even misdirection, it looks like the final resting place of Chinggis Khaan will remain a secret for quite some time to come.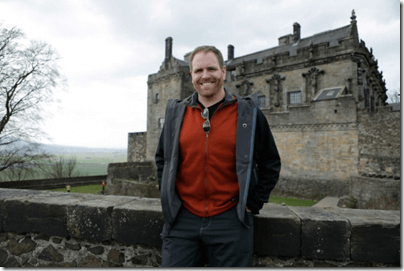 I'm not sure where I've been or why I didn't know about these episodes earlier, but the second season of Expedition Unknown completely passed me by. I've been waiting to hear news about a new season starting only to find it has come and gone. Well, no matter! My musings might be a little on the late side, but it's always fun to catch up with Josh and see where and what he's up to.
For the first episode, Josh is off to England, Scotland and Wales in search of answers surrounding the mystery of King Arthur. We should all know the story by now about Arthur pulling the sword from the stone and ruling over the land as the future king. However, is there any truth to these stories? Is this merely a fun and fanciful tale, or does the Arthur legend have roots in real events and real people?
In hopes of getting some answers or perhaps muddying the waters even more, Josh heads to Tintagel Castle, the rumored birthplace of Arthur himself. On these grounds is said to be the cave where Merlin finds Arthur and now standing atop the cliff is a fortress built by the Earl of Cornwall. It is said the castle was built to commemorate Arthur and his uniting armies against the invading Saxons. And it is believed that during the 6th century when Arthur would have been alive that he would have looked more like a Roman solider than the traditional knight in shining armor.
Around the grounds of the castle they've discovered what looks to the ruins of very old structures and some tablets that refer to "Arthur". Does this mean there was indeed a true and real Arthur and he is buried somewhere on the site? Well, no one really knows, but most likely not.
There was however a rumor started at the Glastonbury Abbey, which claimed they found the tomb of Arthur and Guinevere complete with nameplates. However, it is considered this whole story is nothing but a hoax used to try and cash in on the Arthur legend when the monestary was going bankrupt and needed funds. But it goes to show that whether or not Arthur is real, he is revered and people want him to be real.
Something a little more tangible can be found over in Lester where some cave explorers have found what they believe could ultimately be the burial tomb of Arthur and the knights. In some versions of the story, it is said that Merlin swept away the remains of Arthur and created a tomb. Some believe the massive 50 miles of underground tunnels will ultimately reveal the burial chamber. Josh gets suited up and makes an exploration. While many of the massive chambers look like they could be tombs or temples and they have been able to discover the skeletal remains of at least one person, they aren't able to find anything definitive that shows signs of human interaction or intervention. In fact, they haven't been able to locate any burial chambers or artifacts such as armor, shield, sword of even religious objects.
Further down the road in Edinburgh, Scotland, Josh continues his Arthur investigation, but first it's time to stop off for a quick bite of haggis along with a glass of Scotch. Seems like an excuse to nip off to the pub, but there is method in his madness.
On the grounds of Stirling Castle there is something that has come to be known as the King's Knot or "table round" and many believe it refers to the Knights of the Round Table. With that idea in mind, there are researchers using ground penetrating radar to map the area. Since it's a historical site, they're unable to actually dig into the ground even though they've been able to determine objects and ground disturbances just under the surface.
Again, it makes for a neat story, but if you're not able to do any excavation even when you might be on top of some evidence, there's not much you can do with this story.
While that doesn't make Arthur, Scottish, researcher Adam, says that Arthur was actually a Scotsman as they have been able to find historical records describing some events they believe are the kernel of the idea that is now the Arthur legend. Adam believes that Arthur was Celtic and would have lived in the ways of the Druids, that is to say, he would have been a Pagan rather than a Christian. And what evidence does have to support this claim?
He believes that the sword in the stone story is the literal act of standing in the ancient footprints on the stone of men who has come before you and taking the sword to declare that you intend to defend the land. This was more of a ritual or ceremony not a real sword stuck in a stone. Adam also contends that Camelot comes from the words for Twisted and Marsh. It's not really a place, but a description of where Arthur lived, indeed the lands surrounding that particular area of Scotland.
Adam then takes Josh to a location where he believes they have found the ruins of ancient buildings. Buried beneath all the debris, roots and moss are walls that would have made the foundation of structures that looked out over the marsh. To him, this is where the royal court of Camelot would have been built.
However, once again, they aren't able to find any real evidence to support these claims. In fact, throughout the entire trip it is merely speculation and wishful thinking that make people think Arthur is real and within the area they're searching in. But at this point, none of the scholars or cave explorers or researchers have found anything that actually shows Arthur to be a real person other than the name appearing in some stories. I would have to say that Arthur, even with the original spelling, isn't exactly the most unique name out there, so saying Arthur is a real person would obviously be true at some point.
As is normally the case, legends are rooted in some sort of fact. While the real person and the real event most likely won't live up to the commercialization of the story, there is usually some nugget of truth out there somewhere. Really about the only thing people can agree upon, and even that isn't rock solid, is that Arthur would have been alive around the 6th century and would have been a Pagan and that the stories about knights in shining armor would have been invented much later to make the story more appealing and to align it with the Templars and the Crusades. And it appears a monk may have dressed up the story a wee bit to further that glamour.
But even so, the Arthur legend is alive and well and perhaps if the story was real and went from being history to legend, it may be possible to turn that legend back into history and find the true nature of Arthur. Until then, it will still be a really cool story about honor, courage, loyalty, myth and magic, and that's probably cooler than the truth anyway.
Other Articles of Interest: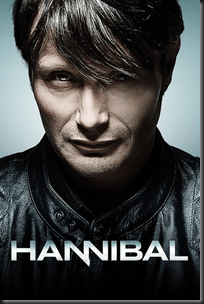 I just had a chance to sit down and watch the season 3 opener of Hannibal. There was some doubt we would even get this third season, but this first episode has me intrigued as we learn all sorts of secrets about Hannibal, his former therapist Dr. Bedelia, and that Hannibal had Dr. Abel Gideon for dinner on multiple occasions and their discussion were quite revealing.
We catch up with Hannibal who has managed to escape from Will and Jack and has made his way over to Italy. He has started a new life for himself as a professor focusing on the works of Dante. How strangely fitting. But there is far more to this story. Odd how a position just happens to come open right when Hannibal is looking for a  job. Further, we see there is a whole lot more to relationship between Hannibal and Dr. Bedelia. Seems they were more than colleagues, more than doctor and patient and without giving too much away, they had much more than a passing knowledge of each other. It also comes out that Dr. Bedelia is quite aware of who and what Hannibal is.
As we look to the recent past, we see that Dr. Gideon and Hannibal had quite a few interesting dinners together. There was a lot of conversation about how Gideon wondered how Hannibal would feel when it became his time to be the hunted animal. I have to say, those scenes got a little more disturbing each time we meet up at the dinner table. Gideon looks worse and worse each time and something about him seems to be missing. I'll let you chime in when you get to that point.
We also get a glimpse into how Hannibal seasons and prepares the meats that go into his recipes. He takes great care to marinade his cuts with sauces and spices and even shows how he grooms and feeds the snails he will later use in his cooking. There was some awkward moments with that one. And the way Gideon looks on at what he is going to be served actually makes you feel sorry for the guy.
Strangely, as Hannibal begins to settle in with this new job, a new visitor shows up on their doorstep. He gets invited over for dinner and Dr. Bedelia is actually shocked Hannibal, "lets him go". Ok, that is pretty grim business. Bedelia knows exactly what Hannibal is capable of and even makes the unusual comment that Hannibal "wants her to taste good" when a comment is made about the food she is eating. This makes for some raised eyebrows at the table and their guest begins to wonder what sort of party he's been invited to.
But the new visitor is brought back and it seems Hannibal is back to his old tricks and Bedelia is right at his side.
I have no doubt this is going to be an eye opening, jaw dropping season. I think Hannibal is an incredibly suspenseful and dramatic telling of the Hannibal story that is far superior to the crap movies that Anthony Hopkins put out. That Hannibal was laughable and pathetic. Not once did he instill any sort of fear, nor did he ever come across as anything but a buffoon. When I first watched Silence of the Lambs, I thought it was a stupid movie and Hannibal was a joke. Why would anyone be afraid of this guy? He comes across with the mental capacity of an ice cube, not someone who is calm, calculated and always one step ahead in the game.
The Hannibal of the TV series is far more compelling. He is sophisticated, soft spoken, elegant, refined and hides all his misdeeds behind a wall of calm that keeps you completely on edge. Strangely, Hannibal from the series is someone you'd actually like to know.
Who knows where this season will go and if there will be a season 4. I really hope there is as I would love to see them remake the 3 movies as season long episodes. The previous movies would pale in comparison as to what this team would be able to pull together.
We are off to an extremely dangerous start and so much has already been revealed and set in motion. We haven't seen Will or Jack yet, and we have no idea how many of them survived, but I have no doubt they will be back with a vengeance and will be hell bent to catch Hannibal and have their revenge. Just like the other seasons, this is going to be great and we are in for a treat full of deception, lies and misdirection. And even when we think we know what's going on, more will be revealed that will completely throw us for a loop.
Who else caught the opening episode? What did you think?
Other Articles of Interest: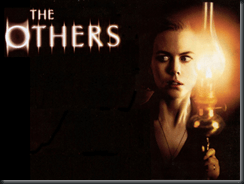 While browsing movie selections on Amazon, I was recommended The Others on Blu-Ray. I thought The Others was a great movie and for a mere $6 I could get the Blu-Ray edition. Two days later it was at the front door and I sat down to watch it again.
We start off with Grace and her two children alone in their house cut off from their neighbors and the rest of the village. The war has ravaged them and to make matters worse, the regular servants have packed up and left during the night without saying a word.
But all is not lost, three new servants who happened to have worked at the house before come strolling by looking for work. Desperate times call for desperate measures and Grace brings them on board to help with the house. But they must understand that the curtains must be drawn at all times. Her children are allergic to the light and if exposed they will blister, suffocate and possibly die. That alone means the house is lit with meager lamps and we spend most of the time is in an eerie darkness. Not to mention there is a thick fog that hangs about the house and if you stray too far, you lose your bearings and won't be able to find your way back.
It's not just the darkness though. There is something odd about the servants. They seem to be hiding something or perhaps are in the midst of hatching some sort of plan. Further, it seems that things are moving around in the house and they hear voices and footsteps. Soon, the daughter Anne says she sees and hears a little boy Victor, who says the house is theirs. Soon Grace realizes that noises she attributed to the servants can't be from them because they're not even in the house when she hears them. They now have intruders.
To confuse matters even more, Charles, Grace's husband mysteriously shows back up to the house after being presumed dead in the war. But something is wrong. He's distant, lost, aloof. His affections seem to be running away from his high strung and nervous wife.
From there we start to learn about many truths that took place in the house and very little is what it appears to be and not everyone is who they claim to be.
The first time I watched The Others, I thought it was great. It was an atmospheric and creepy movie that used mood and lighting to create tension. There are no scenes with chainsaws, or people being hacked to bits, or blood, or nudity and only a hint of violence. It's sort of a like an Agatha Christie movie where everyone has a motive yet you're not sure of their intentions. We get a lot of characters who may be up to no good and sense the house is haunted.
Watching it this second time, I found it to be just as suspenseful, but there was a great sense of satisfaction in pickup up on all the clues that are literally peppered throughout the movie. The clues are subtle and out of context they just seem like half completed thoughts. Or, they could be referring to multiple things – the war, the neighbors, the house.
For those who are used to hack and slash films, this is clearly not for you. For those that want a movie to build and for there to be a point to the story, this should keep you both intrigued and entertained.
With the lights turned down low, this movie still creates a suspenseful atmosphere and offers a story that slowly draws you in and sets several wheels in motion to make you wonder who's telling the truth. And then in the end you'll see how everything fits together perfectly and everything you were offered makes complete sense.
This is a top notch movie and for $6 you simply can't go wrong.
Other Articles of Interest: