What a strange coincidence…

Rolling Hills Asylum, 11001 Bethany Center Rd., will offer hour-long tours of the historical building which has been not only an asylum, but an orphanage and nursing home as well as the Genesee County Poor House in its former incarnations. Thousands of people have died on the property, which is reported to be the most haunted location in Western New York.
The building has been featured on shows such as the Sy-Fy Channel's "Ghost Hunters" and, most recently Travel Channel's "Ghost Adventures."
Rolling Hills comes alive for haunted tours, paranormal conference
Other Articles of Interest:
Here's some more of my pumpkins that met a fiery end last night. As usual, the flames were pretty high and quite spectacular. I have to say the pumpkin was less than cooperative. I thought I had thinned the walls down sufficiently, but it was still quite difficult to cut through. The rind was a bit more fibrous than I had anticipated. It didn't lend itself to well to my cutting technique.
In the end I think it all worked out. I like these two patterns. They were pretty straight forward and the cuts were relatively easy. Strangely, El Chupacabra bares a striking resemblance to my dog…
Anyway, here a couple more of my pumpkin cutting adventures for this Halloween season.
View the rest of the flaming pumpkin gallery
Other Articles of Interest:
With Josh Gates and Allison Scagliotti set to host the event.
Well, it looks like the Ghost Hunters are going to try their hand at another Halloween Special for 2010. For this year, they return to Buffalo Central Terminal which they originally visited back in 2008. I only vaguely recall the original episode so I may have to dig this one out and see what kind of evidence they captured. I sort of recall it not being that active, but it must have had something going on for them to go back for a second run at it.
Anyway, it seems there will be a live event (but as we've seen, their definition of "live" and our definition of live aren't always the same thing) and multiple re-run episodes leading up to the event. With Josh and Allison at the helm I'm sure it will be quite entertaining. I'll probably tune in for the re-run of it at some point, I've got plenty of pumpkin burning and other activities going on that night, not going to spend it watching Jason and Grant play shenanigans in the dark.
Other Articles of Interest:
Ok, to use the term pumpkin carving is a gross understatement. This is pumpkin sculpting. These are from Ray Villafane, an artist who has found his way to using the pumpkin as a canvas. There is no doubt that his work goes way beyond simple templates and tea lights.
Have a look at these beauties, they are indeed works of art.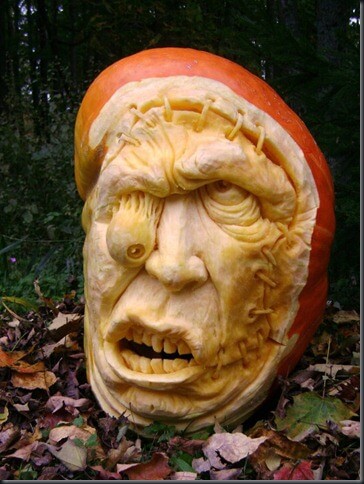 You can see more of his work on his Facebook page:
And you check out the tutorial so you can give it a try yourself:
Great gourds! A whole new level of pumpkin carving
Other Articles of Interest: