We finally saw the Bird Girl as featured in the movie and on the book cover. I'm a little disappointed actually. She has nothing to do with Savannah, or a Savannah artist, or a little girl of some prominence or even Bonaventure. Its just a statue made in 1936 that everyone ignored until it's picture was taken at the last minute for the book cover. The guy got lucky and photographed a creepy little statue for a murder mystery. I thought the statue would be steeped in history and lore. Absolutely not. It's just a statue of a girl holding two bowls. It used to be in the cemetery, nowhere near Johnny Mercer or John Williams, but when people went down there to see it, it was yanked out of there. Now it sits in an art gallery where you can't take pictures of it, this way you're forced to buy little statues that cost an absolute fortune! They are trying to milk out every dime from tourists. It's an interesting statue, but after learning the real story behind it, it's commercialization, and it's complete lack of a tie in to anything related to the movie or Savannah, I'm sort of put off.
Other Articles of Interest: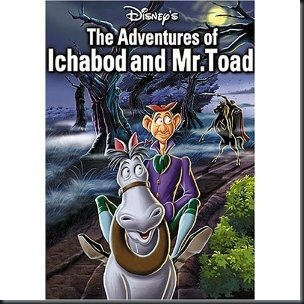 This 1949 Disney feature has never been available on video in its original form until now. The 68-minute film contains two shorts: The Wind in the Willows and The Legend of Sleepy Hollow. The former is a lively version of Kenneth Grahame's book of animal adventures, including Mr. Toad, a rambunctious sort with a passion for motorcars. Basil Rathbone narrates the story. Sleepy Hollow is the Washington Irving story of a stuffy schoolmaster and his ability to win the love of the fair Katrina from the brutish Brom Van Brunt. Many fans will see a resemblance to Disney's masterpiece created some 40 years later, Beauty and the Beast, in style and story. The end is still scary enough to send youngsters under the table. Bing Crosby supplies the narration, character voices, and songs. The opening number in a library including two stories has been included in this good-looking restoration. The shorts were made in Disney's prime, a year before Cinderella, and the look is wondrous. The exaggeration of Ichabod's skinny frame and his slumping horse is a glorious example. –Doug Thomas
Product Description
In the great tradition of SNOW WHITE AND THE SEVEN DWARFS and CINDERELLA, Disney's 11th animated masterpiece, THE ADVENTURES OF ICHABOD AND MR. TOAD, introduced two literary classics to the screen. Through award-winning Disney-animated wizardry, these unforgettable children's stories come together as one fabulous adventure. THE WIND IN THE WILLOWS follows the wild ride of J. Thaddeus Toad, squire of Toad Hall. Smitten with motorcars, the wealthy and reckless sportsman soon drives his close friends Mole, Rat, and Angus MacBadger into a worried frenzy! Then meet Ichabod Crane, the spindly schoolteacher who dreams of sweeping the lovely Katrina off her feet — until Brom Bones, the town bully, gets involved. Their comic rivalry introduces Ichabod to THE LEGEND OF SLEEPY HOLLOW, the fabled Headless Horseman, and a hair-raising, heart-thumping climax. Narrated by legendary stars Basil Rathbone and Bing Crosby, THE ADVENTURES OF ICHABOD AND MR. TOAD is brimming with high-spirited adventure, brilliant animation, and captivating music — now available for the first time in keeping with Walt's original theatrical vision.
The Adventures of Ichabod and Mr. Toad
Other Articles of Interest: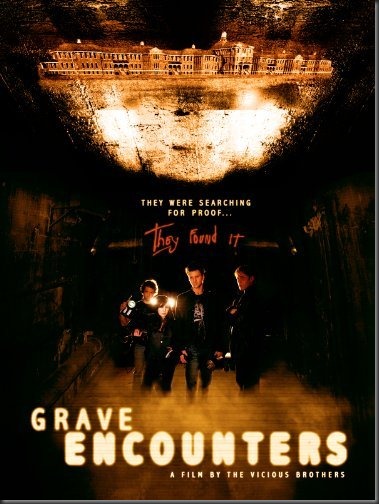 Lance Preston and the crew of "Grave Encounters", a ghost-hunting reality television show, are shooting an episode inside the abandoned Collingwood Psychiatric Hospital, where unexplained phenomena has been reported for years. All in the name of good television, they voluntarily lock themselves inside the building for the night and begin a paranormal investigation, capturing everything on camera. They quickly realize that the building is more than just haunted – it is alive – and it has no intention of ever letting them leave. They find themselves lost in a labyrinth maze of endless hallways and corridors, terrorized by the ghosts of the former patients. They soon begin to question their own sanity, slipping deeper and deeper into the depths of madness, ultimately discovering the truth behind the hospital's dark past…and taping what turns out to be their final episode.
What grabbed me about this movie was that is sounded exactly like the set up for Ghost Adventures. A small team locks themselves in a psychiatric hospital so they can record evidence of the paranormal. It seemed like a parody to me, but the reviews were surprisingly positive. I've never heard of this movie before and the DVD isn't scheduled to come out until October, but Amazon has a digital rental.
Ok, right off the bat this is a mix of Ghost Adventures, Blair Witch, Kingdom Hospital, The Shining, Paranormal Activity and several other movies all rolled into one. What we're watching are the "lost diaries" of the team after their final episode has been taped. What ensues is a Ghost Adventures episode gone wrong. There is a lot of humor in the set up where Lance speaks to the camera in his William Shatner like tone, he bribes a gardener to make up stories about seeing apparitions, the maintenance guy is less than thrilled to be on camera and have these "kids" running around the place and he even has a "medium" come in to talk about what he feels. It has all the elements from all the paranormal shows. It also has the night vision cameras, the slightly matrixing walls and hallways where you desperately try to scan the room looking for shadows and plenty of rooms where nothing happens. But then all of a sudden…
Honestly, this movie entertained the hell out of me. Its low budget scares, wildly jerky camera angles, Halloween fun house effects and just as much cussing as you find in Scarface, give you a wild ride through a creepy hospital where the corridors are endless and hallways lead to dead ends. This is the raw footage so nothing gets bleeped. Bottom line, expect plenty of F-Bombs. It all starts rather cynically, as Lance is just doing this to get some scares for the folks at home and to try make some money. The previous episodes have been good, but he needs some evidence to keep the show going. He's ready just to make stuff up if it keeps the ratings up.
Evidence is what he gets. I won't give any details as that will spoil the ride, but there was plenty to like. It gets a little silly in a few places, where they go for shock factor or the "gross out" effect, but overall you should be entertained. This will make some for some great late night viewing. As I said, there are plenty of long dark hallways, rooms where you expect something to leap out at you, screaming and chaos off camera and plenty of doors slowly opening and closing. It's a mixture of low key scares and in your face action. You're just not sure which one is coming next.
If you're looking for something to add to your Halloween movie collection, this is definitely a rental to keep in mind.
Grave Encounters on Amazon
Other Articles of Interest: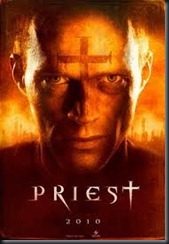 I went and saw Priest with a friend last night and it was one of the most unusual yet not too terribly bad vampire movies I've seen.
It blends a huge amount of genres into one film. There is the George Orwellian oppression, but from the Church rather than the government that tries to control our thoughts and the way we behave. There are fight scenes and special effects that harken back to the days of the Matrix and Underworld. The "Black Hat" brings a feel of Red Dead Redemption or Gun video games. The landscapes are reminiscent of Mad Max. The Wasteland feels like the Wild West in a Clint Eastwood movie and you expect to see him walk out of a saloon at any moment.  But it all seems to work.
But don't expect the vampires to be like True Blood or Dracula. They are slimy, non human, soulless creatures that come across as more space alien than anything else.
And don't expect a clean and tidy ending. There is a war going on and that demands a sequel!
But overall it was pretty good. It wasn't a great movie, but it wasn't a bad movie either. It's not a movie I would have chosen on my own (simply because they normally turn out to be crap), but when the credits started to roll I really wanted more. I wanted to see the rest of the story. I figured there was at least another 45 minutes of ass kicking to be had.
If you go in with no expectations and allow them to take the vampire idea on a slightly different track I think you could like this one.
Other Articles of Interest: