Can you ever have enough games featuring Zombies and Aliens? And for $0.99 this is some serious, mindless entertainment. And just in time for the weekend! Blast way Zombie Hunter!
2012 Zombies vs Aliens falls into an action/strategy nook that pits you, as either the alien or zombie race, in trench warfare versus the other side.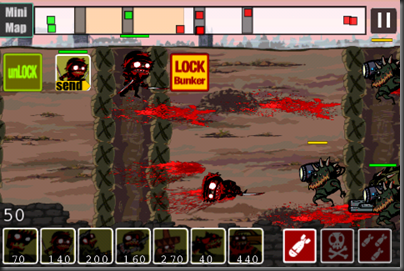 Read the full review at 148apps.com
Buy 2012 Zombies vs. Aliens at the App Store
Other Articles of Interest:
It involves Zombies and Pizza, what more could you ask for?
Zombie Pizza is a fast-paced, light-hearted horror puzzle game where lighting-quick reactions are all that stand between you and a grisly fate at the hands of the ravenous undead. Play it safe and just try to survive your night shift, or whip up high-value recipes to rack up dollars, earn gold medals, and advance through the Zombie Pizza ranks. Sort ingredients from the fast-moving conveyor-belt and onto your pizzas, and then flick completed pizzas through the slot to feed the zombies pounding on your door. Watch out for the Zombie Rage meter — it if gets all the way to the top, it's game over!
Pizza Chef Zomboni has been bitten by zombies and will soon become one of the walking dead! He has a scant four weeks to train you, his apprentice, in every aspect of the dark art of making Zombie Pizzas. Beneath Zomboni's stern eye you will race against the clock to combine disgusting ingredients like eyeballs, hearts, bones, guts, and (of course) brains into grotesque Zombie Pizzas like The Roadkill, The Split Dog, The Gut Buster, and the Stink Eye. Fill your orders fast enough and you live to see the dawn. Fall behind and the hungry undead smash through the door and put YOU on the menu!
With twisted sound effects, original music, and stunning hand-drawn art — including twitching ingredients and goofy zombies banging on the glass — Zombie Pizza is a darkly charming game sure to satisfy lovers of zombie cinema, puzzle games, and tasty pizza alike. Whether you're just working a single night shift or pursuing a career in the most hellish kitchen of all, place a special order for Zombie Pizza today!
Zombie Pizza free for today only

.
Other Articles of Interest:
Could this episode be any more overly dramatic? Could Ryan be any more of an aloof asshole?
Ryan and crew visit the West Virginia State Penitentiary for reasons that aren't really all that clear. Ryan lays it down thick about how he needed to come back; how he needed to finish what he started. We have no idea what that means since he prefers to be moody and dark. He acts in such a foreboding way as though all their lives are in danger.
It's the Western State Penitentiary which is believed to be one of the most haunted places in America. There are endless stories of murder, violence and wrongdoings. And Ryan in his dour tone wants his team to face their fears at this place. Again, we have no idea why they need to face their fears and why this is place for such a showdown, but Ryan makes a really big deal that it needs to happen and that he has secrets about the place they need to understand.
On day one the team takes up position and sits in different locations – alone. Not surprisingly they hear noises, bumps and creaks. What abandoned building doesn't make those sounds at night?
The next night it happens again but this time we add the element that there is an Indian burial mound near the prison. This should fuel the spirit energy.
All the while Ryan is taunting the team that he has a secret about the place that the public doesn't know about, but he won't share it because he doesn't think his team is taking the events seriously. Too much giggling, not enough moodiness.
Of course, no one (including us) has any idea what the hell is going on or why Ryan is being a putz to everyone, but yet everyone needs to take his fears seriously.
Finally, after being pale and tragic Ryan reveals that while he was investigating the Wardens Tower the activity got so intense that he had to leave there. Translation: he got freaked out, soiled himself and ran away. Now he needs to redeem himself in front of his team.
And what's the big secret of the tower? A pentagram. All this melodrama has been because there is an upside down pentagram on one of the windows in the tower. Clearly, this is the gateway to hell. Really? All of this over a stupid symbol?
Now the conspiracy theory begins that the staff would have been practicing Satanism in the prison and who knows what other dark rituals. This is the Satanic prison, that's why weird things happen here.
What do we get when all is said and done? Ryan goes back into the tower so he can conquer his fears. With camera strapped to his back and audio recorders at the ready he trudges up the tower stairs, stands in the middle of the room and like a kid talking to monsters in his closet or under his bed, declares he isn't afraid.
Feeling better about himself for his spectacular display of bravado Ryan calls it a night and asks the team what the penitentiary means to them. WTF? Are you serious? That's it? Ryan loses his nerve in a tower and there is an hour long episode about him facing his fears?
Call this what it is, how Ryan got his nerve back.
Ryan, you can freak out, it's ok. Prison can be a scary place at night. But do we really need an episode like this?
Other Articles of Interest:
So here we are with the next adventure of the GHI team which takes them to Eden Hotel in Argentina and the Monte Cristo House in Australia.
The Eden Hotel reports they have a little girl who died of tuberculosis on the property. There are claims of a woman laughing and that the dining hall still seems to have people enjoying dinner and indulging in conversation. And there is another little spirit who supposedly died of hypothermia and is still crying for help.
Rob starts us off by trying to gain the trust of the little girl and asks for her to show him around and find the other spirits. Immediately a cold spot appears which he feels is the little girl ready to give him the tour. Alas no thermal imagery or temperature readings to back up this claim of the cold spot. Cute theory though.
Barry feels that setting up a disco in part of the house will bring out the spirits and they bring in a strobe light and let it run for hours on end with no results for their efforts. Not sure what exactly this was supposed to accomplish. I can only imagine the poor sap who had to sit through that seizure inducing footage.
While sitting at the dining room they pull out the EMF and begin asking questions. Ashley and Joe say the device is getting readings but we don't get to see the needle move. Right before the detector goes off each time they move the camera away and someone says "It went off". What's the story with that shoddy camera work?
Finally, Dustin nearly soils himself as he's searching for the little girl who died of TB. As he's peering through the doorway he lurches back exclaiming he just saw a shadow figure. Of course we see no figure nor hear any noise. All we see is Dustin tripping over his own tail as he almost crushes the camera guy making his getaway.
With just a couple pieces of really sketchy evidence they claim the place is haunted. Is it me or are they seriously lowering the bar for a place to gain the haunted badge?
In Australia they head to the Monte Cristo house where people hear noises, see apparitions and hear the voice of Mrs. Crowley telling them to leave. Since there is a balcony, there is a story of someone falling from it. The story goes Mr. Crowley himself shoved a woman overboard. A woman, he supposedly got pregnant. Those wealthy landowners, always up to no good with the hired help.
Personally, I don't think they catch much of anything on this one. Quite frankly, the claims of the paranormal seem pretty slight to begin with. But hey, any reason to go to Australia is a good one right?
The two big pieces of evidence are Dustin and Joe hearing the window rattle as they try to talk to Mrs. Crowley in her bedroom and someone saying "Get Out" as the team is getting ready to end their investigation. A window rattling couldn't possibly be the wind, a bird or a bug hitting it. As for the "Get Out"? Sadly, that isn't what it sounds like to me. I'm not even sure they're words. Sounds like someone breathing right next to the microphone to me.
You would think with someone saying "Get Out" the place has to be haunted right? Nope. They just give it the "there's paranormal activity here" moniker and head on out. The Eden Hotel had just as lame evidence and they had no problem saying that place was haunted. What's the deal there? Was it the fact Dustin nearly soiled his pants when he claims he saw the little girl that made the place haunted? Soiled pants = haunted?
Clearly there is no consistency in how they judge these places.
Other Articles of Interest: