Since we're the site featuring flaming pumpkins we thought it fitting our first theme should proudly display the apple of our eye, or rather the flaming pumpkin of our hearts. Can't light your own pumpkins on fire? Not to worry, you can live vicariously through us with this all new Halloween Worpdress theme that's based off of artrojasdesign itself. It's a dark, 2 column theme that's widget ready featuring all the colors of the season. You're going to be the envy of all your friends when your blog is sporting this theme for Halloween.
It's been tested against WordPress 2.8.4 and is ready to scare the hell out of your visitors!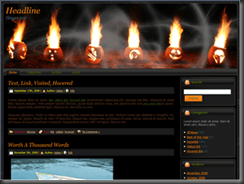 Download Flaming Pumpkins for WordPress
Other Articles of Interest:
Because there is a complete lack of Halloween related WordPress themes that are worth a damn, artrojasdesign has taken up the mantle to correct this injustice. With that in mind we have brought to bear six all new Halloween inspired themes. We have taken great care to make a theme that is both highly functional and good looking. Each theme features a wide main body with a right sidebar and original photography in the header. They are also widget ready. There are no hidden links or encrypted/encoded text in any of our themes; we hate that kind of nonsense and we're sure you do too.
We are offering these themes at no charge and you are free to modify them in any way you see fit, but no passing them off as your own, that's not cool and we'll have to send a flaming pumpkin to hunt you down and gut you like a fish! The only thing we ask is that the header graphics not be used in any other themes. We'd really like you to keep the footer links in tact too – which is simply a link back to this site and nothing more – however if you feel the urge to ditch that, we're not going to stop you. We reserve the right to flip you off and say all sorts of crap about you behind your back if we see you've done something like that though.
If you're feeling kind and generous perhaps you could drop a comment or link on another site, or if you're feeling especially philanthropic maybe you can toss a coin or two into the tip jar.
We have a new batch of themes in the works right and should be posting those in the next few days so check back for more Halloween related themes. If you have an idea or suggestion for what you'd like to see in a theme, just drop us a note. Our themes have been tested against WordPress 2.8.4, but if you run into any problems just let us know.
Other Articles of Interest:
It's been raining almost the entire day, but there was a break in the weather so my son and sprung into action and torched our first victim of the year! I bought a pretty heft 28 pound pumpkin when at the grocery store earlier in the day and was just itching to use him. We went with Asylum Joker, gutting and carving him as quickly as we could. We were racing against the clock and the giddiness was almost overwhelming (read sickening or perhaps even pathetic). But we diligently carved and scraped and brought to bear the first victim of the year. I have to say he looked pretty good.
Since it was a special occasion I loaded him up with two rolls of TP just so he would have plenty of firepower and could fend off the rain. I may placed a touch more accelerant into the pumpkin just for good measure.
He went off like a shot! He burst into action and almost instantly he was a flaming inferno! He lasted a good 45 minutes from start to finish and I got some great shots. I even played around with taking pictures of just the flames which look almost liquid.
Just as the flames started to die down the rain started. We had planned ahead and were standing under a large umbrella, but it was time to make a dash and get everything back inside.
Here is the Joker in all his flaming glory. Click the image or the link below to see the full gallery of images.
Click here for full Flaming Pumpkin Gallery
It was a damn good test and make no mistake, next weekend another one will become a flaming sacrifice.
Other Articles of Interest:
My plans for lighting pumpkins tonight aren't going so well. It's been raining all morning and should continue through this evening. It's not like the rain would put the flame out, but standing around in it isn't my idea of fun. Plus you really can't take good pictures that way. But fear not I have the pumpkins and TP at the ready should conditions change.

Other Articles of Interest: