I'm sure you've been anxiously waiting for my comments on the Ghost Hunters 100th episode at Alcatraz so here they are at last.
Before we begin I really have to make a comment about Alcatraz itself. After watching American Paranormal and their experiments with infrasound I'm completely suspect of any paranormal investigation at this site. The environment itself of wind and water would lead to plenty of false positives. Not to mention the hundreds of birds, rats and who knows what else that now make Alcatraz home. How could you not expect creaks, bangs, scratches, footsteps, the moaning of the wind, the thud of the surf and dozens of others sounds from the place? With so much "noise" how can you possibly differentiate what you're hearing?
But anyway, the Ghost Hunters team if off to the glitz and glamour of Alcatraz for their 100th episode. As I mentioned before my interest in the Ghost Hunters has come to an end. I only tuned in because Josh was hosting the interview and he brings a sense of fun and levity into everything he does. As expected both the interview and the investigation were fairly lackluster.
And by the way Dustin, I hate to break it to you, but you're not a rock star…
The interview portion was pretty much a let down because no one actually said anything. About four questions were asked the whole night and the team was basically able to articulate nothing more than a short one sentence answer. When asked about their paranormal experience, Jason and Grant, as you might expect, dodged the question and gave a pretty non-committal answer. Even though Robb is the head man of GHI, he had one sentence to say then was ushered off stage. Kris and Amy hung off to the side and kept the couch from rolling away. Even Steve and Tango hardly had anything to say. Honestly, this train derailed dozens of times and Josh was having a heck of a time keeping it going.
I'm biased about the investigation anyway so I'll skip through most of it. I don't think they captured much evidence and certainly nothing that gives credence to most of the claims people have out there. It would take a lot to convince me the wind and surf aren't responsible for most things people see and experience.
One thing that did come to mind is that once again the team shows they aren't always sure where the other members are. Steve and Tango hear noises and say it could easily be the other team members. This just shows TAPS can actually step over themselves and give false positives by their own actions.
No denying Alcatraz is a wild place which I would certainly like to visit. The tunnels, long corridors and plenty of places without light would be fascinating to see. But whether it's truly haunted or not remains to be seen, at least in my eyes.
And what was the big news of the night? Ghost Hunters Academy is coming back for a second season. I'll try to contain my excitement. We're also informed that the GHA graduates, Susan and Karl will be joining GHI. I was woefully disappointed by GHI this season and this doesn't help matters. Now that these two are going to join the ranks I think I might be stepping away from the entire Ghost Hunters franchise. The premise and crew from GHA just rubbed me the wrong way. It was a personality clash in every sense of the word so having them on GHI doesn't make me want to tune in. Jason and Grant have lost me for now. I may change my mind if they go to some place that really interests me, but as we start this new season I'm not on board.
Overall the 100th episode special was somewhat interesting, but not thrilling. It's pretty obvious they see this as a business now, which unto itself is fine, but the quirky fun of the show is pretty much missing now. But congratulations to the Ghost Hunters for 100 episodes which as Josh says, in today's climate is an achievement no matter who you are. To be something on the fringe like this is a major accomplishment. Hopefully they'll win me back, but for now, I think we need a bit of a break from each other.
Other Articles of Interest:
Hmmm… Now I think I've seen everything
Avie Woodbury claimed she was so tired of being haunted that she called in an exorcist to rid her house of two ghosts.

The exorcist trapped the spirits in bottles of holy water – which Ms Woodbury has now put up for sale on internet auction site TradeMe.

'The holy water dulls the spirits' energy, sort of puts them to sleep' she said.
And when you're done shopping that site, come back and give me a yell, I have a bridge you might be interested in. I also have some great land you might want to develop.
Ghosts Trapped in Holy Water up for sale
Other Articles of Interest: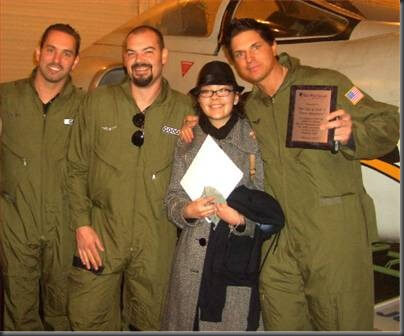 This is a great story and Zak, Nick and Aaron deserve a big round of applause for putting the "Hollywood" aside and having such a positive impact on this young girl. These guys may be kind of zany during their investigations, but it's pretty clear that when called up for help, they are more than willing to lend a hand.
Well done indeed!
A teen suffering from leukemia has her wish to meet the crew of Travel Channel's show "Ghost Adventures" granted through the generosity of Travel Channel and Kids Wish Network.

When Wish Coordinator Jill asked Tashia what wish she wanted, Tashia told her that she wished to meet the crew of her favorite show, Travel Channel's "Ghost Adventures" and maybe even accompany them on a paranormal investigation.
Fairfield Teen with Leukemia Investigates with Travel Channel "Ghost Adventure"

Other Articles of Interest: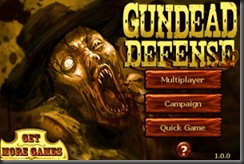 GUNDEAD DEFENSE – Wild West Zombie Tower Defense
The ONLY MULTIPLAYER Tower Defense Game for the iPhone and iPod touch.
1885. A zombie outbreak is ravaging the Western Frontier. Death is everywhere, but there's plenty of money to steal if you can get to it alive.
Take charge of a gang of outlaws looking to pull a legendary heist in the middle of zombie country.
A NEW TYPE OF TOWER DEFENSE GAMEPLAY
Not only DEFEND your stronghold, but for the first time ever order your henchmen to ATTACK the zombie base!
PLAN YOUR ATTACK!
– Order henchmen into battle, ranging from speedy scouts to slow burly brawlers.
– Time the waves of your attacks to exploit weaknesses in the zombie defenses.
– Strategically spend funds to boost your men's Speed, Health, and Resistance for the perfect assault.
DEFEND YOUR STRONGHOLD!
– Command a posse armed with Six Shooters, Shotguns, Molotov Cocktails, and Gatling Guns to make a stand against those brain-thirsty zombies!
– Upgrade your weapons to inflict even more damage with devastating special attacks.
MULTIPLAYER
– Two modes to square off against you friends:
– Head to Head: Play against your friends wirelessly
– Hotseat: Pass and play on a single iPhone or iPod touch
CLASSIC FEATURES [FREE]
– Quickplay Mode throws you right in the middle of the action!
– Campaign Mode takes you along on a bank heist to hell and back!
– Multiplayer immediately available.
– 7 different maps.
– An edgy art style that soaks the Classic Western in the gore of Zombie Horror.
– Original soundtrack written & performed by the band Tomcat Combat.
ZOMBIE IN-GAME EXPANSION [$0.99]
– Play as the Zombies! New powers! New strategies!
– 7 additional maps!
– Lead a zombie hoard of Biters, Screamers, Hurlers, and Swarmers to MORE BRAINS!
– Campaign Mode features a storyline from the Zombie perspective!
– Zombie faction unlocked in Multiplayer.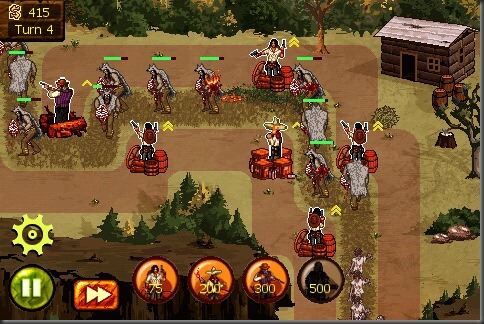 Check out the Gundead Defense review on TouchArcade
Other Articles of Interest: