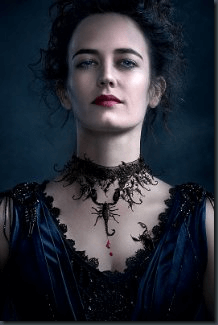 I just caught the first couple episodes of the new series from Showtime – Penny Dreadful. It tells the story of "Explorer Sir Malcolm Murray, American gunslinger Ethan Chandler, and others unite to combat supernatural threats in Victorian London."
Ironically, this show comes across as nearly identical to Dracula from NBC that was recently cancelled. We have a secret society in search of paranormal elements and what appears to be the rescue attempt of Sir Malcolm's daughter, Mina Harker. Yes indeed, we have connections to the infamous Johnathan Harker and while not specifically mentioned, we know they're talking about Dracula. In conjunction with Dracula, we have the equally notorious Victor Frankenstein, his experiments in galvanism and at least one of his monsters wandering the streets of London.
Since this is Showtime I fully expect this will become more graphics, violent and sexual as we move forward. I forgot to mention we have Dorian Gray, who indulged in all the wild pleasures of life because he wouldn't have to suffer the consequences. So far, this feels quite similar to Dracula, but that's not a bad thing since I like Dracula and hoped it would make it to a second season. Looks like I get another chance at a similar story. One thing to note, IMDB already has 8 episodes listed so the season is already done, so we'll get the complete story regardless of how the ratings turn out.
With the blend of characters they've brought together, this should make for an interesting story.
Penny Dreadful on IMDB
What's a Penny Dreadful
Other Articles of Interest:
Well, if you haven't watched the final episode of Hannibal then look away!!
Oh my goodness, what a season! We end where we started with Hannibal in an epic using anything and everything available in the kitchen. Jack was getting far too close to discovering the truth and Hannibal had to protect himself. However, this comes at the expense of both Will and Alana. Hannibal and Alana may have spent intimate nights together, but that's not going to stop him from throwing her out the window!
And in the midst of all the chaos we see a surprise visitor. Where the devil has Abigail been hiding all this time? But before we can even ask the question, Hannibal follows through on what we all thought he did several episodes earlier and uses her as an instrument of his getaway. As Hannibal heads out the door into the rain, the potential body count is at least 4.
Now it's time to put some distance between him and the FBI, so on a plane he goes bound for what we assume to be France. But who's this sitting alongside him? Wherever did Dr. Du Maurier come from and how did Hannibal convince her to take a plane ride with him? Sure, we can she is the victim here and is on the plane against her will, but she doesn't seem all that traumatized to be there. Perhaps she's not enjoying the champagne as much as Hannibal, but she doesn't have the look and dress of the average prisoner. And whatever will the two of them do when they get to their cozy destination?
Lots of very exciting things to think about for Season 3. And thank goodness we get a Season 3. If that was then end it would be horrible let down. I think this series is so much more complex and intriguing than the movies and that Mads is a far superior Hannibal Hopkins ever hoped to be. Sure, the show is a bit graphic at times and the whole scene of Mason causing great harm to himself and feeds bits to the dogs was a little over the top, but Hannibal is portrayed as the super villain of all the serial killers so this sort of behavior and imagery makes sense. This is the sort of Hannibal you should fear not that movie tripe.
I think I will now go back and watch the entire series over again just to get all the sublety in both action and dialog. I have no doubt clues were left all over the place just waiting for me to discover them on the second viewing.
And let's not forget the plot twists with that wiley Freddie Lounds!
Other Articles of Interest:
A new series has presented itself and it goes a little something like this: Set in the volatile world of 17th century Massachusetts, 'Salem' explores what really fueled the town's infamous witch trials and dares to uncover the dark, supernatural truth hiding behind the veil of this infamous period in American history. In Salem, witches are real, but they are not who or what they seem.
At the start of things we have Tituba taking care of Mary Sibley who has found herself in a "family way" but isn't married. From the punishment dealt out in the opening scene Issac is flogged and then branded a fornicator for kissing a girl, an unwed mother would be an utter disaster. Mary's beloved, John Alden is sent off to war, but returns 7 years later to find things are a little different than when he left.
The ritual Tituba performed has given Mary great power and put her into a contract with an "unknown" force. Mary has moved on to web George Sibley, perhaps the most powerful and most feared man in town. But George isn't the force he used to be. In fact, we see he's being controlled quite handily by his new wife. On the outside he appears to be ailing of something akin to a stroke, but when we look deeper he has much bigger problems.
The talk of witches begins to permeate the town as children see visions and speak of hags and visitors in the night. One man who might know the truth finds himself on the receiving end of being accused of witchcraft. He made the mistake of trying to force Mary Sibley's hand and reveal to her former love, John Alden who and what she is. He doesn't to spill the beans, but he spills a great deal of blood as he's pressed to death to reveal his guilt about witchcraft.
John Alden isn't one to give in to the power or even existence of witches, that is until he's taken to the edge of town by Isaac and stumbles upon a ritual he can't comprehend. Mary's payment has been broken and John might be in the middle of something quite dangerous.
It looks like things have just gone very wrong.
And that's the start of the series for the new series Salem on WGN. A rather graphic taken on the stories surrounding the Salem Witch Trials. The accusations of witchcraft abound, but that doesn't mean it's not real. We begin to see the power, but we don't have a full meaning for them yet. Why Salem? What other forces are at work? Did Tituba unleash something horrible on the town or is she trying to save them from an older evil?
This is shaping up to be an interesting show with all the characters we're familiar with. And all the punishments too. He hangings, the dunkings, the burnings are all here. These episodes may not be the feint of heart but it should make for an interesting story and an interesting interpretation of the events that took place in Salem all those years ago.
I'll have to revisit this topic after a couple of episodes have come out and get ourselves pointed in a certain direction.
Other Articles of Interest: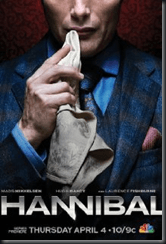 I've said a few times that I'm a big fan of the NBC adaptation of Hannibal and think this new portrayal of Hannibal is intriguing and suspenseful. I've never been that big of a fan of the original movies though- and by original movies I mean Silence of the Lambs. I saw it years ago and didn't think very highly of it. I seem to be in the minority in that respect since the vast majority of people think it's an amazing movie and Anthony Hopkins put in an award winning performance. I thought the movie was quite boring and found Hopkins to be annoying and almost comical as Hannibal Lector. This seems a direct conflict to the Hannibal we see in the TV series. So I thought it was time to go back and watch the movies over again and how it all blends together. When taken all together we now have an "active" Hannibal who works alongside the FBI and is quite adept at carrying out his crimes. We have young Hannibal who gets thrown an incredibly dark path due to horrific events involving his sister. And then we have the jailed Hannibal who works to put other serial killers away. Finally, we have an escaped Hannibal with a bounty on his head. How do all of these flow together if in fact they do flow together?
Red Dragon – The movie that should (or perhaps was if you take into account Manhunter) have been released first. Since we were thrown into Silence of the Lamb, the character of Hannibal never made sense to me. In this introduction to Hannibal all the characters are presented and to be honest they all come across as incredibly flat. We see that Will just barely escapes with his life after Hannibal attacks him, but the reasons for that never really show themselves. We're supposed to fear Hannibal but we never really see why. All we know is that he's a cannibal and a brilliant psychologist, but I never really felt a fear of Hannibal. He acts foolish and juvenile and doesn't strike me as someone who could hide an Easter Egg let alone be responsible for all the crimes leveled against him. He doesn't come across as being smart enough to get away with anything.
Silence of the Lambs – A very slow and boring movie. Even after all these years and all these rave reviews of Anthony Hopkins, I still don't like this movie. Even when Hannibal kills his guards and wears a face he carved off he doesn't instill fear or panic. His mannerisms up to that point just make him seem on the verge of shaking his head and foaming at the mouth like you expect to see from Charles Manson. He doesn't seem sophisticated, he doesn't come across as calculating, he doesn't give an air of cool planning or reserved danger. He just comes across as a lunatic who's no more capable of controlling his emotions and behaviors than a 5 year old on the playground. This was supposed to be award winning performances and I struggled to get through.
Hannibal – A movie with a plot and storyline that made no sense whatsoever. Everything about this movie felt forced and pointless. All the sequences with Mason Verger as Hannibal's nemesis didn't strike a chord with me. Someone is going to take the time and spend the money to do away with Hannibal using feral pigs? Oh for heaven's sake. Talk about an overly elaborate and easily escapable plan. None of the over the top violence made sense either. Fine you can have Hannibal twisting open someone head like a can of beer to expose their brain, but that really doesn't do much for the character. Yeah, it was gross, like a lot of other scenes, but this doesn't make Hannibal sinister or foreboding. Since he has nothing else it's just a shock factor.
Hannibal Rising – A movie that seems universally disliked, but a movie I like quite a bit. While I don't fully buy into the origin story I do like and understand this Hannibal. He is cold, calculated, plotting, reserved and always thinking ahead. The misdeeds against his sister have thrown him out of whack and his heart and mind burn for revenge. This explains his initial motivation, but is that really enough to sustain his serial killer desires?
Hannibal the Series – Here we see a tormented Will Graham and a sophisticated and lurking Hannibal. Will is being worn down by the atrocities he has to face on a daily basis. Hannibal steps in to watch and feed off that downward spiral. I think in this series we see all the characters that were lacking from the movies. Hannibal is calculating and sophisticated and a master of misdirection and suggestion. He points the FBI away from him at every turn. He's twisted and manipulated Will so no one will believe the wild stories he tells. His calm and sophisticated exterior make you like him, but the staging of his victims make you fear him. And you always have it in the back of your mind as to whether or not Hannibal is responsible for the crimes. We see him commit some, but he's able to throw enough clues and suspicion on others that we can't be sure of some things. I think Mads Mikkelsen is a far superior version of Hannibal Lector. He has a smooth and comfortable presence that draws you in. By comparison I felt Hopkins was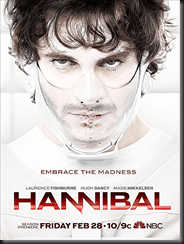 abrasive.
Of course you have to watch the movies in a completely different order than they were released. Silence of the Lambs was a confusing mess and Hannibal Rising feels like a forced origin story. I still think the movies are terrible and don't understand or agree with the draw people have to them. The movie portrayal of Hannibal is cliché and lacking. The TV portrayal of Hannibal feels dark and menacing. In the TV series, Hannibal feels like more like Jack the Ripper – a ghost of a killer that no one can catch, that disappears into the night after leaving behind a wake of devastation and fear. He's the gentleman killer that will cozy up to you and you'll never know until it's too late. None of that comes across from the movies.
I've read about the direction the TV series want to go and I would love to see Red Dragon, Silence of the Lambs and Hannibal re-written using these characters and personalities. I think it will make for a far superior story and will far eclipse anything the movies have to offer.
Other Articles of Interest: