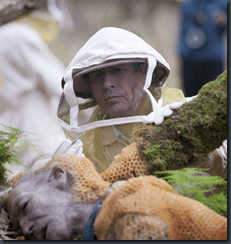 As we jump into the latest episode of Hannibal we see Will trippin balls and seeing hallucinations or perhaps the realities of what Hannibal has done to him. Did Hannibal induce seizures in Will to cause time loss and gaps in memory? From the "flashback" we see, Hannibal overstimulates Will with drugs and flashing lights. That's how we get the deformed clock Will drew.
We also have another serial killer on the loose – an acupuncturist gone wrong. She has decided the body would make a fine honeycomb for her bees. This is of course after using the icepick to take their pain away. Don't try the honey kids!
But the idea that the bee stings hide the acupuncture wounds leads Beverly to recheck the wounds on her previous serial wherein she learns the liver is gone. Will declares Hannibal is behind these deeds, but where are all the bodies? Based on his memories, Will says Hannibal is eating them. That doesn't go over very well.
Finally, Beverly checks out Hannibals house while he is at the hospital with Jack and his wife after he foils the wife's failed attempt at a morphine overdose to end her suffering with cancer. Beverly discovers and unlocks a couple of secrets room including one underneath the kitchen. She may have bitten off more than she can shew as this curious Katz is now face to face with Hannibal in his lair. Darkness and gunshots ensue and one of them isn't getting out of there alive.
Other Articles of Interest: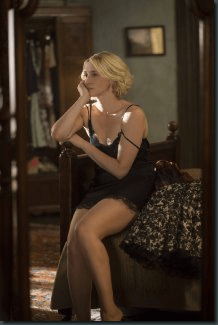 Things are getting downright creepy in the world of Norman Bates. In this latest episode we see Norma meet up with the Stepford Wives when she gets invited to the party that Christine is throwing at her insanely large and most likely paid for with drug money mansion. We also see Norman hanging out and attending Bradley's "memorial" with his new buddy Cody, the smart talking cashier he met when buying hair dye for Bradley and now one of the techs for the theater production his mom was rejected for. She seems to be a sassy, worldly broad with designs on Norman. How does he keep ending up with these ladies?
But the big and nasty part of the episode is the revelation about Dylan. Norma has been hiding a lot about her past including Dylan's father. Turns out it not who Dylan thinks it is. Oh my goodness, do we really have to go down this road? Is Norma just spouting her usual lies and mistruths or is this the real deal? Has Dylan been mislead about his father that Norma supposedly killed which caused all the strife in beginning? And did you see the way Norman threw his brother around like a rag doll? My word, when he loses his mind people get a serious ass kicking.
And let's not forget all the disparaging remakes being made about Miss Watson. It seems the entire town may have been hot for teacher and she wasn't one to say no.
Things are just getting bad. Bad, Bad, Bad.
So for next week we get to see the aftermath of Dylan learning the truth. Is he hanging out the window of his truck in a drunken stupor, because of brawl or perhaps him dealing with the news of parentage in a less than complimentary manner?
Other Articles of Interest: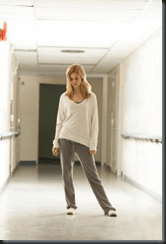 For the Season 2 premiere of Bates Motel we catch up with Norman 4 months after the murder of his teacher Miss Watson. Norman has no real memory of the events after the dance that took him over to her house nor does he have any idea where he got the pearls he keeps playing with. But, the life of Miss Watson isn't all it appears to be and we get the impression her past has more blemishes than her prim and proper demeanor would have us believe.
But apart from Norman sinking into depression and obsession about his teacher we have Bradley who's gone over the edge quite literally. Her tether to the earth has pretty much snapped and she finds herself on the ledge of a bridge. Alas, there is no one there to catch her as she makes her leap of faith. This lands her a plum position at the local sanitarium. After her therapy she's released, but she quickly goes over the edge another way.
It appears that Gil is intertwined with Miss Watson and perhaps the death of Bradley's father – the fiery accident we saw in the first season. Seems Miss Watson enjoyed the company of Bradley's father and Gil was none to pleased about this.
After some of the saucy details are revealed we find Bradley's over at Gil's house trying to learn the truth. It seems Bradley is pretty persuasive with a gun and one hell of a shot. Gil meets with a "premature" end and his brains meet the window. Bradley has severely stepped in this time by not only committing murder but by shooting the head of the drug cartel. Oh the wrath that will be coming.
But fear not, she has a desperate plan and ends up in the doorway of Norman's room asking for help. His boner for Bradley all but assures he'll do anything to help her.
Quite a riveting start to this new season. Mom is beginning to worry that Norman had something to do with the murder, a murder Norman has no recollection of. Sheriff Romero starts to wonder about Norman and his odd behavior. Bradley is off the deep end. And once again it seems that Dylan is the sane one in the family. And with Gil out of the way, is he going to step into the role of head of the organization? Lots of things in motion in this opener. Looks like we're going to learn a lot about Miss Watson and the "cartel" of the city. Norman will more than likely have some sort of breakdown so who knows will meet their end at his hands. And Norma will be so overbearing as to make someone snap. This should be one hell of an amusing season. I almost shudder to thing where this will lead us.
Other Articles of Interest: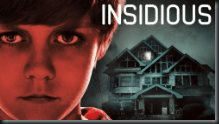 There is a lot of hype about this movie since the sequel is currently out in theaters. To that end I decided to watch the original and see what the fuss was all about. While I found the story of Astral Projection and ill tempered creatures trying to make it into our world, overall the movie left me flat like they cut corners and didn't take full advantage of the story.
When their son Dalton falls into a coma without cause, his parents Josh and Renai are desperate for answers. Their new house is plagued with mysterious events from shadows, to music, to bumps, to wild and vivid dreams. Something is wrong so they move. But the problems follow them and soon they're at their wits end to explain what's happened to their son.
Along comes Elise Rainer who is quite familiar with this sort of problem and with the family itself. It seems Dalton has allowed himself to venture too far into "The Further" a region of Astral Projection where strange things live and feed off humans. Dalton has allowed himself to become a victim and needs someone to help get back home. With the help of Elise, Josh is able to enter the Astral Plane and search for his son.
It's an interesting story, a bit far fetched but interesting none the less. The odd happenings and strange characters hiding in the corners, running down the halls and disappearing at locked door makes you wonder just what's going on. Is there really a spirit? Is Dalton behind all of this?
But what starts off as an interesting plot begins to get a little silly. The "ghost hunters" and the use of the gas mask come across as ridiculous and detract from the otherwise moody elements of the movie. Then when we hit the final moments, the thrill is gone. It's not tense. You're not on the edge of your seat. It sort of just happens. Some may say it's just a set up for the big twist at the end, but that really wasn't a shocker either. It all seems so out of context that it doesn't even make sense. Because of that I thought the ending was extremely flat and knowing there is a sequel I didn't feel an urge to race out an see it.
Like The Conjuring, this had more potential than what we see on the screen. So much just never materialized. It was an interesting idea, but the characters and the story never really develop to the point where you actually care about what's going on. It was able to hold my interest, but I wasn't riveted. In fact, as soon as the movie was over it was dismissed. I'll check out Insidious 2 just to see where they take the story, but I'm certainly not going to pay today's prices to find out. This makes for a good rental and was enjoyable, but considering the excitement and all the reviews, I thought there would be a lot more to it.
Insidious
Other Articles of Interest: