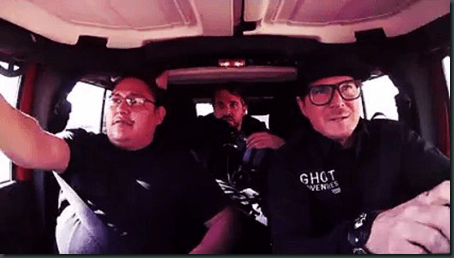 After taking a break from their dubious exorcism in Erie, Zak and the team are off to the four corners area, into Skinwalker Canyon. The four corners is the intersection of Arizona, Colorado, New Mexico, and Utah. Zak calls this the Bermuda Triangle of paranormal events, something I've never heard anyone else say. Although the Skinwalker has been the subject of X-Files and Supernatural episodes.
The focus of their investigation is the Skinwalker, a creature said to shape shift from coyote to demonic humanlike form. It's the result of conjuring within the witchcraft caves on the Reservation.
The Native Americans believe strongly in the creature and a man suspected of being a Skinwalker was recently killed by having his head cut off. He was suspected by his wife so she took matters into her own hands. Take that for what it's worth.
Talking about the creature is frowned on because those that relay the story of the Skinwalker can be the victim of a curse.
At the entrance, Randy says he has seen the Skinwalker in the canyon and Vincent, their guide and tracker, has brought along a rifle for protection. In the witchcraft caves they find new tracks on the inside of the cave that don't have corresponding tracks on the outside.
Inside, they find an archway, which Zak says is a portal to another dimension. This is confirmed in his mind when Vincent and Aaron don't hear him calling for them. When they do appear an hour later, they're dazed and confused. Or so Zak says.
After their little recon mission, they run into a medicine woman, Walking Thunder, who says they need protection. This involves a small little ceremony wherein they eat a bit of the Devil's Weed, a hallucinogenic and the whole team is trippin' balls. At this point, everything they do, say, and see is more suspect than normal.
And so they return to the witchcraft cave and what do they find? Evidence of the demonic in the form of a small, burnt out fire with an animal skull in the ashes. This is no way should be taken as someone camping and having dinner.
Inside, Zak sees three burn marks on the cave wall which he says are definitely demonic. I wasn't aware torch marks could be labeled as demonic. And since the little community knew they were out there, far be it for anyone to mess with them.
Even more shocking is a feather against the wall and a bullet casing. From Zak's point of view, these are all signs something terrible has happened.
And what better way to deal with that than to split up. As usual, Aaron sets off on his own to visit the portal. In his doped up state of hysteria, he hears the sound of a woman.
Billy and Zak head out across the plains to look for Skinwalkers. They have no idea where they're going and just start driving around. When they stop, Zak makes a note that it smells like dead flesh and that he sees eyes in the distance with his binoculars. But just because it looks like a coyote doesn't mean it's not a Skinwalker.
Meanwhile, Aaron is pretty much losing his mind with all the sounds of the coyotes in the area. After they've amped things up with Indian Drum Chants, Aaron says he's about to black out. Jay decides he should use scrying near the portal. During this they see a flash, the broken temperature gauge goes from 50 degrees to 90 and Aaron says something touched him.
Back on the plains, Zak is jumping at shadows, literally. He says some dark figure envelopes Billy. This coincides with a screech, so the coyote has changed from animal to human form. While they continue to wander around in the dark, Zak and Billy feel a vibration and capture a light anomaly falling down the rock face.
To Zak, all of this is proof of the Skinwalkers and has nothing to do with them taking a hallucinogenic weed and wandering around in a canyon where noise vibrates off every surface and they can hear things from hundreds of feet away.
Other Articles of Interest:
With so much talk of Zozo demons, portals and evil entities, it's time to have a look as the most recognized "occult" device out there, the Ouija.
Why has the Ouija become so feared? How did it come to be associated with negative energy? When first created, it was meant as a tool that could speak to loved ones in the afterlife. You could contact Uncle Rupert, Aunt Francis, a lost husband in the war and even the spirit of a departed pet. It had no negative associations at all, quite the opposite. It was seen as a positive influence that could even bring peace and happiness.
When did things change so that it could only contact evil? Who turned this board of Spiritualism into a tool of demonic conjuring? Part of that looks to be a product of Hollywood and movies like Exorcist and Witchboard. In both cases you have an innocent, young, female becoming prey to dark forces through use of the board. It makes for good storytelling, like Dracula seducing the women he wished to turn. However, it's only a story.
Does it have something to do with Aleister Crowley? To be fair, there is a ton of misrepresentation about Crowley. Despite how it's portrayed, Crowley wasn't trying to conjure Satan. Further, he was considered wicked because of his sexual habits and indulgences. He referred to himself as "The Beast" in order to magnify his infamy.
Even if he was "evil", Crowley experimented with a great many things. He certainly read the bible, so should that be considered tainted? Crowley worked with Tarot cards and those aren't being called a portal to hell. There is even a deck he designed.
Clearly not everyone thinks it's evil, Amazon certainly treats it as a toy. You can get talking board coffee mugs, tumblers, pendants, keychains, mint boxes, hoodies, rings and sweatpants. In every sense of the word it's a gimmick item. If there was any scientific evidence to the board's power, or any of these Zozo claims were proven to be real, would it be allowed to be sold by a toy company?
Further proving it's lack of power, National Geographic showed that when participants are blindfolded, the Ouija spells gibberish. The BBC and others have explained how the Ouija works and how it doesn't. Even Penn and Teller, who are masters of the con, show how the Ouija doesn't work.
Another master of illusion, Houdini proved every claim of mysticism to be a hoax, from seances to ectoplasm. The Ouija was used heavily in seances and not one of them proved to be valid. And this was during the time when talking boards had no demonic connection associated with them. Houdini wanted to commune with the dead, but it just wasn't so.
But there are those that say the spirits need the participants eyes in order to spell words. Yet, paranormal investigators claim spirits can see them. Which group is lying?
People also claim the Ouija can predict the future and explain how it told them something 20 years ago and it just came true. If you can link events together that occur that far apart, you're trying to find a cause and effect. This would be same as reading a fortune cooking that says you will come into great wealth and two weeks later you find $20 in the street. No one would say the fortune cookie had divine insight. But when it happens with the Ouija, people say it has power.
Looking at it, the Ouija uses a board and letters to spell out phrases from the other side That in mind, why aren't people having the same experience Scrabble or Upwords? Why isn't this mysterious humbug called Zozo showing up on Scrabble boards spelling out demonic words?
In our society, why is conjuring evil so damn easy and contacting good spirits so hard? People say they were only in the room with a Ouija and something bad followed them home. However, the same isn't true about someone passing a church who then says a friendly angel followed them home to make breakfast and tidy up the house. If evil forces can throw books and upturn chairs, a good force should make something to eat and be useful.
If the Ouija was capable of working on conjuring those who have passed, why aren't we talking to Einstein, Twain, Socrates, Houdini and other great minds so they can continue their work?
This may sound like heresy, but it's not meant to be. But if the board allowed us to contact the dead, perhaps angels, perhaps higher spiritual beings, why isn't it used in religious teachings? People don't have a problem with prayer, so what's wrong with something more direct?
A common claim toward the Ouija is that it works because of intent and belief. If you don't believe, nothing will happen because the spirits know. If your intent is to contact a spirit, you will. How is that different than, "it works because I said so."
The Ouija has been debunked multiple times and is as mystical as a rabbit's foot, lucky socks, game winning jersey, rain dance, blowing on dice or a double rainbow. When they work, people claim the power of the talisman. When they don't, people claim other forces were acting against them, like the other team had more people with jerseys, or the magic ran out giving them their last wish.
As a final thought, since Darren and his ilk claim it's so easy to conjure Zozo, why not take up the million dollar challenge laid down by James Randi and get Zozo to appear while he looks on?
The Strange and Mysterious History of the Ouija Board
Other Articles of Interest:
The last Ghost Adventures episode, Exorcism in Erie, come across as very staged and false, especially the claim of residue on the stairs leading to the basement where Bishop Bryan performed his mini-exorcism on the horseshoe.
At the end, they claimed there was some foreign substance on the wall. They claimed it was wet and even looked like blood, perhaps even some sort of demonic residue left behind by the entity supposedly taking possession of Chris.
Even in the dim light, it very much looked like plaster spackle and it only took a few seconds to find an image of a wall being repaired that looked almost identical to the material on the wall in this episode.
When you compare the two, it's pink drywall spackle. Zak, Aaron, Bishop Bryan and the owners are deliberately staging evidence to suggest an outcome. Had they turned the lights on, the deception would have been exposed.
So if they faked the foreign material on the wall, what else did they fake? What other props are they planting around the house? A lot of their previous discoveries and evidence have been dubious, but it looks like they may have been caught out on this one.
It seems clear that the demonic presence, the exorcism, the story of the witch's house and the dark energy around a rusty bit of metal are a complete fabrication and hoax to try and sell their idea of demonic.
The image on the left is from Ghost Adventures where they claim it's blood or foreign matter. On the right is pink drywall spakcle on the same sort of textured wall. Look at that, they're the same. This is not a case of getting something wrong, this is a case of fakery.
The drywall image was taken from here – https://operationhomeblog.com/tag/spackle/
Other Articles of Interest: